Posted on Feb 11 2012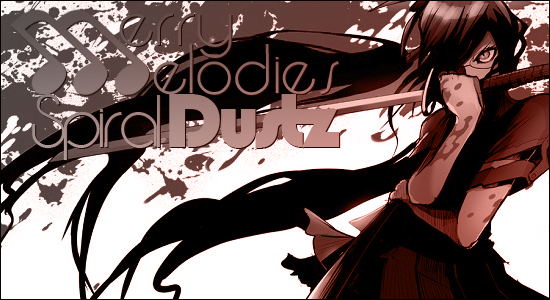 Bust out your language skills and get ready to spiral out of control, because it's time for another dusting of Merry Melodies!
———————————————————————————————–
This is a very interesting song. For those of you who haven't noticed it yet, there are three languages in it. Sometimes you hear a bit of English and Japanese splashed around, but this one even has some French in the mix. I don't know a whole lot of French, but apparently the singer of Dustz is half French, half Japanese. It's actually pretty amazing to see how well they're able to blend it so flawlessly.
I like the tune this song has. A nice mix of bass and techno to get it started, but then is mixes in plenty of awesome guitar riffs. The most annoying thing for me was waiting for the full version to come out, as it usually is. You always find that one on YouTube that's just copied on part to make it seem longer. Spiral does do a great job of capturing the intense mystery that the series has though. Just hearing it makes me want to go look for more music by Dustz to see if they do this more often.
Since a good part of the animation is Saya naked, covered in blood, it's pretty easy to say that not a whole lot is explained from the opening about the series. It does a good job of showcasing the small cast though, and for that it does its job as an opening. I remember watching the first episode or two, and then Kana showed me a .gif of the twins doing their mirror movement, asking me what show it was. It flows very well and looks pretty, and I like how the credits have the little blood splatter effect on them. It adds a nice touch.
———————————————————————————————–
QUESTION TIME! Did you notice the three languages until I pointed them out? Would you like to hear more like it if it was done right
–
Check out Blood-C in all its Clampy glory on Niconico! The first episode is right here!