Posted on Jan 12 2011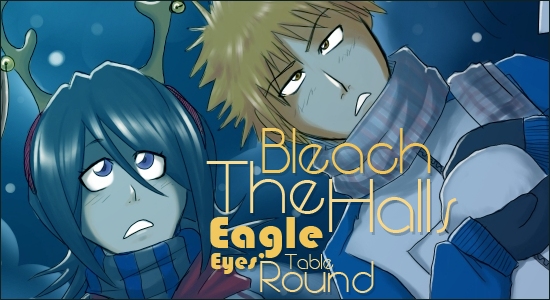 EagleEyes sees you when you're sleeping, he knows when you're awake. He knows when you have been bad or good, so be good for goodness sake. EagleEyes' Round Table returns for 2011, as he tries to get the very last bit of Christmas out of his system (GIGGITY). So click in and read out the Fanatics favorite festive moments along with, as much anime as you could shake a stick. Though, why anyone would shake a stick at something is beyond me.

Weekly Award – Week 20:

Bleach The Halls Award – EagleEyes' Naughty List
This week the fanatics put anime characters on their naughty lists. However, I am taking it one step further, I am putting an entire series there. Bleach you make me very disappoint. For a series that has such potential, so many likeable characters and at times visually stunning fight scenes, how can you have fallen so very far?
Now there are many possible things you can attribute to the series declining quality. The amount of filler, an over saturation of the protagonist, the underuse of popular characters…. The list is endless. But today in front of all of you, I present the one defining reason for Bleach's current state.
Orihime!
Yes that is right the large breasted girl, void of charisma is the single defining reason to Bleach's depleting awesome. Sadly, there is only one solution. Fanatics, we must write Orihime out of the show! That's right, I need your ideas for the most interesting / unique / just plain creepy way to write her out of the show.
The comment section awaits.
———————————————————————————–
Now for the Round Table rules: As usual, each participant is given a series questions covering various aspects in anime, Manga and Japanese culture. Each individual then has to provide their opinion on the said issue. Finally, I Grinch up the place and steal everyone's toys..
Our Participants today are:
Zero – Dasher
Amui – Dancer
GrimDefeat – Prancer
Rhetorical Gamer – Rudolf

Which anime/manga/video game character would you like to spend the holidays with this year?
Zero – Kamitsure, the Electric Gym Leader of the Unova Region (Pokemon Black/White), she'll "spark" my holiday.
Amui – Nodame from Nodame Cantabile, nothing gets me quite like a great Chopin piece being played.
GrimDefeat – Well I will probably be spending the holidays playing Legend of Zelda games so I'm gonna have to say Link.
Rhetorical Gamer – I would like to spend the holidays with Mega Man just to see what the blue bomber does when he doesn't have to defeat Dr.Wily robot masters. Hopefully we can both kick back and pop open an E-Tank and relax and enjoy the holidays together!

What kind of presents are you hoping for this year? Or what has been the best present you have received?
Amui – I'm actually getting a PS3 this year, I'll probably end up writing a little piece comparing the 360 and PS3 after I get used to it, Just to see which is a better console.
GrimDefeat – The best present I ever received was a 12 gauge shotgun that I got 3 years ago.
Rhetorical Gamer – Well my favorite present I ever got was a keychain of Lego Indiana Jones I loved all 4 movies and him in Lego just sweetened the gift.

Which anime/manga/video game characters are on your "nice" list this year? Which ones are on your "naughty" list?
Zero – The Characters on my "nice list" are L (Death Note), Touma (Majustu no Index) and Yakumo (psychic Detective Yakumo), on my naughty list is Aizen (Bleach) for blowing up his subordinates and killing others, The Roman Catholic Church (Majustu no Index) for setting up a conspiracy to destroy another religious group and almost killing Touma, and Dr. Eggman just for being not nice.
Amui – Nice: Albel Nox from SO3, Rena Lanford from SO2 and Leon from RE4. Naughty: Montana Max from Hellsing.
GrimDefeat – Well my nice list consists of Ichigo from bleach, tetsuo saiga from speed grapher, and EE if he was an anime/manga/video game character. My naughty list has Aizen cuz I still hate his guts, Deathwing from WoW, and the templars from assassins creed.
Rhetorical Gamer – Well on my nice list this year would have to be Ritsuko Inoue from Those Who Hunt Elves in one of the chapters she talks about how she believes in Santa but was made fun of it. Later on in the chapter she actually meet the jolly man herself that earned her a top spot on my nice list. On my naughty list this year has to be The Covenant from Halo once again they want to wipe out the human race that is 100% naughty I hope Santa gives them coal is their stockings with some frag grenades in the bottom!

Which anime/manga/video game are you looking forward to most in 2011?

Zero – Pokemon Black and White versions, Highschool of the Dead 2 (I KNOW IT'S COMING), and more Gundam Unicorn, as well at Batman: Arkham City.
Amui – More US "Tales of" releases, And PLEASE TRI-ACE MAKE A NON-CRAPPY STAR OCEAN TO MAKE UP FOR SO4 I'LL LOVE YOU FOREVER.
GrimDefeat – Not sure when it comes out but I'm looking forward to the wolverine anime.
Rhetorical Gamer – I'm looking forward to Marvel vs Capcom 3 Fate of Two Worlds just because I finally get to hit you with my life bar as Deadpool enough said!

What is your favorite memory from 91.8 The Fan from this past year?

Zero – Joining.
Amui – Private Messaging Kibs around 10 times to try and get a Kagamine Len Nendroid figure. (I did end up getting it <3)
GrimDefeat – The start of Twilly's show and being a fanatic even if it was only for a few days.
Rhetorical Gamer – I be a male! Unless you dump cold water on me that a whole other story! THANKS JESSI >:(

What is your favorite holiday tradition?
Zero- I assume your referring to just Christmas, so it would have to be the day after Christmas is my mother's birthday, and she spends her birthdays every year with her friend and my mother's sister at the movies (my mom loves movies), I like seeing my mother happy. Merry Christmas!
Amui – I actually play partially through a new playthrough of SO3 or 2 on Christmas Eve.
GrimDefeat – Going out to dinner then going to my grandparents house to get tons and tons of presents.
—————————————————————————————
And so ends our journey today. If you would like to ask a question for a future round table or possibly answer some questions yourself, please leave a comment below or send me a message on the forums right here at 918TheFan.com
And so ends this edition of EagleEyes' Round Table So until next time, Ho Ho Ho. Also make sure to check in 2 weeks time when I announce an upcoming surprise for a month's time!
EagleEyes, out!