Posted on Sep 12 2010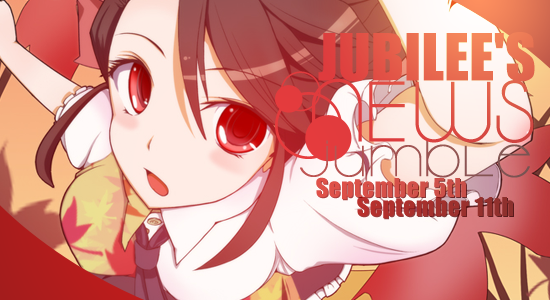 Bonjour all you fanatics out there, Jubilee is here and is apparently French this week! However, that doesn't mean I am giving up on all of you, as I have played Tetris with all of this past week's news and am now entering level 9! From California Miku and how she is undeniable, to manmade Mega Man, everything is fine and dandy…I just wish I had some pudding.
———————————————————————————————–

Reported in iStalk 401, it has just been announced that 91.8's favorite vocaloid, Hatsune Miku, will be making her "first-ever US appearance" at the J-Pop Summit Festival coming up on the 18th of September. The summit, being held at the New People center in San Francisco, will be holding a "digital film concert" for the vocaloid Idol. Miku has already appeared 'live' at her concert in Japan, where the singer was portrayed on a 2D screen, in early 2009.

According to iStalk 400, the creator of Gloomy Bear, Mori Chack, will also be making an appearance at the New People center in San Francisco's Japantown for an autograph session during the J-pop Summit Festival on September 18th as part of the 10th-anniversary celebration of Gloomy Bear. However, not just anyone can gain access to the autograph session. Only the first 50 people to purchase one of the limited edition Gloomy Bear t-shirts for $30 at the New People center on September 18th will be able to enter the signing sanctum at 3:00 pm later that day.

The 24-hour online anime network, Funimation Channel, and American television service provider, Olympusat, recently announced that they have teamed up to launch a high definition feed. As of now, the titles available on the new feed include animes such as Samurai Champloo, Darker Than BLACK, Soul Eater, Claymore, and Devil May Cry.

Next spring, the seventh volume of the High School of the Dead manga, created by Daisuke & Shoji Sato, will be shipping with an original anime Blu-Ray disc. The disc will feature the side story, "Drifters of the Dead," which will run approximately 20 minutes. The Blu-Ray edition will be limited to pre-orders only, which are open until February 10, 2011.

The official .hack//Quantum website for the video anime series announced Wednesday that the first two volumes will ship on Blu-Ray and DVD with bonus CG anime shorts sometime next year. The first volume will ship on January 28th, 2011, and the second will follow on February 25th. Both volumes will also contain promotional videos and footage from the related online TV project.

Video game maker CAPCOM recently teamed up with character designer Norio Shioyama to create a series of three anime shorts inspired by CAPCOM's Dead Rising 2 video game. The first short, 166-seconds long, was posted and began streaming on CAPCOM's YouTube channel last Friday. Shioyama, also known for his work on Armored Trooper Votoms and Ronin Warriors, served as the project's head visual artist, as well as the animation director and animator.

Taking place within the Hello Kitty MMO, a special charity has recently been announced by developer Sanrio Games. The charity will feature a mini-game in which players will accumulate "donation-points," which will then be used to calculate a total cash donation amount by Sanrio Digital to the clean up of the oil spill in the Mexican Gulf, and to aid the flood victims in Pakistan. The mini-game is titled "Chocolate Harbor Rescue," in which the player will help to clean up a chocolate spill in the in-game location of Sanrio Harbor, and in addition to earning the "donation-points" will obtain other special, in-game, prizes.

"Scotland Loves Anime," a British film festival, announced their October lineup of anime to premier this last week. Trigun: Badlands Rumble, The Disappearance of Haruhi Suzumiya, and One Piece: Strong World, will all be British firsts. In addition to those, Scottish premiers include, Professor Layton and the Eternal Diva, Redline, and Summer Wars. The festival is taking place in Glasgow at the Glasgow Film Theatre from October 8th–10th.

Confirmed in this year's 42nd issue of Kodansha's Weekly Shonen Magazine, the television anime version of Hiro Mashima's Fairy Tail will continue into its second year. The second year, according to director Shinji Ishihira, will deal with the Nirvana arc. Crunchyroll simulcasts the series online in several countries, and often has the episodes up just one hour after they air in Japan, so look forward to that!

Also in relation with Kodansha, the 12th and final volume of Shiho Inada's supernatural mystery manga Ghost Hunt will be published by Kodansha on September 30th in Japan. The story focuses around high school girl Mai Taniyama who encounters the Shibuya Psychic Research, a paranormal research group. Mai joins the ranks of the group, whose adventures through Japan combine elements Asian folklore and European folklore.

Recently, Walmart.com listed a PS3 ICO/Shadow of the Colossus collection for only $40. The game still has not been confirmed by Sony, but is expected to be revealed at the Tokyo Game Show, where the Shadow of the Colossus director, Fumito Ueda, is scheduled to make a appearance. Let's hope for a good deal on the game bundle!

In CAPCOM's newest addition to the Mega Man series, Mega Man Universe, a brand new feature to the series has been unveiled. The player will now be able to create custom Mega Man characters, mixing and matching parts as the player likes. In addition to that, the game also features a stage creation mode which allows the player to position enemies, items, and more.
———————————————————————————————–
Another week of news is up, up, and away! Jubi totally thinks that you should leave a comment on your favorite story of the week, like seriously, yo. Also, if you are interested, now is an optimal time to apply for a staff position here at 91.8! So if you want to have super awesome fun time by being an awesome volunteer, I'm just going to point at this like here. Until next time, Jubilee is sprinting out the door, bare foot, and chasing after the ice cream man on his bike, bare foot.