Posted on Jan 05 2011
It's day three and this is a day specifically for the Fanatics. As stated yesterday, we will be revealing something brand new that pertains directly to them; however, this will also effect regular listeners in a different way. Hit the jump to see how!
It's very standard that if a user wants to listen to their favorite song they have to jump into the IRC and speak with the current on-air DJ to do so. Alternatively they can call our radio hotline to leave a message or request a song. For some, this is a hassle since some people have trouble getting into the IRC itself or they're not all that experienced with the protocol. We've debated in a few ways how to simplify this process, and have taken some inspiration from "Festerhead's Now Playing Plugin".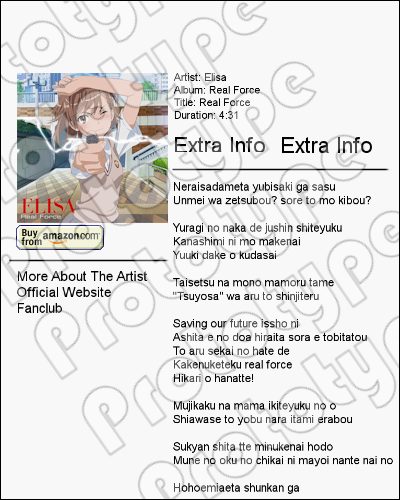 The above image is a prototype and in no way represents the official release.
By the end of the month the system will be streamlined to include information about a currently playing song for every user. Fanatics on the other-hand get more than just general information. They will be able to see and interact with multiple parts of our playlist such as what we have in the radio database, looking up lyrics, being able to request songs, etc. The requests are sent directly to our on-air DJ to handle without any additional middle-man (such as IRC or the hotline).
What does this mean for regular listeners though? Well, you can still request the way you have been, but Fanatic requests will be easier to access and will more than likely get to a DJ faster.
Check back tomorrow for another huge update that will blow your socks off!