Posted on Aug 25 2011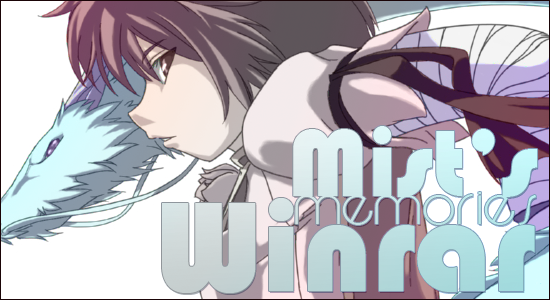 Leviathan Mist here with the results of the 91.8 The Fan memories contest. Before I announce the winner though, I'd like to list some of my favorite entries.
Kohta says:
This picture explains how Kohta felt when he first found 918thefan. Even more so the feeling he had when he got his school to unblock 918thefan after days of annoying whining to the Network Administrator. In the month of November, Kohta had found his happy place, or so he thought. His happy place awaited him under the "community" tab on the home page of 918thefan.

He clicked on the IRC tab introducing millions of colorful rays of epileptic goodness to slather his body with the wonderful feeling of warm butter leaving him in a seizure on the floor. After hours of giggling and twitching Kohta crawled back up to his computer to find a chatroom full of anime fans….yes, anime fans. People like him. People he rarely got to meet. People he knew. Rotating oscillating machines that spun pictures of anime in counterclockwise direction. The first person to greet Kohta was who he would later refer to as "Masutaa~", LeviathanMist. The greeting left such an impression on his mind, that he went insane with happy rage remembering that word: "Welcome."

Unknown to most oscillating otakus, the origin of Kohta_the_Maid is a mystery. A LeviathanMystery so to speak. Some say Kohta was held against his will; forced into a maid outfit two sizes too small. Others suggested Renku's involvement of a Full-Nelson and panda outfit in the mix. Many others say the images were too graphic to bring up. Yet, one thing is known for sure: Kohta is a maid of the 918thefan IRC chat channel, and, hopefully, would be for a long time.

Of all the DJ's Kohta_the_Maid listened to, Kusari was to be his favorite. Aside from the fandubs and awesome voices, being an otaku father racks up many cleaning points on Kohta_the_Maid's scale. The Kusaremix: Breaking the Chains of the Night had been quite the routine in Kohta's weekend nights, even if he wasn't in the IRC. (Seriously Kusari, you will be missed if you aren't a DJ anymore.)

Other highlights would be Team's constant assault upon HeikaHaku's tolerance of spelling and temperament, xxjellybeanzxx's joking, enjoying the Kroze and Hatch show, getting stomped at MvC3 by Elk and Haku, Renku's dA account, Zero_Gravity's videogame rage, and making tea for Masutaa~. It would be rude of Koht4 to not mention one other member of the IRC, but th4t's something only th4t cert4in mystery m4n would notice.

Misty~ I hope you enjoyed this. I have to go to bed now.

– Kohta_the_Meido~
xxjellybeanzxx says:
Miiiiiisuuutooooooo~ It's your lovely xxjellybeanzxx and fellow lover of Minoriiiii~~~ ?

There are far too many memories to recount, all of them fond of you. x3 You and Renku, all the time, forever. XD You two are like my best buds on the chat and I can always expect a hello from you every time I log in! In fact, I've come to look forward to it very much! I remember, like, the first time I logged in with the name xxjellybeanzxx, you demanded someone play Jelly Beans by Minori for me. I got such a kick out of that and you made me feel soooo welcome when I was overcome with being a newbie. It really made my day every time you would demand my honorary theme song to be played. I still think of that every time I hear it!

You're also the reason I love Minori so much~ ??? I would have gone on living without knowing her awesomeness if it weren't for you!

Of course, the entire chat is very special to me; everyone always cares when I'm down in the dumps or having issues. I always know that if I need a shoulder to lean on, just the mention of me being sad has people from all around willing to talk me through it. And of course my whole relationship with Cameron~ I may not log in every day as I used to, but I still love the chat with all my heart and some of my best online memories come from it! I hope to be able to keep coming back for years and years and YEARS to come!!!

With Much Love From a Very Happy Weirdo,
xxjellybeanzxx
nerdwerld says:
I had to split the Mist and Website Impressions into two sections because well Mist is just that awesome as would any of the other DJ's Elk, Kana, Christmas, Kusari, and Ceru also deserved awesomeness, however I decided against it.

Mist: Man, Mist you are a very memorable guy. Your interesting and some would say unhealthy (of course to those people I call blasphemy) obsession for Minori Chihara. Mist you have great taste in games and similar to mine as well so me and you discuss things all the time. As a translator there is none that can compare to you, and you must do a great job because we end up having great translations thanks to your awesomeness.

Another thing that makes you memorable is you got me on NationStates which I frequent often thanks to you. You always hear everyone and have your own strong opinions. Mist despite not being a DJ makes the IRC for me… of course hordes of others do as well.

Website First Impressions: A long time ago on Team4Star's Website I saw a link around late November of 2010 I had just moved into my former apartment. I was bored out of my mind and didn't want to listen to my assortment of cds I own. I saw an ad link of 91.8 The Fan and it said the 1st anime radio station. My interests by then were piqued and I decided to take the plunge into a world that well changed my life. I was confused by creating the wordpress account, forum account, and irc name and for the longest time it was a bit to handle. When I posted my first article in the forum it was Kate who told me to join the IRC and that was when I met all the awesome people. Nobody was DJing atm, but what got my attention was the advertisements.

Those advertisements were the most hilarious things I had heard in my life and it was around the same time that eventually the Christmas contest started. Though my advertisement was un-original and was produced with no practice it of course didn't win, but, oh well, I did it just for fun. The website was what was fun. My small time period with this website it has made me change the way I view manga/anime/and video games. I have become more industry conscious and more educated in the various subcultures and events/news and all that jazz thanks to iStalk as well as the various coverage of conventions.

My first impressions were just of nerd website made by and for nerds. I feel now that the website represented something that built a community of friends in a way the radio station is a group of like minded individuals who work hard to produce something tangible in this day in age I think that should count as something.
kingofflamess says:
Hey mist, I remember the first day I was in the IRC… I got a swift kick after 5 minutes! There was also that one day I played Elk's scrapbook your revolution for the first time and I won three out of five, I believe, one of them was a picture of batman riding superman. It was very random. Then there was televise your revolution, and the first time iI played that, I won at least two. One with "The Button" clip and one with "Pony Power Rangers" sort of thing. Joyous week.

I remember that time where everyone gave me relationship advice on how to date that one girl that was all anorexic. That became very hilarious I can't even remember all the jokes that went around that day.

After a month or two, I remember Cerulaine's zombie game that the day I played I lasted the longest. Funny thing was, I was constantly trying to prove her wrong every step of the way. To this day I still believe I should have lasted long, but nooo my coworker had to grab my foot and got me killed…

I also remember listening to the Hatch and Kroze show for the first time. It was after there long extended break sort of thing and one of them was drunk. I also specifically remember playing Megaman X5 during the entire show. It was odd… very odd. I can't even remember what they were talking about. I think they might have tried to prank call someone.

And then there's the past few days after I've been back from summer school. I just handed away my Facebook to anyone who wanted it. It felt weird at first, but I'm glad I did it, I just feel nice having a larger friend list I guess, not really so much of having people on it or a higher number, i just like the feeling of more being there.

Finally, I have to say I feel I really have made some true friends in the IRC. Probably sad because I like everyone there better than my real life friends. Some of the girls are prettier too. I guess that's everything I have to say… maybe my sincerity will increase my luck… Here's hoping for a lucky win

/me raises wine glass, fixes his shades position, and takes a drink
Okay, I could go on forever posting the submissions, but we have to stop somewhere. Besides, I'm sure you're all dying to know who won!
*drumroll*
The winner of the contest is xxjellybeanzxx! A big congratulations to her, I absolutely loved her entry! To everyone who didn't win, don't fret! There will be more contests in the future, so keep an eye out!