Posted on Apr 11 2014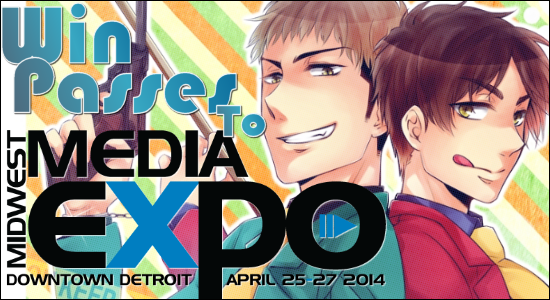 Midwest Media Expo is happening soon and they've given us free passes to give to you!
Midwest Media Expo is a three-day convention held at the Renaissance Center in downtown Detroit on April 25th to 27th. You'll get the chance to bug Kroze as well as make him do stupid dances while Random Gibberish performs! In addition, you can meet Ellen McLain, Jon St. John, Todd Haberkorn, and a ton more! You can find the full list of guests here. If you're in the Detroit area and want a chance to win a free pass into the convention then keep reading. We'll be giving away ten tickets in total!
How To Enter
Do I have to do all those things? No! You can choose to do one, but doing all three will help increase your chances of winning. Make sure that you follow us on Twitter (so we can direct message you if you win), enable messaging on Facebook, and check the e-mail you signed up with.
The giveaway ends April 18th at 11:59 PM PST!