Posted on Oct 14 2011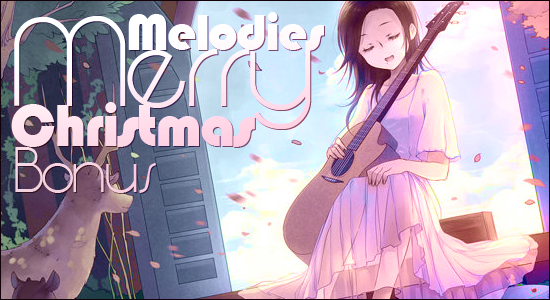 You guys like anime and music right? If the answer is yes, which it should be if you're even looking at this site, then have I got a contest for you!
———————————————————————————————–
I've had these two separate ideas floating around for a while now, and I feel like this is the perfect time to get both of them rolling. In addition to wanting to throw things at people's faces in time for Christmas, hold your puns please, I've been wanting to make my own panel for conventions. While I'm not asking anyone to contribute to the actual process of creating it, I would like to give you the chance to help set it up.
So here's my basis. I love most anime themes. For those of you who call them OPs and EDs, I mean those. Not just one or the other, but a little of both. It's my plan to create a panel based on why people like certain ones, and even how they branch off into other things from them.
Let me give an example. Back when Code Geass first aired on [adult swim] I had only briefly considered watching it. At the time, I was playing a game known as osu!, which is like a community fueled PC version of Elite Beat Agents. While playing osu!, I happened across Geass's first OP, Colors by Flow. I was instantly hooked by just the OP alone that I committed myself to watching the whole series. As I did, I was able to hear more great music, like Jinn and Ali Project, and then search for more anime series that used those artists as themes.
But some of you may be thinking: "Christmas, you said contest. How does this relate to me winning a prize?" I'm glad you asked, which you will have by now that you read me thinking for you. I want each of you to submit to me a story similar to that one, about an OP or ED that you just really enjoyed, and how it made an impact on how you watch anime in general. I will not hesitate to admit that I have watched whole series just because of one particular song (Colors of the Heart) and, just like Code Geass, I ended up loving even more music and anime by osmosis. If you don't have a story like that, just tell me what your favorite OP or ED is and why.
Prizes? I've got plenty. The five people who submit the best stories to me will receive a random volume of anime from personal collection. These will either be a Volume 1 of a specific series, or an OVA set that is neatly packaged like one. All five were obtained by me at Anime Boston's Swap Meet this past April, and hold no real value to me now that I've watched them. HOWEVER! Since these will be mailed by me personally, I ask that if you wish to win one that you either be from the US, or you forward me the shipping cost. Don't let that discourage you from submitting though. All submissions, even the ones that don't win a prize will be presented in the panel that I'm creating and will have your name listed at the end. It's not so much as me wanting to do less work as it is me wanting to spread your experiences to other people.
So, just to review, send me your favorite OP or ED with the story behind why you like it so much. Submissions must be sent to Christmas(at)918thefan(dot)com, but I would appreciate copies of them in the comments below as well. For those of you wanting to win one of the five random DVDs, you must either be in the US, or forward the shipping cost to me. You can Email me the details on how to do that if you desire. Once I have selected the winners at the end of November, I will collect the addresses, and shipping costs where applicable. Remember, there are no wrong answers for a contest like this, so just submit what your heart tells you!