Posted on Oct 03 2010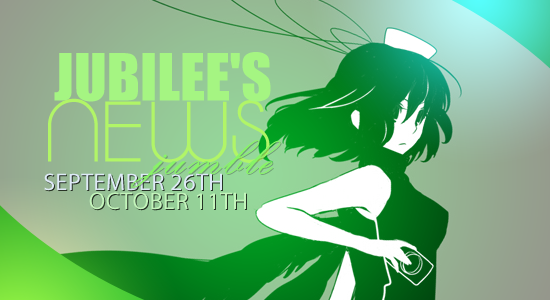 Well howdy doody all my partners at the 91.8 the Fan Ranch! I reckon y'all are here for the news this week…and I'm not one to disappoint. I saddled up my trusty bronco and rode out into the blue yonder horizon, looking fer every story y'all might wanna read about this week. From that them there new Berserk anime project, to dems Nintender 3DS thingamajiggers, Cowboy Marik, I mean Jubilee, has all the news you need for this past week. I reckon so, Mistah Kaiba.
———————————————————————————————–

Announced in the 35th volume of Kentarou Miura's manga, as well as in iStalk 416, Berserk, a new anime project of the series will be launching sometime this month. The story was already adapted into a 25-episode television anime series back in 1997, so the new project could be either a continuation, or a new series adaptation all together. It was also announced that a television commercial will be narrated by well known singer and actor Gackt to promote the release of the 35th manga volume. The commercial ran from September 29th to October 3rd.

Pop singer Hikaru Utada announced on Wednesday that she will be performing solo concerts at the Yokohama Arena on December 8th and 9th. These will be the first solo concerts preformed by the singer in Japan since 2006. She also announced that she would be appearing in a Pepsi television commercial, which will be her first appearance in a commercial in almost 5 years. Hikaru Utada will be going on hiatus in 2011 for an undetermined amount of time, so it is good to see her performing up until then.

Featured in iStalk 414, the manga-creating group CLAMP, known for their work on series such as xxxHolic and Magic Knight Rayearth, announced on Wednesday that they will be illustrating for a new Japanese edition of Peter and Wendy, which is based upon the story of Peter Pan. The book is titled "Peter Pan to Wendy" in Japanese, and is set to be released in November with the cover art done by CLAMP.

Being announced on Monday in the November issue of Shueishia's Jump Square magazine, the gag comedy manga Kakko-Kawaii Sengen!, done by Jigoku no Misawa, will be adapted into a series of 4 television anime shorts. The shorts will be ran during Shueishia's television program Saki-yomi Jum-Bang! Beginning November 4th.

Datuk Mohd Hussain Shafie, chairman of Malaysia's Film Censorship Board, recently commented on the banning of several anime titles. Although no specific titles were specifically mentioned, Hussain did list the reasoning behind the bans as "although they are animation said to be suitable for children, but are actually more appropriate for adults…" The board pins much of the inappropriate material as scantily clad women and general violence. All films wishing to be aired in Malaysia go through the Film Censorship Board, and if approved, the titles are given ratings and certificates of censorship.

In our weekly roundup of Crunchyroll news, it was announced Thursday that the site will begin simulcasting the television anime series based upon Lily Hoshino's manga Otome Yokai Zakura on October 4th. Chikai Kon, who also directed Higurashi, is directing the project with the help of animators at J.C. Staff. The story is based on an alternate reality Japan in which Humans and Yokai, (demons), co-exist.

Coming out soon in Japan thanks to Cozy Wave beauty suppliers, 3 different varieties of Angel Beats! aroma fragrances are set to hit shelves within the next few months. You read that right…aroma fragrances, you know like Beyonce has, but for 3 of the main characters from the anime series Angel Beats!. Each of the main characters, Tenshi, Yui, and Yuri, will have their own fragrances, each of which can be pre-ordered as of Friday. Along with the preorder, people will also receive a yogurt-flavored Ramune sweet featuring one of the three characters, but preorders are limited!

As reported a few news sessions back, Hatsune Miku recently made her US concert debut at the J-Pop Summit Festival back on September 19th. Well, Miku has scheduled 2 encore preformances for later in the month of October! Miku, along with her creator, will make their first encore appearance on October 9th at 11:45 am at the New York Anime Festival, which will also be hosting such artists as Minori Chihara, Puffy Amiyumi, and Boom Boom Satillites. The second appearance is scheduled to take place on October 11th in San Francisco's Japantown district. Could a Miku takeover be starting?! … Let's hope so.

Since I know there are a few Scott Pilgrim fans here at 91.8 the Fan, I felt the need to report the next segment. Scott Pilgrim vs. The World: The Game will be getting its first downloadable content extension in early November. The extension will contain 2 bonus game modes as well as a new playable character, Knives Chau. The 2 bonus game modes to be added will be 'Dodgeball' and 'Battle Royal.' The game will cost 160 Microsoft Points, or $1.99 on the PSN.

Game developer Ubisoft recently announced that they would be releasing an HD version of their cult-classic game Beyond Good & Evil. The story and gameplay will remain the same, but the game will see upgraded character models, textures, and audio all in 1080p resolution. The game is set to be released on XBLA and PSN sometime early next year.

Going back to a story from last week, Level-5 will not be working with Capcom on a new Ace Attorney game (insert sad face). Jiro Iishi came forward this week to clear up the confusion that his tweet from last week had sparked by saying, "A misunderstanding seems to be spreading, so let me say that I'm currently working only on Time Travelers" (which is a Level-5 only title). So, we are back to being in the dark about what game is being developed in the collaboration of Capcom and Level-5…sigh.

Release dates and prices about the 3DS have finally been announced…for Japan! Still though, it gives us a good chance of what to expect everywhere else in the world. The system is going to cost roughly 25,000 Yen (or about $300), and be released on February 26th, 2011. It is expected that the system will release in North America and Europe late in the following month. NINTENDO HAS ALSO CONFIRMED THAT YOU'LL BE ABLE TO DOWNLOAD CLASSIC GAME BOY AND GAME BOY ADVANCED TITLES VIA A VIRTUAL CONSOLE SERVICE. Did you just get excited? Cause I know I did…
———————————————————————————————–
And I'm off to see the Wizard…actually no, no I'm not. You know why? Cause THERE IS NO WIZARD IN KANSAS. I will, however, be practicing my news magic to get you guys all the best stories for next week, but that does not make me a wizard, yo. Just because I can cast a level 7 Magic Missle does not make me a wizard, yo. Just because I show a weakness to missle attacks does not make me a wizard, yo. Just because I can teleport all up out of this hizzous does not mean I am a wizard, yo.