Posted on Aug 15 2010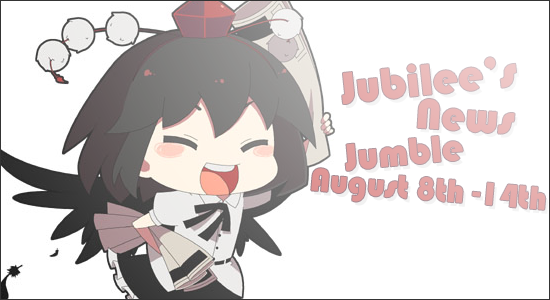 Howdy-doody everyone out there in 91.8 the Fan land, Jubilee is back for yet another jumbled jamboree of news!
After tenderizing, marinating, and grilling up all the weeks best news, Jubilee has plated it, added a sprig of parsley, and kicked it up a notch with his own special spice to appease your palate! From the light at the end of the moe tunnel, to apes playing Pokémon, Jubilee is here to slay the dragon with his new newspaper sword and shield!
———————————————————————————————–

According to iStalk 379, a footnote on Kakifly's K-ON! manga, featured in the September issue of Houbunsha's Manga Time Kirara, revealed the next installment of the series as the last. The September issue is set to be shipped on Monday and the issue cover-dated for October will ship on September 9th. Although this will be the end of the current K-ON! manga series, it is not necessarily the end of the story as a whole. Japanese television station TBS revealed in its fiscal results for the first quarter of 2011 that K-ON! earned a whopping 1.8 billion yen (or $20 million), so it is hard to believe that the series will end completely.

On another K-On! note, Japan Post, the Japanese postal service, announced that they will be issuing stamps that depict the former campus of Toyosato Elementary School, the school that served as the model for the high school in K-ON! Although neither the stamps nor the press release mention K-ON! directly, one of the stamps features a guitar similar to the one the character Yui from K-ON! is known to play.

Singer and songwriter Hikaru Utada announced on Monday that she will be taking an indefinite break from her music career beginning next year. Utada explained in her message that since she began her musical career at age 15, a part inside of her stopped growing. She also said that she will not return to the music world until she feels she has had a little time to grow as a person and naturally wants to share her music with the world again. Before she goes on hiatus, Utada will release her new album, Utada Hikaru Single Collection Vol. 2, this fall.

A new innovative vending machine from Japan, who would have ever thunk it? A 47-inch, touch screen vending machine was recently installed in Shinagawa Station. Instead of looking at the actual item of purchase, the buyer will view a rendered photograph of it instead! If that isn't crazy enough, the machine also has an embedded camera that can recognize the consumer's gender and age, and recommend a product accordingly. It even remembers the purchases and tailors ads specifically for people every time they use it. Expect to see 500 more of these vending machines installed all around Tokyo in the next few years!

Topping the Oricon weekly comic sales chart during the week of August 2-8 was the 59th volume of Eiichiro Oda's manga One Piece, with 1.853 million copies sold. The newest volume of the wildly popular series set a new record for the highest first-week sales since Oricon began releasing the chart in early 2008. Not completely surprising, the previous holder of the record was none other than the 57th volume of the same manga, with 1.691 million copies sold. In fact, the last 10 volumes in the series, dating back to the 50th, have each sold over 1 million copies in their first week.

According to iStalk 381, a stage musical adaptation of world famous Isao Takahata, and Studio Ghibli's film Only Yesterday will run in Tokyo's Ginga Gekij theater from April 16th to 29th, 2011. The film follows 27-year-old office lady Taeko as she journeys to visit her brother-in-law's home on the countryside. Along the way, nostalgic memories of Taeko's childhood are invoked, and they lead her to reconsider her path in life. After the play ends in Tokyo, it will move to Semboku City, where it will run from May 8th 2011, to January 3rd, 2012. Starting in April 2012, the play will go on a national tour.

Also featured in iStalk 381, Yutaka Yamamoto, more commonly known as Yamakan, is currently working on a new anime series known as Fractale, based upon the mathematician and father of Fractal Geometry, Benoît Mandelbrot. Yamakan has previously worked on series such as Lucky Star, The Melancholy of Haruhi Suzumiya, and Black Rock Shooter. Yamakan also stated that he is prepared to retire should his new series do poorly.

Japanese film production company T.O. Entertainment revealed Friday that Fumihiko Sori will direct the anime film version of Bioware's popular Dragon Age series. Sori has previously headed such projects as the computer animated Vexille – 2077 Isolation of Japan and the manga-based live-action film Ping Pong. T.O. Entertainment will also be working alongside Funimation for the North American release, which is expected to be in late 2011.

As some of you may have noticed in iStalk 382, Japanese cosplay retailer COSPATIO is currently selling limited-edition costumes based on the plugsuits worn by characters Asuka Langley and Rei Ayanami from Neon Genesis Evangelion. The costumes are made to order, but come at the price of a whopping 553,350 yen, or $6,428. On top of that, the costumes are extremely tight fitting, and thus it is recommended the buyer have the suit fitted.

Also featured in iStalk 382, in a Publishers Weekly interview on Tuesday, Writer and Editor Sean Michael Wilson revealed that Kodansha International is publishing an English-language manga version of Yakuza Moon. It is the second of four manga adaptations planned, with the first having been Hagakure: Code of the Samurai. All four of the planned adaptations will first be released in Japan, and follow in English-speaking countries shortly after.

As reported by iStalk 383, it is time for the Anime Saimoe Tournament! The Saimoe Tournament is an annual poll in which users from Japan's 2channel message board vote on, like the name implies, the most moe female anime character. Eligible characters are placed into brackets, and the characters win by a popular vote. The winner of each bracket progresses until narrowed down to two, out of which the champion is crowned. Previous champions include characters such as Sakura Kinomoto, Rika Furude, and last years winner Taiga Aisaka.

Also mentioned in iStalk 383, Sailor Moon has returned to television in Hong Kong! The show re-aired on TVB 2J, which is targeted towards teens, on August 13th. Although this does not directly concern many English based fans, it has lead to speculation that the series is being revived, so we have good reason to hope that we could see it over here very soon!

Italian gasoline retailer, Azienda Generale Italiana Petroli, or General Italian Oil Company, is collaborating with Sanrio Co. and Showa Boeki to produce and market Hello Kitty-branded motor oil. The 3-liter can of oil features the famous kitty's face, and comes with a premium sticker and a card. The expected retail price for the oil will be roughly 2,980 yen (or about $35.00). The motor oil is a standard 5W-30 synthetic that is GF-4 compliant, and is certified for automobile and light truck use.

On August 6th at the San Fransico Zoo, a young boy playing Pokémon on his Nintendo DS accidently dropped his game system into the animals' exhibit. Several minutes later, one of the curious gorillas picked up the DS and began to play with it. The DS was eventually saved by a zoo employee, and was returned to the boy only slightly battered. To see photos of this bizarre event, as taken by photographer Chris Spicuzza, click here.
———————————————————————————————–
And there goes another week of news, over the river, and through the woods. I would also like to announce that I am adding a new feature to the article, and it involves YOU, the readers! Every week, I will select a question based off of one of the week's stories, and I will feature the best response on the following week's article. So, if you want YOUR name posted up on the front page…I would love nothing more than to hear your brilliance! As for this week:
What anime/manga would you like to see adapted as a stage musical and why? What musical numbers could you expect to hear? Would you like to see a specific actor/actress play a certain role?
Make sure to either send your responses to me via PM on the forums, or by e-mailing me at Jubilee@918thefan.com. In addition, I encourage all of you to leave comments about your favorite news story, or as to what you would like to have more news about! Until next week, Jubilee will be training his Miltank to combat the news with strong bones!