Posted on Nov 16 2009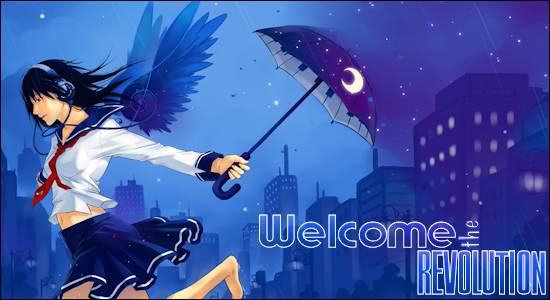 Finally, after a long two weeks and a ton of work, our new site is finally up and running! Here's just a quick update of some of the things you'll see:
New Design!
The very first thing that probably caught your eye. The lovely and multi-talented Kanashimi hasn't just been doing nothing with her time away from the microphone, she's spent weeks tweaking and perfecting this new design, and all of these past two weeks getting everything set up for the relaunch, she's extremely tired, but still continues to work on it nonstop. Be sure to thank her whenever you get the chance!
A mascot?!
We felt the need to have something that represented everything we stood here at 91.8 The Fan, so Brie was born out of a conglomeration of ideas. There was quite a multitude of ideas put into the mascot herself. Such as the fact she has red eyes because our CEO, Sandgolem has a big thing out for Tsunetsuki Matoi from Sayonara Zetsubou Sensei, and her black hair is also a nod to the character. We purposely avoided a kimono design as a whole, and instead wanted something modern yet still giving a hint to the cultural base of our site. Of course, the best of all, she needed to be a DJ! So please enjoy the new face to our site per se.
I'd also like to give a huge thanks to our artist, BaraChan.
Forums?!
Yes, Kibs has in a matter of roughly five days designed the forums to compliment the site as best as possible. Not only that, he's organized every section and made sure every minimalistic detail has been customized for all our fans. The forums themselves will soon be fully integrated into our directory, and it's also the only way to become a True Fanatic! Make sure to give Kibs a huge thank you and hug for all the hard work he did.
While admittedly, our old forum home TAL was a wonderful forum, and we have lots of friends there, however, along with a few personnel issues, we felt like we needed our own identity when it came to a forum. There was also a need to make a community solely focused on everything 91.8 The Fan related, thus Kibs passed out every day of the week on his keyboard to form such a glorious society of fans!
New iStalks!
We know you stalkers have been missing your fix! Don't worry, we have you covered. Make sure to stick around for tomorrow's new and improved iStalk episode. We will be giving you an extra long episode to compensate for the lack of news goodness. Tune in to watch your favorite show with your favorite Moe Maid announcer.
VIP Area?
What is this? New section has appeared?! There's a lot to say about this, but the best way to know is by visiting the page itself for the full explanation. In short, it's a new feature that uses paid subscriptions to give extra fans a little more content. This can range from weekly bloopers of iStalk, portions of interviews that didn't make the final cut, and various other things. We're currently having a special sneak peek of our radio station for those who decide to order! Confused? As I said, the best way to find out is by heading to the VIP Area itself. What are you waiting for?!
Wait a second…
Uh-oh, someone noticed not everything is up. It's true, we're still working on a few things since 91.8 The Fan has a high standard that we want to make sure to follow. Below are the following areas being worked on:
Pages are still being tweaked and added, so if things seems a little disjointed then that's why. This should be fixed in a day or two.
The directory is our biggest hurdle at the moment. We've basically taken all the work we've done and started from scratch. In a manner of two weeks, our team has rewritten summaries for every series on the list, given comprehensive reviews on the streaming sites in question, and started to collect a large array of multimedia that has to do with said anime. This will be expansive and will also take a lot of long, hard work. The actual design is still in development, but when it does come online the directory will be functional with user support. This basically means regular users, such as yourself, can suggest edits to the directory itself to better it. We have an estimated time table of two to four weeks.
The radio station is also a big priority, but just needs a little bit more tweaking. Don't fret! We plan to have the radio station up and running within the next two weeks. All of us have sworn that the station must be up to par with our expectations, and as such we're using this extended time to practice broadcasting, server ability, etc. We definitely promise that the launch of the station will be well worth it. Our plans are not only to bring you all the Japanese, Korean, Chinese, and Taiwanese music you will ever want to hear, but to also provide you with more interviews with famous figures in the industry, constant updates, contests, and all that jazz! It is certainly something to be excited over.
All in all, 91.8 The Fan is heading in a completely new direction. Most importantly, we want to thank all of our fans for getting us here. We encourage everyone to join us during this new era as it can only get better from here.
Welcome to the 91.8 The Fan revolution!