Posted on Aug 29 2018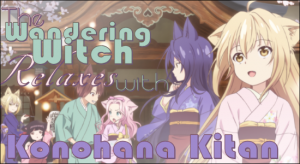 Welcome, all, again. These past few years I have proudly stuck to a very simple promise to you, my readers: I only review what I like. Why would I waste your time or mine talking about a show I didn't even enjoy?
But this has proven a dry season for me, and between this column and my own site, I have quickly exhausted the current shows that continue to entertain me. So let's look back just a few seasons ago to a series I never had the time to give its proper due–Konohana Kitan! When this series originally aired from October-December, 2017, it was exactly the show I needed, exactly when I needed it. It still is. A beautiful, airy fantasy set to a slice-of-life format, Konohana Kitan captivates even while it drains its viewer of cares and worries. Each episode is roughly 24 minutes of relaxation and rejuvenation, cleverly packaged with cute, decorative fox-girls. Welcome to Konohanatei!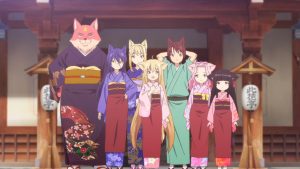 Welcome where, you ask? Konohanatei, an inn within the spiritual realm, although close enough to our own that the veil sometimes parts to admit the almost mundane. Owned and managed by a female fox named Okami (literally, landlady), Konohanatei is an impressive structure of traditional Japanese architecture, at least 3-4 stories high, with several outbuildings and expansive grounds. The inn's staff is entirely female, adding to the perceived tranquility–what could be more peaceful than spending a few quiet days surrounded by serene gardens, clear streams, and demure young women? Not much. Guests can take meals in the common dining room or within the privacy of their own rooms, stroll the grounds, or visit the town at the foot of the hill upon which Konohanatei sits (mind you, this town boasts a quite beautiful shrine). It is, in short, just the place for those seeking ease of body and tranquility of soul. At least, for guests.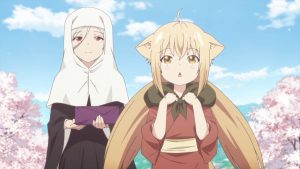 It turns out that running such a quietly indulgent place takes real effort! And we viewers spend most of our time with those on the front lines, the attendants who directly serve the guests. As the series begins, there are four young attendants working under the supervision of a more mature kitsune (fox-girl) named Kiri, who herself answers directly to Okami. Such a large property, however, demands constant diligence, so when a friend approaches Okami about taking on a trainee from her care, the conditions are quickly settled. The new girl–named Yuzu–has been raised by the nun Bikuni, who found her some years before alone, freezing, and pretty much feral. Having shaped Yuzu into an intelligent and inquisitive young lady, Bikuni feels that working at Konohanatei will allow her to further expand her education and possibilities through interacting with people from various backgrounds. Of course, Yuzu will first need to learn to live and work within a group, a change that threatens to overwhelm her shy personality. But on the plus side, her sheltered upbringing has produced a quiet and studious girl who is deeply respectful of those whom she meets.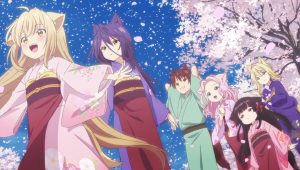 Yuzu's attendant training is entrusted to Satsuki, a workaholic character with a gnawing inferiority complex engendered by the accomplishments of her oh-so-perfect older sister, who practically stole away Satsuki's chance to train as a priestess at the town shrine. While her tsundere outbursts do not strike me as endearing, I completely understand her tendency to work herself into a state of mental oblivion–sometimes life's unfairness can spur one to do just that. Yuzu also gets beauty and comportment tips from Ren, a delicately ravishing and extremely feminine coworker. But for the heavy lifting (both figuratively and literally), the other girls turn to Natsume, something of a tomboy. She is often mistaken by guests as being male, and enjoys an especially close personal relationship with Ren (which often leads to Ren's own tsundere outbursts). And that leaves the wee one whom even the inexperienced Yuzu coddles, Sakura. This tiny child personifies quietude, although she is proficient in the simple tasks assigned to her. She seems to consider Kiri as her safe harbor, probably viewing her as something of an older sister figure. Regardless, Kiri reciprocates.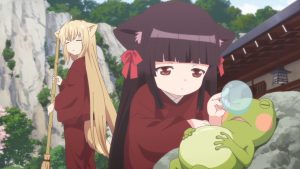 Working both with guests and behind the scenes, these ladies are determined to provide a restful, restorative environment. And know that gods, yokai, and various spirits all seek Konohanatei's calm. Know also that the calm is real, with gorgeous artwork that showcases soft lines and pastel colors, while the musical accompaniment is appropriately soothing. The overall expressiveness of this show is astounding, and will lull viewers into its sedate rhythms. It was a tonic for me, the antithesis of my IRL ordeals, and–because the series remains accessible to view on Crunchyroll–it still is. So if you need some relaxation or down time, visit the ladies of Konohana Kitan.