Posted on Jul 27 2017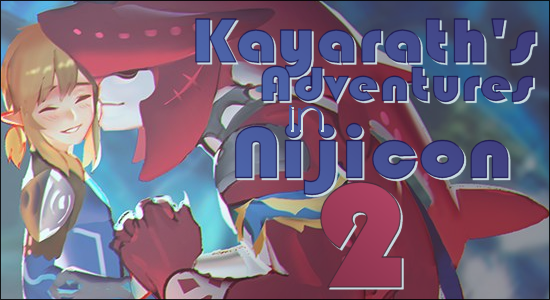 When we last left Nijicon, it grew from a hopeful dream to full blown reality. The East Coast finally had a yaoi con to call its own! Two years later, I decided to revisit Nijicon to see how far it progressed. I wonder how Nijicon grew and changed since I last attended it. In many ways, it hasn't changed at all. Nijicon still wants to bring people together who enjoy seeing/reading about guys getting together. The yaoi flows more freely then in Free. The panels were interesting and through provoking; as well as really gay. If you wanted a convention full of guy on guy action, you were in the right place.
Nijicon changed itself a bit. It expanded from being solely focused on yaoi to encompassing the entire LGBTQ spectrum. Like going from manga to anime, it's a logical expansion of Nijicon's focus. It also moved from a hotel near King of Prussia to the Greater Philadelphia Expo Center. It works well as a convention space. The Expo Center also hosts Too Many Games in June which I do recommend.
Nijicon has maintained it's core identity quite well. It's still itself and honestly most of the stuff I said in my last report still applies. I could have just copy pasta-ed that and it wouldn't be too far off. I will restate that seeing Cosplay Burlesque can single handily justify going to Nijicon. It is exactly what it sounds like and it is wonderful. When you see them at Nijicon you are right next to them with no stage obscuring your view of all the… "artistry."
I would totally give Nijicon my seal of approval if it wasn't for the metaphorical vultures flying overhead. These aren't "Breath of the Wild is amazing but I'm annoyed by how fragile the weapons are" type complaints either. They're more like, "Evolve is going free to play!" It makes me question whether Nijion can continue. I genuinely felt bad about writing this because I don't want to sound the death knell.
The first warning came with the Nijicon Kickstarter campaign. A Kickstarter is not always a sign of distress but it's always disheartening when your Kickstarter fails. They shot for fifteen thousand and only made it to four. That is not a show of force by any means. What really hurts is that they tried it a second time with a smaller goal of four thousand and fell flat on that. If you had an eye for detail, you would notice that they created a new Kickstarter account for their second campaign. If it was an attempt to hide the first campaign, it wasn't a good one.
What really concerned me was the announcement that Sunday passes were only five dollars each. Any regular of the con scene will tell you that is the type of pricing they give to bags of chips about to expire. It strikes me as a desperation tactic designed to goose up the numbers. Though in Nijicon's defense, they're coping off Flame Con for that idea and their targeted demographics do tend to have less purchasing power compared to their binary counterparts.
All this suggest that Nijicon itself was suffering due to a lack of purchasing power. This was confirmed when I arrived at the Greater Philadelphia Expo Center. There's plenty of space but Nijicon was only able to rent about half a hall. The other half of a hall was having a women's expo. Those two things in the same hall felt like Hetalia's Italy getting into your grill to be honest. I heard that a few who went to the women's expo also checked out Nijicon so it's a gain for them I guess.
It wasn't enough to save Nijicon though. All the criticisms I made before were just a prelude to the most important measurement of a convention's success: attendance numbers. They were horrible. There were about fifty or so people there. Seventy five if you're being optimistic. A con simply can't live on those numbers. Nijicon is three years old at this point. They should be growing and reaching at least a few hundred people at this point. To compare; Fillycon, a first year My Little Pony in Philadelphia, got over two hundred people.
Nijicon is a well run convention but no one showed up. Does the average con goer shun Nijicon because it's too gay? Did gay people skip it because it wasn't gay enough? Does a con simply fail without big names to attract crowds? I don't know what went wrong? Picard has said, "It is possible to make no mistakes and still lose. That is not a weakness. That is life." That's sad comfort though. I can only hope that tons of people came in on Sunday, fell in love with the convention, and decided to come back next year and pay full price. I don't want Nijicon to become the next Battleborn…