Posted on Jul 26 2012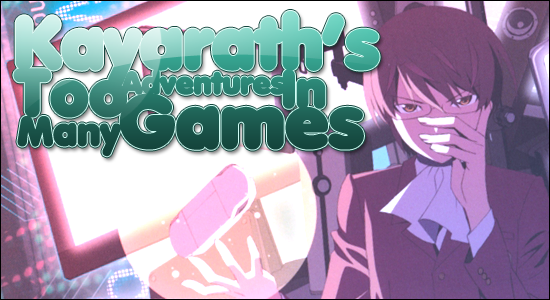 What would you say if I told you Too Many Games does exist? I bet you'd say, "you can never have too many games!" If you were more particular, you may say, "you must be referring to a convention or such named Too Many Games." To the particular person I would say, "You're correct!" Too Many Games is the name of a convention. Let me tell you all about it!
Too Many Games is a yearly gaming convention in southeast Pennsylvania. Originally, it was focused on classic video games but has grown to become a much more general gaming convention. It has many of the convention amenities you've come to expect including guests, panels, and plenty of ways to spend money. There's also plenty of things that make Too Many Games stand out among the convention crowd.
The first thing most people will notice is the Marketplace, which is a fusion between the "Dealer's Hall" and the "Artist Alley." Even for people who been around conventions before, there's vendors with new and intriguing items to purchase. I, for one, purchased a Brental Floss album and some stickers from Level Up Studios. The main thrust of the dealers was finding new homes for the cornucopia of classic video games lying on their tables. Finding a real treasure still felt like looking for a needle in a haystack but there were a lot of haystacks there! From the first NES to the Playstation One and even the Atari; if you had the console, you could get a game for it.
There was even a new game release available premiering at Too Many Games! Dragon Feet for the Nintendo Entertainment System was available for purchase for the first time ever! There's no typo or mistake here. There really was a new game made for the 8-bit Nintendo Entertainment System. It seemed that the creator choose to make a new NES game just to see what he could do under the limitations it imposed. I did manage to try it, and well, it seemed really sparse to me. However, the upcoming sequel, Dragon Leap, looks to be a vast improvement with sprawling levels, more enemies, and more everything basically.
Too Many Games also had many guest, including The Angry Video Game Nerd (or AVGN). Yes, the beer swelling, foul mouthed, bitter, and upset reviewer of old games was there. I would go as far to say that he was the biggest draw of the whole convention. The Nerd also had his partner in crime with him, Motherlover Mike (We all know Motherlover is not his real name but I can't say his real name here, since we're a family friendly website). It just felt so good to walk up to him and yell, "MOTHERLOVER MIKE!" That alone could justify the cost of admission in my mind.
The Nerd and Mike did do more than stand there so people could yell their names back at them. The Nerd spent almost the entire convention signing autographs and meeting with the fans. The line stretched from one end of the convention hall to the other. When they weren't manning the stands, they were doing panels. There I learned things like how Motherlover Mike started out as a costumed character in AVGN episodes until he became comfortable enough to appear on camera as himself. There was also a young boy who confessed that the Nerd is the reason he doesn't cry himself to sleep every night. That may sound strange but it was quite heartwarming as it meant that The Nerd's work provided great comfort to at least one lost soul.
The best part was when Mike and The Nerd played some NES games right before our very eyes! Using the famed Nintoaster, they played "classic" games like Cliffhanger, Lethal Weapon, and California Games. We marveled at how you had to press select to hang on to a rope, switch characters by walking off the screen, and dodge an endless stream of random boulders to pass though levels. The audience cheered at the successes and groaned with the many unfair deaths. It was a real treat.
Another treat was seeing Brentalfloss perform live. Any of you who listen to our music stream must have heard the video game balladeer at least a few times (If you don't know what our music stream is, simply click on the little chibi Brie on the lower right corner of your screen and then click on one of the red buttons to have awesome Asian and anime music played right through your speakers!). In between singing his hits and throwing candy, Brentalfloss spent a lot of time engaging in healthy banter with the audience and even did a mad-libbed song. He also did a few panels. There, Brentalfloss discussed the balancing act of indulging his own artistic urges versus satisfying his audience. While he's not gonna quit video game music to become a jazz singer or something, he is experimenting with new types of songs. What really sticks out is the Metroid power ballad sung by a Broadway actress. I initially thought it was sort of ridiculous but I think almost cried listening to it.
Brentalfloss wasn't the only musician though; not by a long shot. There was practically always a concert going on. You could have spent the whole convention time just attending concert, after concert, after concert. If you wanted to listen to rock bands who cover and redo video game music, you could go to see The Minibosses, Temp Sound Solutions, or the X-Hunters. If chiptunes are your thing, then the Pixel8ter, Autoscroll, or Chipocrite (my favorite Philadelphian chiptune artist) concerts may be for you! DJ Cutman served at the MC of the whole affair. Sadly, I don't think many people took advantage of the opportunity to listen to all the bands. All the performances took place in the "Power Bar" which was a small bar that was all dark and made concert ready but there was barely enough room. I also wish there was more chairs or something for sitting but that just might be me being lazy.
If I really wanted to sit down, I could have attended some panels. I mostly attended guest panels by Brentalfloss and the Nerd but I did find time to attend a Kickstarter panel hosted by the International Game Developer Association. To sum up what they say, if you're gonna do a Kickstarter, plan and promote as much as possible. Be sure to include a video, too, since everyone needs a video these days. Generally, by the end of it you should have lost weight and feel deeply ashamed about how much you had to shamelessly promote your project.
I should also take the time to mention that there were many video game tournaments at Too Many Games. All the staples like Super Smash Brothers and Skullgirls were there for those interested in testing their might. Honestly, I'm not in the mood to list all the other gaming and gaming related activities you could do but there (like play a variety of indie games). Let me just say that if you like gaming and wanted to meet people who play or create games, then this is a convention worth going to. You could even meet Rachel Johnston! How does Rachel Johnston became a guest at a gaming convention? How does she even relate to gaming? Apparently, she models for card art, which is good enough… I guess.
I would also like to say that the program (as in the brochure you receive that lists all of the convention's events) ranks among the most improvised I ever seen. I can only assume it was the day before the convention and someone finally noticed that there wasn't a program written up so they typed up the day's events in wordpad and printed it out a few thousand times. They don't even use the same format everyday! It does suggest sloppy planning but it was still quite functional which is what's important (unlike some other conventions I won't name). I guess it's like a gymnast doing a short hop after performing a complex somersault. While you do give that person kudos for doing such a feat well, as a judge, I must take note of any imperfections in the routine, no matter how minor.
Like how they say they packed the Greater Philadelphia Expo Center. You can not pack the Greater Philadelphia Expo Center with thirty nine hundred people. You would need at least double that before you can consider the place "packed". However, The Expo Center is monstrously big and attendance was thirty nine percent higher then it was last year. I'm no convention expert but if you increase attendance by thirty nine percent in one year, you must be doing a lot of things right. I, on the other hand, was quite sub-optimal in my convention coverage. I mostly just walked around and hung out but there's nothing wrong at just hanging out at a convention, especially when it's a good convention. If you want to take a jump into the deeper side of gaming, then Too Many Games is a great place to go. If you do go, maybe I'll finally find someone to play Tanto Cuore with there…