Posted on Jul 21 2014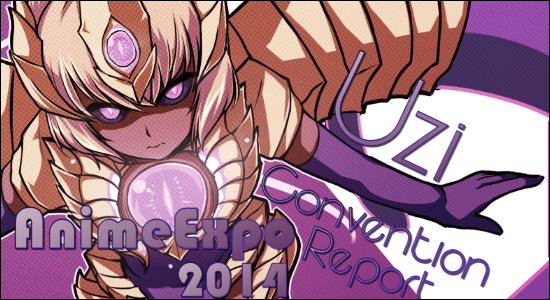 Anime Expo is the largest and the fastest growing con in North America. Last year, Anime Expo had about 60,000 attendees, but this year was reported to have over 80,000! Luckily I was able to attend again this year, but this time I went as a representative for 91.8 the Fan. How was my time there? Great!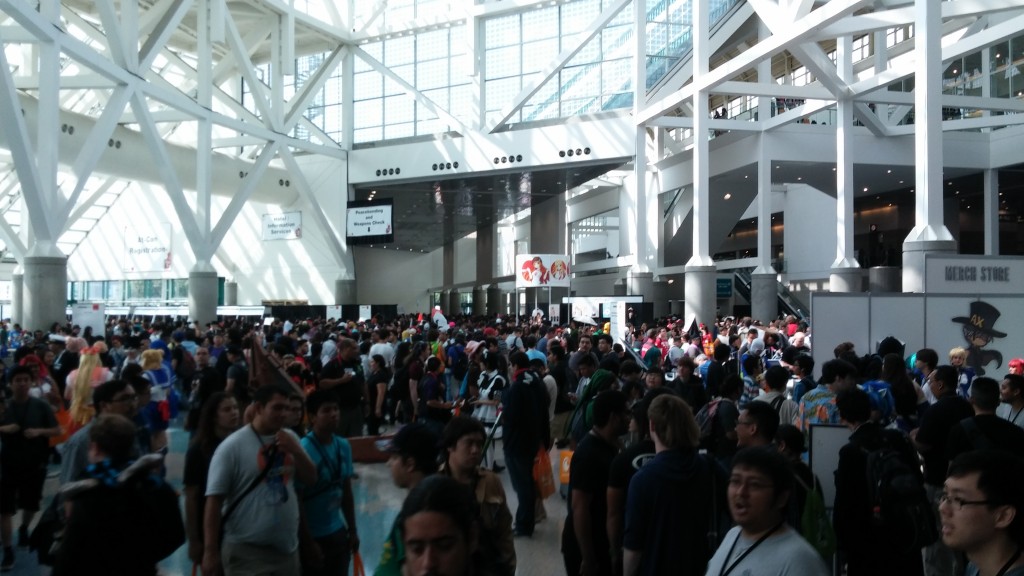 Because Anime Expo is THE con to be at, cosplayers know that it's the time to step their game up. The quantity and quality of cosplayers shoot up immensely for this event, making it an interesting event in and of itself. Personal favorites of mine included Maridah, one of the most well known Saber cosplayers from Fate Stay Night, and D-Piddy, a Youtuber/cosplayer who pulls wacky shenanigans every Anime Expo. Along with the awesome cosplays were the amazing floor props throughout the Exhibition Hall. There's the usual large scale Gundam model, Riot booth props like the giant Poro, and the Eight-Six from Initial D. Think of it as a big art museum for geeks.
The guest line-up at Anime Expo is full of big names every year, and this year was no exception. The English voice cast of Sailor Moon made a big appearance hosting a personal panel about the show. To make things even better for the Sailor Moon fan base, the 2014 remake of the series, Sailor Moon Crystal, premiered at the convention. Speaking of premieres, Sword Art Online 2 got a full house on Saturday with guest appearances like Reki Kawahara (creator), Abec (original illustrator), and Aoi Eir (theme song artist). I'm a huge fan of the series and made sure to get a front row seat to the event. Sure, I had to suffer through a few episodes of the English dub to actually see the first episode of season 2, but the experience with the rest of the audience made it a lot more enjoyable than I thought. Aside from SAO and Sailor Moon, I think the Kill la Kill guests may have made the biggest impact this year. The Kill la Kill main event, which included the English dub premiere and a concert by Aoi Eir, was sold out, and about 50-70 people got autographs from Ami Koshimizu and Ryoka Yuzuki (the Japanese voices of Ryuko and Satsuki). You wouldn't believe how crazy the line got for anything Kill la Kill unless you were there yourself.
Let's move on to my issues with the convention.
Anime Expo had a 20,000 attendee boost from last year. Now, one would not consider this a bad thing. More people who enjoy the same things just makes for a better time, right? True, but there comes a time when enough is enough. The convention has been at the Los Angeles Convention Center since 2008. Previous locations included the Long Beach Convention Center and Anaheim Convention Center. Changes in locations like these are due to increases in the attendee count, and Anime Expo definitely has to change locations after this year. There were many issues this year that make this mandatory. Many of the events had attendee caps, meaning that a limited number of people could attend the event. With the biggest room in the con, Live Programming 1, it could fit at least 200 people. Almost every event held in that room was full, crushing the hopes and dreams of the people who were cut off. Sure it wasn't that dire (or was it?), but serious thought should be put into increasing the limits for each room for next year's convention.
Another thing that came to my attention were the autographs, and this is not a good thing. Unlike the traditional method where people just go to wait in line for the guests they want autographs from, Anime Expo has a ticketing system that pretty much saves spots. This works for better organization, but the downside is that people will have to wait in a really long line to get a ticket to wait in line. For people who would wait outside the hall before the autograph line opened, they were waiting to get in line to get in line for a ticket that would get them a place to wait in line. It's obvious how tedious this is just by reading about it.
I still have a lot of dissatisfaction from Anime Expo this year, but that didn't make it an entirely bad experience. I met lots of fans, guests, attended interesting events, and saw amazing cosplays and props. All I ask for Anime Expo is that they fix their autograph system, line management, and find a bigger location. If anything, it wouldn't be unusual to see the attendee count reach 100,000 in the coming years.