Posted on Aug 15 2015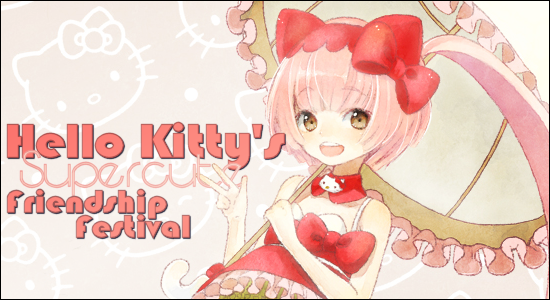 There are many characters we recognize from our childhood, but in a day and age where they're constantly being "reinvented" it's nice to see a certain little girl with overalls has stayed the same since her creation. Obviously, I'm talking about the iconic Hello Kitty herself, who I got the chance to see parade on-stage with her friends during Hello Kitty's Supercute Friendship Festival!
This event snuck up on me somewhat considering the last large-scale Hello Kitty event was Hello Kitty Con in 2014. Many fans of the red-bow wearing feline were anticipating the announcement for 2015, but it appears Hello Kitty's Supercute Friendship Festival is a suitable replacement that enables families from all around the United States to visit with characters like Keroppi and Melody.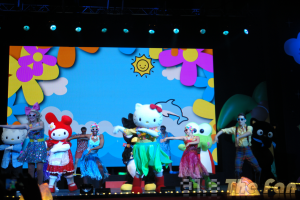 Most con-goers will be a little bewildered at the three-hour time-frame, and I will agree that it does leave fans longing for more, but considering the family-friendly demographic it makes sense for people of all ages. The arena is set up like an interactive forest with two stages; one smaller entitled the Rainbow Stage, and the larger, Main Stage. Around said stages are picture-taking opportunities, merchandise booths, information, and various activates like origami or drawing stations. Children will be attracted to face painting and exploring the various sets laid out for them.
Despite feeling a few years too old for the event when I initially walked in, I still had a lot of fun enjoying the actual performances on stage. The entire show is carried by two hosts that display their singing prowess throughout with Japanese music littered amongst the American pop. Popular artists like Kyary Pamyu Pamyu, AKB48, and Perfume were featured during certain skits.
Aided by a host of dancers and quirky costume changes, our hosts introduce familiar characters to the audience. The full list of characters include: Hello Kitty and her boyfriend Dear Daniel, Kerokerokeroppi, Bad Badtz-Maru, Chococat, My Melody, and even Pomponpurin! Each character has their own segment that demonstrates their personalities as well as highlights some of their talents. Most of the Main Stage performances included bright and cheery music, shots of confetti, and well-choreographed boogying. In contrast, the Rainbow Stage, which would be active any time the Main Stage wasn't, hosted photo ops with the characters and fun events like the attendee fashion show.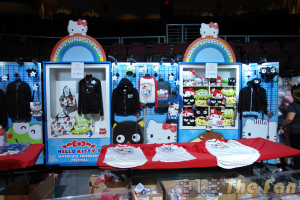 In addition to stage shows and backdrops, there's a merchandise booth with exclusive items that are only being sold on the tour. Be mindful of said booth which has some temptingly cute items, but they are quite costly. As someone who did indulge in getting a few things for herself however, I can verify the quality of the hoodies is both comfy and durable. They are very much the go to item for the show since they can be rolled into a plushy-like pillow. If you're more of a fashion-forward individual then there's also your choice of purses, necklaces, and trendy eyewear.
If you're a parent looking to take your kid, I highly recommend it! There's a lot of distract them and keep them entertained. In addition, if they enjoy music and dancing they'll get their fill just within the three hours. It's a nice way to enjoy yourself as an older fan, but also expose your children to a character that's iconic to your own childhood.
If you're an older fan, I do still think the $19.00 price tag to get into the door is reasonable enough. This ticket price is for general admission in the Las Vegas area, which still has a few more showings until the 16th of August. The tour's next stop will be in Phoenix, AZ from August 22nd to 23rd.
Lastly, if you're a super fan, there are two special packages for those who just can't get enough Hello Kitty. If you want to catch the showing at the Orleans Arena in Vegas you have the option of getting the Red Bow package for $89.00, which enables you to enter the show an hour early, receive a guaranteed photo opportunity with Hello Kitty, and advance access to tour merchandise. Furthermore, there's a Platinum Bow package for $189.00 that includes one hour early access, guaranteed character Meet & Greet and photo opportunity with a minimum of 5 characters, reserved stage show seating, advance access to tour merchandise, and a custom tote!
If Hello Kitty is making a stop in your city, why not give her a visit? How often do you get to meet a living legend in the flesh?