Posted on Nov 06 2014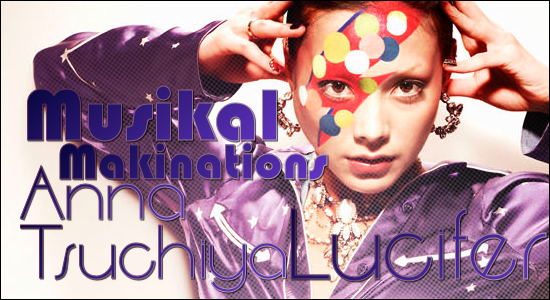 Model, actress, singer, mother; All words that capture the multifaceted career and life of Anna Tsuchiya.
Non-conformist, devoted, daring, sexy; A few more words that come to mind when looking at the body of work that Anna Tsuchiya has achieved
throughout her career.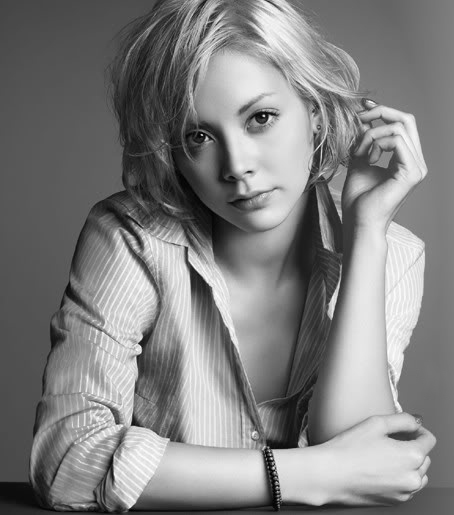 Anna Tsuchiya
Anna Tsuchiya is one of the few people of mixed descent that has been able to make a successful career in the Japanese entertainment
industry. Born on March 11, 1984 in Tokyo to a Japanese mother and American father of Polish descent, Anna grew up learning to speak both
English and Japanese. Being bi-lingual would prove to be influential in her music later in her life. Her parents divorced when she was
seven years old.
When Anna was fourteen, her older sister Angela (a former fashion model herself) suggested that she pursue a modeling career. Anna did
so and quickly became popular. By 2002 she was doing television ads for brands like Uniqlo (a casual wear clothing company) and Edwin
(a popular jeans manufacturer in Japan)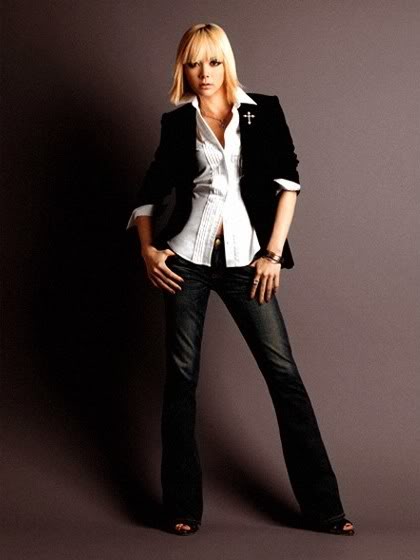 Anna's modeling lead her to make a few new friends. Among them was another popular model during that time named Yoshika Yuhnagi. As
seems typical for this industry, Anna was reported to have started smoking and drinking during this time. Yoshika and Anna were quite
the "wild" pair. Their drinking brought about quite a bit of trouble with Anna picking on heavier models and foreigner models, who
were oblivious to her Japanese. Sadly, Yoshika passed away at 17 from hypothermia after falling asleep at a park near her home after a
night of heavy drinking. I could find nothing about Anna's reaction to the passing of her friend. I suppose it's not exactly a question
an interviewer could ever ask in good taste. I can only imagine how painful it must have been.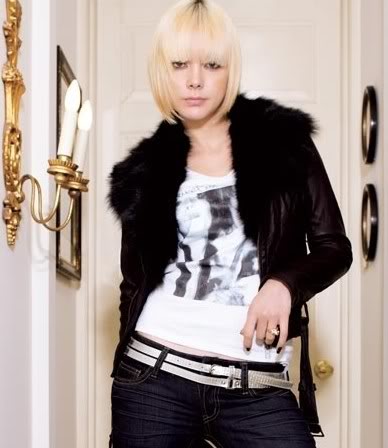 It was also during this time that Anna went through some very tough times with her health. As many fashion models do, Anna struggled
to lose and/or maintain her weight. At 5ft.6in. and 97lbs, she was considered overweight for modelling in Japan. When I read that, I
was floored. She is a tall girl. How could anyone maintain such a low weight without risking health issues? Well, she couldn't. Amidst
the rampant teasing by "thinner" models, Anna woke up one morning when she was fifteen and couldn't move her legs due to severe
malnutrition caused by her struggle to maintain an "acceptable" weight. She was starving so badly, she ended up dragging herself on
the floor to get to the refrigerator.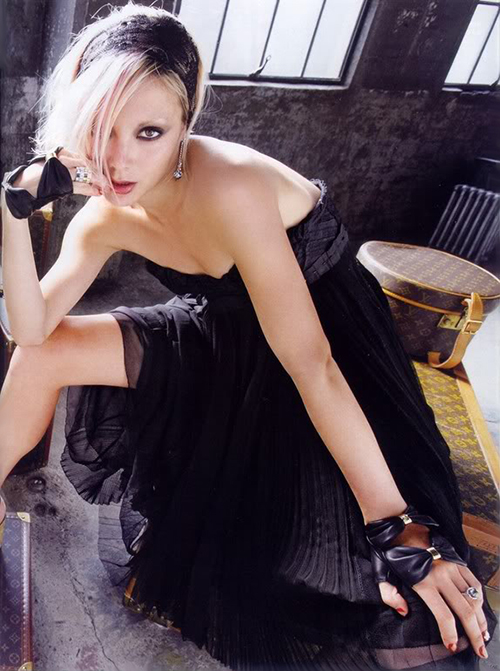 Eventually, Anna grew weary of modeling. Stating she could no longer compete with the "gifted ones" like Emi Suzuki, Anna retired from
modeling at the age of 18.
In 2004, she appeared in the movie Kamikaze Girls, playing the role of Ichigo Shirayuri. This character, a rural delinquent biker-gang
girl turned fashion model, was thought to be somewhat based on Anna's own story, which she confirmed after the release. Anna Won 8
awards for her role in the movie, including the Japan Academy Prize for best new artist, the Outstanding Performance by and actress in
a supporting role and the Blue Ribbon Award for Best New Artist.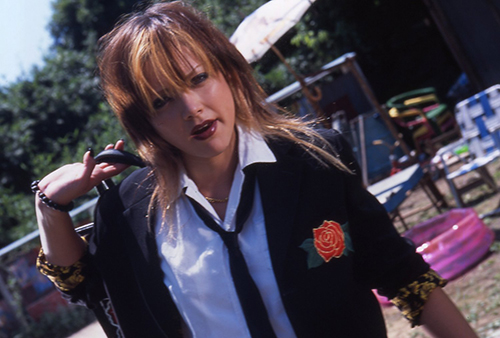 Anna Tsuchiya as Ichigo Shirayuri in Kamikaze Girls (2004)
Anna would go on to appear in several other films. She also did some voice over work, including one of the movies for the mega-popular
children's anime, Anpanman (Go! Anpanman: Rinrin the Fairy's Secret).
It was also during this time that Anna began to take on her music career. In 2002, she formed the punk rock duo Spin Aqua with K.A.Z.
They never saw commercial success and disbanded in 2004.
It was in 2004 that Anna announced her engagement to model and actor Joshua Niimura. On November 19, 2004 she gave birth to her first
child, a son named Sky. Their marriage lasted for a little over a year and a half. In July 2006, it was announced that they had
divorced. Sadly, in May of 2008, Joshua Niimura passed away from heart failure. He was only 25.
During this time Anna Tsuchiya moved forward on her solo career. On August 25, 2005, she released her first EP called Taste My Beat.
It reached #28 in the Oricon charts with 21,000 copied sold. This would be the first of 30 pieces of music released to date.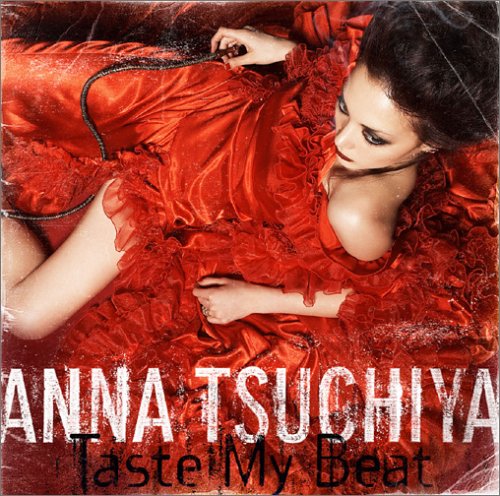 Taste My Beat, released August 25, 2005
Perhaps Anna Tsuchiya's greatest musical success came with her being featured as the singing voice of Nana Osaki from the 2006 anime,
NANA.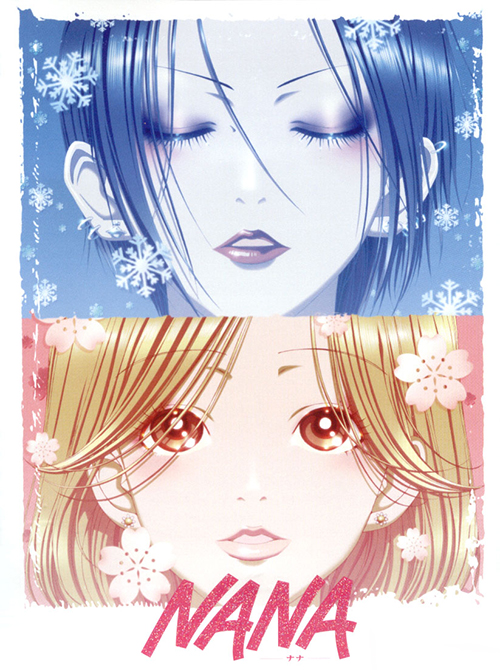 From the huge variety of music featured in the anime by fictional bands Black Stones and Trapnest, we got the first glimpses of the
vocal range that Anna has. From the first OP theme Rose, we hear the rockin' driving voice that she continues in other tracks like
Lucy and Zero. But we see, in my opinion, Anna's best vocal range in her 2007 release of the beautiful, soulful Kuroi Namida (Black
Tears), which is one of my favorite songs from her career.
Rose and Kuroi Namida would be the most successfully singles Anna would release to date, ranking #6 in 2006 and #7 in 2007,
respectively, in the Oricon charts.
Anna has gone on to release 4 studio albums, 2 compilation albums, 2 EP's, 18 singles, 2 video albums and 2 remix albums. Notable
releases include: Strip Me? in 2006, which peaked at #11 in the Oricon charts; Nudy Show! in 2008, which peaked at #10; Brave Vibration in 2009, which peaked at #13; Switch On! in 2011, which peaked at #13 and Anna Tsuchiya 1st Live Tour, Blood of Roses in 2007, which peaked at #37 (I own this concert on DVD and must admit it might be one of the best small venue performances I've ever seen, but that's for another review!)
More about Anna Tsuchiya:
Although born and raised in Tokyo, Anna sometimes uses Kyushu or Okinawa slang and speaks in southern dialects
She performed live at Anime Expo in 2007
She is a fan of classical composer Chopin
Much of her music has English lyrics that Anna writes herself
Her song Guilty was used as the end theme for the 2008 movie Resident Evil: Degeneration
She remarried in 2009 to her stylist Yamato Kikuchi
In 2010 she had her second child, a son named Simba (Shinba)
Her 2011 release Switch On! was the opening theme for Kamen Rider Fourze. She recorded this song because her son was a fan of the
previous series Kamen Rider OOO. She also grew up watching earlier versions of the series.
She often describes herself as a nasty person
In 2011 she released a collaboration single Wonder Woman with Namie Amuro and AI. Their performance at the MTV VIDEO MUSIC AID JAPAN
was broadcasted live to 6 hundred million households around the world
In 2014, she appeared in a major network drama, TBS's "S Saigo no Keikan".
In 2015 Anna Tsuchiya will celebrate her 10th anniversary in music. We get a sneak peak about this in her latest EP release,
which, oddly enough, I'll be reviewing this month! What a coincidence! NOT! I've quickly become a big fan of hers and this months
album review for Lucifer is a very timely piece because of the Halloween theme.
Let's get to the review, shall we?
Lucifer official video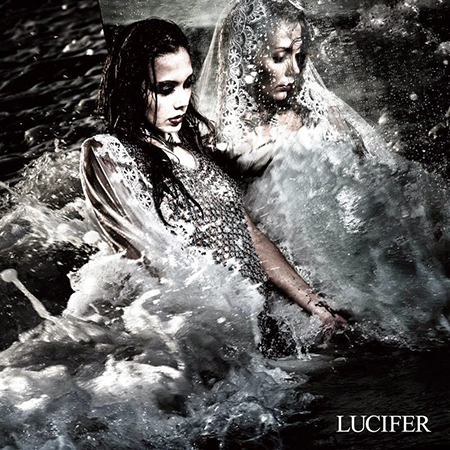 Lucifer Limited Edition CD, released October 22, 2014
Tracklist:
1) Lucifer
Unfortunately, I made the mistake of watching the video for Lucifer prior to listening to the song on its own, so I have some bias
based on the imagery used in the video (which is quite the visual feast as Anna is portrayed as an angel and devil) Lucifer starts off
with a synthesized track, which is used throughout the song. In fact, almost all of the song contains some form of synthesized music.
I'm not a fan of heavy synth music. Anna's smoky voice is easy to hear in the song. One thing that is evident throughout the song are
the English lyrics, which (as is typical of Japanese to English translations, and vice-versa) often seem broken. As much as the music
tries to keep a good flow, there are times where I can't help but get tripped up on the lyrics. It's not a terrible thing, but it does
take away from the enjoyment of the song. There are parts where Anna speaks more than she sings. Not a fan of those moments, which are
accompanied by a heavy dubstep-like bass. DEFINITELY not a fan of those parts. However, there are moments where we hear Anna's
beautiful voice singing brightly. This brings me back to the video for this song. You can infer that the smoky, raspy voice is the
"devil" Anna in the video versus the singing voice is the "angel" Anna. I'm not sure if this was intentional, but I feel that without
watching the video, one will not get the full sense of the song. The rest of the song is ok. Not bad, but not great either.(6/10)
2) The Magic of Halloween
The Magic of Halloween is a very timely track. With Halloween being right around the corner at the time of the release of the album,
this was a pretty fun song to listen to. For a change compared to Lucifer, this song has a complete band backing up her vocals, but
you can clearly hear Anna's voice being masked with synth effects throughout the song. The effects are not overdone, so it actually
doesn't sound bad. The beginning of the song is odd and quirky, perhaps paying homage to the way Halloween is celebrated. The English
lyrics translation issues are much harder to detect because of the better job done with blending Anna's voice with the music. Anna
definitely sounds so much better with a band backing her voice than a hodgepodge of synth effects. There are some synth effects, but
they are not as overbearing in this song as in Lucifer. Better effort than the title track.(7/10)
3) Somebody Help Me (New Take)
I've heard several versions of this song. My favorite version was from her Blood of Roses Tour, which this new take reminds me of.
Anna's voice is spectacular in this version. In the original version from her 2005 Taste My Beat EP, she sang this with a higher tone.
It was sharper, with a more pop sound. After hearing the live version, I liked the richer tone she sang with in the concert. In my
opinion, this version pays a bit of homage to that live one. Anna's smoky, more matured voice gives the song the vibe that I think it
deserves. Still doesn't beat the live version from her 2007 live performance, but it is a close second!(8/10)
4) Taste My Skin (New Take)
I've also heard several versions of this song. Once again, my favorite was from her Blood of Roses Tour. Again, the original
version of this song was featured in her Taste My Beat EP in 2005. That version had the same, younger, pop sound to it. After hearing
the live version, again, the richer tone she sang with became preferable. This new take on that song features the rich, matured smoky
signature voice that Anna has now.(7/10)
5) Frozen Rose (New Take)
One of my favorite performances among the many, many great songs Anna sang in her Blood of Roses Tour DVD, was Frozen Rose. It's a
ballad, yet faithful rock song. Again, the original version was featured in her 2005 Taste My Beat EP. That version also featured a
younger, brighter voice from Anna. In many ways Frozen Rose might be considered the precursor song to Anna's masterpiece Kuroi Namida
(Black Tears), which she would release in 2007. The somber start of the song, with violins accompanying Anna's rich voice which then
crescendos into a full rock song is amazing. The blending of an orchestra and a rock band is perfect. It feels like the violins belong
side by side with the electric guitar, bass and drums. The sadness of the violins being enveloped by the rock music accompaniment
gives Frozen Rose a chilling blend of heartbreak and anger.(9/10)
Overall, I give Anna Tsuchiya's Lucifer a 7.5/10. Fans of Anna will definitely want to add this to their collection just
because of the new takes on some of her older songs. If there is one thing I can take from listening to this album, it's the how much
Anna Tsuchiya's voice has matured. Hearing those new takes alone sold me on this album, because one of my complaints about her studio
music versus her live performances is that she sometimes sounds SO much better. I'm glad that songs like the new take of Taste My Skin
was more like the rock version she performed in her 2007 live DVD. I know she's not afraid to reinvent herself. It shows if you listen
through the rest of her library of music. But I love that she can embrace those styles that made some her songs nearly perfect. It's
clear that Lucifer is paying homage to the start of Anna's musical career in 2005 with the new takes of several tracks from her Taste
My Beat EP. Those new takes make this album a must buy in spite of the average ratings I gave to the two new songs.
If I had a list of celebrities that I would love to interview, Anna Tsuchiya would be near the top of the list. As I researched
information about her for this article, I found myself more and more intrigued about what makes the multifaceted Anna Tsuchiya tick.
Perhaps the rebellious nature in her teens is something I can relate to, as I went through my own during that time (haven't we all to
some degree?). Maybe it's the shifts she's made in her music that follow no patterns; Whims, she just feels like doing something
different, so she does it. Or perhaps it's the self described "nasty personality" that resonates with me. At 30 years, perhaps an
older, and wiser Anna Tsuchiya, but still a risk taker.
This woman can pull off just about any style and look amazing. I leave you with one of my favorite pictures of Anna from early in her career.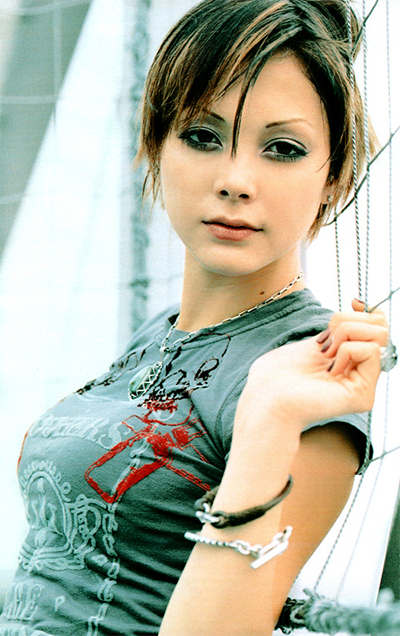 To find out more about Anna Tsuchiya, follow her on social media and get her music and merchandise through the following sites:
Well, that's all for this months article! As always, thanks for taking the time to read it. Please post your comments, suggestions,
gripes, etc. so I can fine tune my future reviews!
Stay tuned for next month's review!
Until then, stay tuned to 91.8 The Fan, where you get Everything You Want,
and Nothing You Don't!