Posted on Jun 01 2014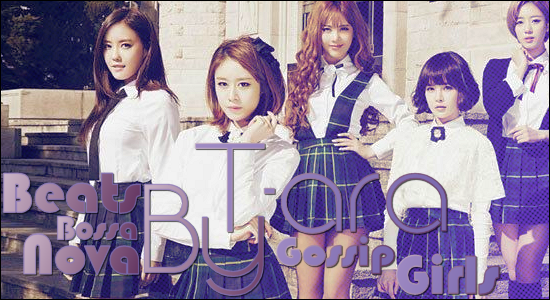 Hey there, I'm the new guy. You know, the one here to review music? … Not ringing a bell? Well then, I guess some introductions are in order.
I'm BossaNova (by that I mean Matt), I'm an avid fan of music of all genres (by that I mean obsessed, possibly addicted, and it might be an issue). I'm a professional musician (pizza delivery guy) and went to school for Commercial music ("What to do once you've sold out"). I'm a brother in a music-based fraternity (boys' choir made up of drinking buddies). I'm a gamer (Rock Band), I'm an anime fan (K-ON!, BECK, Angel Beats), and I really, really, really, really, really like music (fun fact: the Bossa Nova is actually a subgenre of relaxed, slow-time Brazilian Jazz).
So, uh…
Yeah.
Anyways, I'm BossaNova, and I'm very happy to come aboard with the 91.8 The Fan crew and speak my mind about whatever music comes my way. Thank you for having me, hope I don't disappoint.
This week, we've got the album Gossip Girls by T-ara. It's the girlband's 3rd full-length studio LP under Universal Music Japan and is their 4th with CCM. It peaked after its debut at #7 on the Oricon charts.
This is a pretty decent album, but nothing mind blowing. It's got all the conventions of a standard pop album; It's about boys, music, and, every now and then, being sexy in the club; they really kind of own that by naming the thing Gossip Girls. So, this is going to be a record that's enjoyable but safe. It won't stray too far from the beaten path or push any kind of envelope. Maybe that's your cup of tea, though. Let's see how it works out on a track-by-track basis.
1. Just Now

This is a really weak opener, in my opinion. The first track on an album usually needs to be something of a mission statement for the rest of the album; it needs to set the ideas, energy, and tone for every song that follows, and Just Now does not do that. It's a decent song, don't get me wrong; it's happy, catchy, easy to dance to, and about realizing you're in love. You'd have to really try to go wrong with that combination. It's just not… sexy enough to be the first impression for this album, especially with the tone of next two tracks. This feels like filler to go on the back end, or pad the middle.
2. Lucky Wannabee

This is where the album really starts, as far as I'm concerned. The guy rapping at the top does a better job preparing the listener for the album with a cough and two lines than the actual opener does, and the verses are absolutely great. They're dark, they're dirty, and they're ready to bring somebody home even if they have to kick some ass to do it, and the beat really helps drive that home. The chorus kind of messes with that mental image with the crisp, clean, four-chord pop, but it's easy to overlook when the rap/dubstep breakdown kicks in.
3. No. 9 (Japanese Version)

Technically, this is just a translation of an already pretty popular song from another album, but I enjoyed it nonetheless. The harmonies in the chorus are absolutely perfect, and I'll listen to it whenever they want to put it out. No. 9 and Lucky Wannabee are the clear standout tracks from the rest of the album; if you were to stop here and not listen to the rest, I really couldn't blame you, though there are still a few good tracks to go.
4. Lead the Way

This one's a standard relaxed, poppy song with a jazzy, shuffled feel, and it plays with some goofy ideas musically. For instance, the Shooby-Dooby's that the girls drop in the outro are an interesting choice for filler words. I guess it's easy to sing along with, should you want to. Another thing: I'm pretty sure that the synth bass is actually a tuba sample that's been run through an EDM filter. The song as a whole is a nice, relaxing tune about following a guy through a relationship, letting him lead the way. It's pretty catchy. but in the end it really feels uninspired to me; the vocals lay flat and emotionless for the most part, especially compared to the more passionate songs on this album.
5. Keep On Walking

As a contrast to Lead the Way, the next track is a standard, poppy song with a jazzy, shuffled feel, but it isn't quite as relaxed, feeling more upbeat. Again, pretty catchy, but I can't really tell what the lyrics are about; there hasn't been a decent translation anywhere that I could find at the time of this writing. The opening bit of instrumental feels like something out of Mario Sunshine, and that is by no means a bad thing, but it's just for that one bit until the vocals come in and the outro. This track suffers from the same flat vocals as Lead the Way, and suffers for it. Maybe it would be better to see these two songs performed live, while the girls have some adrenaline running.
6. Knockin' On My Heart

This song has all the vocal passion that I was missing in the last two. The delivery of the chorus would be almost heart-wrenching if it weren't for the dance beat playing underneath it. A somber re-write is very much in order, and it's already got the bare bones for it in the piano-and-vocals bridge. Drop the distorted bass, layered vocals, and electronic percussion, and it's golden.
7. Musica Musica

This one's a club dance anthem, through and through. Good energy, catchy chorus, driving beat; this song's a nice fit in any dance playlist that's itching for some variety. Not exactly aiming high as far as being musical and artistic, so it doesn't seem fair to judge it like that. It's something pleasant to listen to, turn your brain off for a second, and dance.
8. Do You Know Me (Japanese Version)

Like No. 9, this song is a translation of a previous hit from Korean to Japanese. Good beat, good performance, certainly deserving of a translation for a new market. Nothing really more to say here.
9. La'Boon

The better of the lead-in singles for this album, this song's got a great Indian flavor in the background with Sitar and Oboe licks showing up throughout. It's one of the more interesting songs on the whole album, and a great showing of how versatile the band can be if they want to be.
10. A-Ha

A nice, nice cut of pop-funk. It's tight and groovy, and just has to be a blast to watch a whole band perform live. This one's all about being sexy and knowing it, and the beat backs that idea up perfectly. It sounds like a swaggered walk down a famous shopping landmark where everyone gets out of your way because that's just how fabulous you are. Definitely one of the strongest songs in the album, and with a commissioned song for a movie (Memories ~You Gave Me Guidance~, from Hyomin's movie 'Jinx') and a remix (T.T.L.) following this one, I personally would call it the closing track. And it ends on a very good note. I loves me some good, groovy funk, and this is a wel-made helping.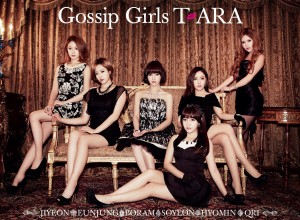 Overall, T-ara puts forth a solid few tracks that are well worth the buy and will probably linger on my mp3 player for a while, but it's a weak album in the end. So, standard fair for a pop album. Bands like this tend to spend it all on a few hit singles to hit the charts and don't do much to make a cohesive, engaging full-length album to follow them up with. You're often lucky to have a general theme, and Gossip Girls does indeed do that. I give this record a 6.5 out of 10. Borrow it, maybe buy individual songs, or get the lead-in singles, but I probably wouldn't pay full album price for 3 or so listenable songs.
In the meantime, what did you think of this album? Love it? Hate it? Why? Let me know in the comments what you think about this review, and I'll be right back here again in two weeks with another album review hot and ready for you to enjoy. This has been BossaNova. Peace out.
TL;DR

Score: 6.5/10

Favorite tracks: Lucky Wannabee, No. 9, A-Ha.