Posted on Jul 29 2013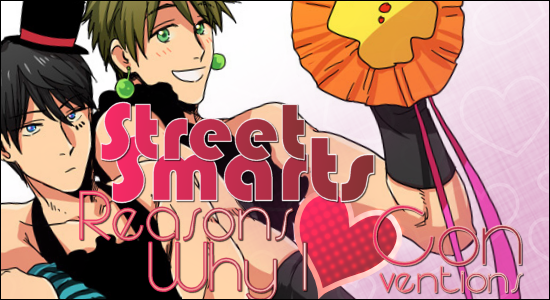 Let's talk about conventions. Namely, let's talk about how I'm weirdly excited for conventions and why I absolutely adore them.
The first convention I ever attended was Otakon where there are tens of thousands of people inside Baltimore Convention Center. Everyone was affected by humidity and heat as they stood in long lines, traversed huge crowds, and continuously carried myself from one side of the center to another. Despite all the things in place to deter me, it was probably one of the best weekends I had that summer. There were a lot of things to Otakon that made it really enjoyable, and a lot of little things that just added on to that enjoyment. I compiled the top five, all in this nice, tidy, little list:
1. Events
This one's a no-brainer. There are panels, AMVs, movies, advanced screenings, and they're all happening everywhere at almost every waking hour. Events are the center of every convention. It gives people things to do, people to see, and things to interact with and learn about. Panels vary from year to year and can range from taste testing an array of sweets to off the cuff role-playing to learning how to dance to Gangnam Style. But regardless of who you are or what you like, there's going to be some event happening somewhere that you're going to want to see.
2. Dealer's Room
I'm pretty much in love with the dealer's room. That, and artist's alley. I've spent hours looking at everything in all the stalls: all the imported video games, soundtracks, movies, the samurai swords, pocketknives, anime and manga at such discounted prices, clothes, buttons, CDs, that nifty looking manga calling out to you from that corner, steampunk gear, art books, posters, bags, and trading cards. There's so much waiting for you all in one little place.
3. Being In A New Place
When I say being in a new place, I don't just mean the convention. The convention center is great, but there's a whole world outside those walls. Otakon is located right next to Baltimore Harbor, and Anime Central is just outside Chicago's South Loop. Lunchtime is the perfect opportunity to go outside and walk around a little as well as look at the buildings and the neighborhood. In this way you can get to know some new people or get to know the area a little. No one is limited to just the convention center!
4. Cosplays
I'm not really big on cosplays. It seems like a lot of work to me, and some cosplays look far too difficult to get into and get out of for me to even begin to contemplate cosplaying. I don't often look at cosplays either, but I do enjoy looking at them whenever I'm at a convention. There are some really excellent cosplays out there, some of them very creative and spanning across multiple fandoms. Cosplays bring people together, and you encounter a lot of that at conventions: I've seen spontaneous gatherings of characters from various shows taking group photos together, Digletts who bumped into each other and became Dugtrio for a few minutes, and – on one occasion – an excited Mario who found a Luigi and shouted out to him from across the room in an Italian accent "Will you be the Luigi to my Mario?!" to which Luigi responded "Of course!"
5. All The Love
Most of the people at a convention are there to have a good time. They share much of the same interests, they've watched some of the same anime, and there is little risk of being judged for being a nerd; because really, we're all nerds here. People at conventions are just more open about it. Conversations with people are somehow easier to strike up, and you know you're being surrounded by people who share the same interests as you. As one girl tried to explain to her friend after she randomly came up to me and hugged me: "No, I don't know her; but it's cool, it's Otakon." That is the essence of what conventions are, and that is pretty much the essence of why I enjoy them so much.
How about all of you? What is your favorite thing about conventions, and what do you all look forward to? Comment about it in the section down below!