Posted on Aug 03 2011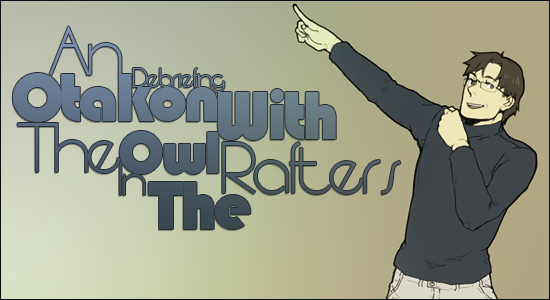 Three days after Otakon 2011 weekend and I'm still recovering from the headache… I'll save you the nitty-gritty for the time being and just make a few comments on the state of the convention scene itself. I am certainly in no position to be calling myself old, but when I see the kinds of kids running around anime conventions in recent years I can't help but feel like there has grown some distinct gap between myself and this new generation of anime fans. I feel like I just don't get what kids are after when they attend conventions and Otakon, with its sheer size, is quick to remind me that I'm in what has become a distinct minority.
Let me just say right now that nothing I say or imply here reflects in any way on the opinions of 91.8 The Fan as a whole, or the administrative staff.
Once upon a time, anime conventions were a place for obsessive know-it-all fans to go and socialize with other wannabe know-it-alls and swap ideas, opinions, and recommendations: That is no longer the case. Anime fans have grown in great number but the cumulative knowledge seems to been spread all too thin and too few fans seem to show any desire to expand their reach. I feel it's a safe generalization to make when I say that no one out there has seen every anime ever made, so when I go to a convention, where I see some kids spending their entire weekend hopping between screenings of their favorite show, talking to other fans of their favorite show, taking pictures of cosplayers dressed as characters from their favorite show, and rummaging through the dealers' room to buy merchandise of their favorite show, I can't help but feel like there is a serious disconnect.
This is not to say that there is any one, and only one, way to go about enjoying a convention, but I can't help but think that those kinds of con-goers are wasting an otherwise perfect opportunity to broaden their range of interest, learn a little about the subject of their hobbies. And there is so much to learn! Through the academic lens, the study of anime and manga combines elements of literature, film, art, cultural studies, and anthropology in a single concentrated subculture phenomenon that has taken the Western world by storm in less than half a century.
On this subject, I can't help but feel like the fan panels at most conventions, and in Otakon in particular –one noted for its considerable size within the East coast con circuit– have lost a great deal of credibility. As I said, there was a time when only the nerdiest of nerds could be found attending anime conventions, or indeed even hear of such things, and naturally the highest echelons of nerdom could be found running discussion panels, educating their fellow nerd on diverse subjects of philosophy, symbolism, and details of Japanese culture and the anime industry both local and foreign. This is no longer the case, as many panels, while still well intentioned and with hearts in the right place, are often grievously under-researched and poorly informed. The ideas are still there, which is a relief, but the overall tone given off by most panels is still that of sorry half-baked approach.
That doesn't apply to all panels of course, and many are still remarkably well hosted, and of course there are also industry panels which are less about ideas and more about news and insight. Once upon a time industry panels were a way to talk with men and women working in the American and sometimes Japanese anime industry. While the Japanese industry guests still manage to remain mostly career oriented, many of the American industry panels have in recent years devolved into spectacles more devoted to appeasing squealing fan-girls than reporting on upcoming projects, or providing insight to the inner workings of the localization industry. But then Hitler did always say that logic was best saved for the few and emotion for the many.
I mentioned half-baked so I can't help but segue into a rant on cosplayers. I'll try to keep it brief and as civil as possible, I promise. I cannot help but find myself astonished, con after con, at the number of halfhearted, lackluster, and downright lazy cosplayers there are. I understand that in America cosplay is more fun than function, but I should think that anyone willing to make their own outfit would have enough basic appreciation for tailoring to settle for nothing less than acceptable quality and accuracy. It is truly astounding how many people are willing to wear terrible looking outfits, and somehow convinced that the outfit is actually passable.
Maybe I'm a bit of a stickler about these sorts of things as someone who used to design and make my own outfits from scratch but making clothes is really an all or nothing hobby. If your product isn't perfect, then you're not done with it, and if you're not done with it, you don't wear it out in public. Now, I understand that it's something that should be none of my business so long as the people concerned are having fun, but that certainly doesn't stop it from being about as annoying as ugly wallpaper, whether I have to look right at the wall or not.
I'm not just going to sit and fuss though, as I did manage to enjoy myself at this year's Otakon. The rare gems among cosplayers that are actually impressive to see bring me a genuine sense of pride, though for what I'm not sure. Several of the fan panels were informative, interesting, and well presented, including a number of different panel hosted by Otakon celebrity guest, Roland Kelts, author of Japanimerica – How Japanese Pop Culture Has Invaded the U.S. that detailed some of his findings in the relationship between Japan and America via anime and manga, both culturally and financially, and a panel on the rising trend of using comics in schools and other educational facilities run by a wonderful host who is himself a math teacher. (I must confess I was late to his panel by about 10 minutes and never actually caught his name)
There were also a number of exciting premier screenings for films like Fullmetal Alchemist: The Sacred Star of Milos, Trigun: Badlands Rumble, and Makoto Shinkai's Hoshi O Ou Kodomo: The Children Who Chase Lost Voices From Deep Below. There were also a number of practical workshops, including Learn To Play Go, Who Wants to Be a Voice Actor?, and So You Want To Be Published providing useful information to interested parties.
While I can't bring myself to berate the staff over it, I can't ignore that the scheduling was less than stellar, with a number of common interest panels and screenings arranged over the same time slots, forcing fans to pick between whether they wanted to watch their favorite show, go to a fan panel on it, or go to the show's distributor's industry panel. And as much as I fuss over the lack of quality in many of the panels, I did say that the ideas and points of interest are all still present, and I really was hard pressed to choose certain panels over others, and still found myself rushing across the convention center from panel to panel, as there was no shortage of interesting events going on.
One last thing I need to throw in is how Kinokuniya (a well known international Japanese book store) has in recent years seriously cut back their convention stock to almost exclusively artbooks and CDs. While I can understand that these are the best selling items, I go to these conventions largely for the imported goods, and for Kinokuniya of all shops to all together stop carrying the bulk of their manga is a serious disappointment. Though this certainly didn't stop me from spending grievous amounts of money.
In any event, however much I can find to complain about, I certainly can't say I didn't enjoy myself. So then, what's the point of this, apart from a nutty anime fan going on yet another rant? To let you know that I've got a number of reports and recordings of panels, events, and press conferences just waiting to be written up and posted for your viewing pleasure. So, I hope you'll look forward to my forthcoming Otakon reports!