Posted on Jul 06 2010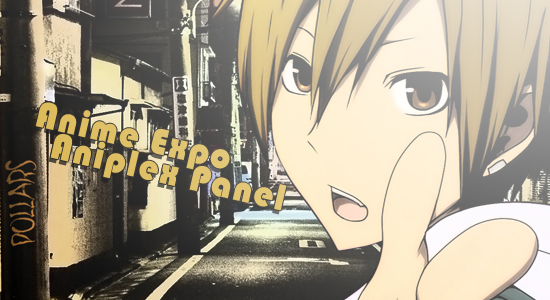 We've got more notes to you from our dear Dead Guy. C'mon guys… I know he's a rotten corpse, but show some LOVE! Pleasantries aside, let's get down to business. Dead Guy hit up the Aniplex panel and managed to get a few interesting snippets of information to share with all of us.
Let's start off with what you really want to know. What got licensed and what's coming out? It is our personal opinion that the most fantastic news at the panel was the announcement of Aniplex's shiny new license for Durarara!! In fact, Aniplex is currently tossing together the voice actor cast for the series which you can expect to see announced officially during Otakon. They even let us know that the DVDs will be available in the US in January.
Fans of Tengen Toppa Gurren Lagann need not fret: you have not been forgotten! 'Childhood's End', the first movie of the TTGL series is currently available for you to add to your collection. In addition, you can expect the second movie, 'The Lights in the Sky are Stars', to become available on July 30th.
Are these all of the announcements? OF COURSE NOT! Aniplex has also launched a new US-based website which you can find here. In addition to this, they have also launched a YouTube channel which you can find here.
And so concludes the summary of Dead Guy's adventures at Anime Expo. If you want to hear more amusing stories about the convention, be sure to listen in to Dead Guy's Crypt from 8am to 12pm PST as well as Elcu's Anime Symposium from 2pm to 6pm PST this weekend!