Posted on Jul 17 2013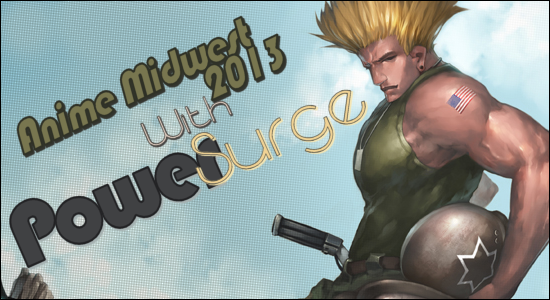 Hello 91.8 The Fan listeners and readers! I'm Power Surge and I am a new member of the 91.8 The Fan team! Just less than two weeks ago I traveled to Rosemont, IL to attend a small yet jam-packed convention called Anime Midwest! This was Anime Midwest's third year and its first at the Hyatt Regency O'Hare; the same main hotel for the ever popular Anime Central. Last year, Anime Midwest moved to the Naperville, IL area and the year before they were at the Pheasant Run Resort in St Charles, IL. The convention had originally been expecting no more than 3,000 attendees but a sudden increase in registration meant that well over 5,000 attendees would show up to the convention. There were even rumors that up to 8,000 attendees had come throughout the weekend!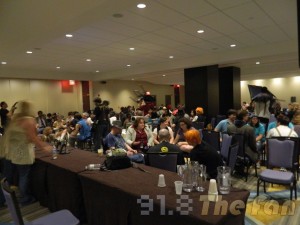 With such a large number of attendees came a few problems for the staff and volunteers. Things felt a bit overwhelming especially with the low numbers of volunteers and staff compared to the sheer number of attendees. The only true lament that I had was that the dealer's room was considerably small and cramped for a convention that has grown this large. Lines throughout the convention were very long, even for pre-registered attendees picking up their badges and especially for the popular guest panels. I am very sure that Anime Midwest will improve this for next year and make sure things are under better control. In fact, they already seem optimistic for next year! Their website states that they estimate at least 10,000 attendees! It seems that they are well on their way to filling in the big shoes that Anime Central fills each year.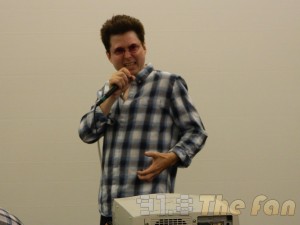 On the more positive side, the guest list was very well packed, even with the unfortunate cancellations of Ellen McLain, John Patrick Lowrie, and Sonny Strait. Chicago favorite Doug Walker (That Guy With The Glasses/Nostalgia Critic) brought along his fellow cast and crewmates for a hilarious, good time. Quinton Flynn brought his many voices and crazy humor, Todd Haberkorn and Spike Spencer attracted long lines of fans, Chuck Huber made a surprise last-minute arrival to the convention and Samurai Dan and Lady Jillian brought their extensive knowledge of samurai weapons and history and slapstick humor. I had a great time seeing a lot of my favorites all in one place! My favorite panel had to be playing Cards Against Humanity with Samurai Dan and Jillian.
The Hyatt Regency, as usual, was a fantastic, accommodating and relaxing hotel to be in.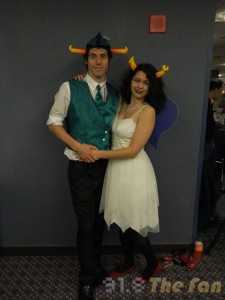 I managed to get a room in the Executive Wing! I spent a good long time just relaxing in my room, playing my games on Steam and sleeping comfortably. The hotel had many great panels during the day and evening as well as nicely stocked arcade and video gaming rooms. The convention's claim to fame, The ConSweet, was packed with boxes and boxes of ramen cups and steamed rice as well as soda fountains. There was always a line of people ready to grab a cup of ramen and soda! There were so many great cosplayers roaming around and I wish I had gotten more pictures, but the ones I did get capture just how much fun people had that weekend. I had a great time and I'm optimistic for next year. Check out the gallery below for more photos from the convention! Until next con everyone!