Posted on Dec 08 2013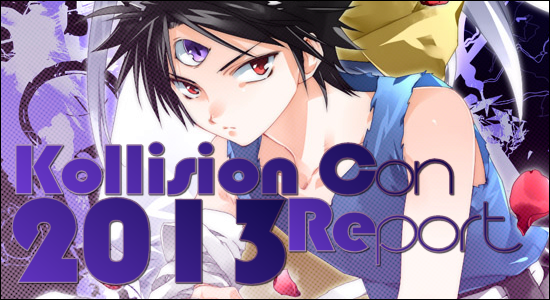 For all of the times I've been to Rosemont, I feel like it's almost become a strange home away from home, at least whenever there's a great anime convention going on. Kollision Con went above and beyond to prove that notion to me this past November, and blew me away with the amount of energy it generated. I was only able to attend two out of the three days of this anime and video game celebration, but I had one of the most amazing times at an anime convention ever. Friday started off perfectly as con staff quickly directed me to con ops. Once I got my badge, it was time for the fun to begin!
Starting off with a humble opening ceremonies, they quickly moved on to the prestigious Ninja Olympics, hosted by my favorite armed comedy duo, Samurai Dan and Lady Jillian. I was treated to an entertaining hour full of strange and hilarious feats of stamina and speed. I'll never really tire of seeing Dan and Jillian, and this panel just shows how interesting they make their convention appearances. I also managed to catch some of the other classic convention panels, such as their "Real Sword or Piece of Crap", where Dan would instruct interested sword collectors on how to discern a real katana from a cheap wall decoration.
Fortunately I had some time to kill afterwards, so I ventured into the Dealer's Room to check out their wares. I was quite impressed with the organization and care the convention took to ensure the Dealer's Room was top-notch. Even with the autograph tables in the back of the room, the Dealer's Room never felt overburdened or crowded. It didn't take long, however, for the room to be graced with the presence of the eccentric and charismatic Scott McNeil, who embraced all of us with open arms and happily chatted with each and every fan waiting for an autograph.
Following that great fan moment, I went to a little panel called "Twelve Years of Zim", where I got to meet the little Irken's voice actor, Richard Horvitz, in person!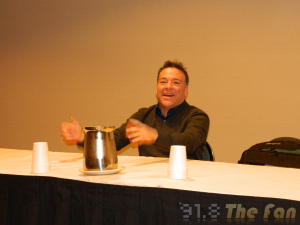 Since we were such a small group, the panel really felt as if we were chatting with Richard one-on-one; an opportunity that is nearly impossible to have in a bigger convention. Richard talked to us about his various roles in voice acting, such as Daggett in The Angry Beavers, Billy in Grim Adventures of Billy and Mandy, and of course, Zim in Invader Zim, and compared them. One of the most interesting things he told us was what happened the day he received the news that Invader Zim was being canceled. Richard told us that day was a heartbreaking one, as he had to be the one to break the news to a crew who had just happily finished up an episode. Richard had a great time entertaining us, and we had a lot of fun learning more about the man behind the alien.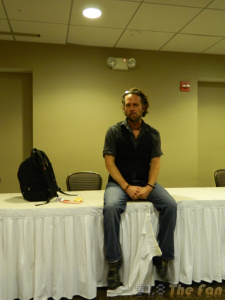 Next up, I had the wonderful opportunity to meet the heartwarming and dramatic Chuck Huber, and I got to take part in his acting panel. Under his grand tutelage, I and others were challenged to break our stage fright and engage in some fun acting exercises. Babbling incoherently and having someone "translate" for you has never been so much fun! Chuck has a wonderful way of energizing the room and making everyone laugh, which made it all the more satisfying making him laugh during my "performance".
After a little bit of downtime and a massive pizza run for friends, I briefly sat down for a Q&A panel with Krazy Krow, the artist of one of my favorite webcomic series, Spinnerette. For those unfamiliar with the webcomic, Spinnerette is about a grad student from Ohio who is granted the powers of a spider following a scientific experiment gone haywire. Granted with super strength, extra arms, and the ability to spin webs, Spinnerette sets out to become a great superhero.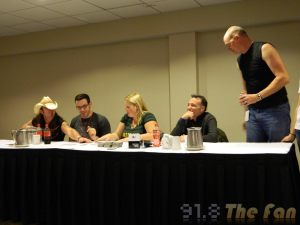 Later on in the evening, I made my way to the greatest panel ever created in the history of anime conventions "Cards Against Humanity with the Guests." Spearheaded by Samurai Dan and Lady Jillian, it has now become a Chicago convention staple to invite the convention guests out for a crazy, vulgar, mind-numbing game of Cards Against Humanity. Joining us for the hilarity were, J. Michael Tatum, Scott McNeil, and Richard Horvitz. The entire room burst with laughter for two whole hours as the worst (and funniest) card combinations were set before the judges to decide on. I have found nothing to be absolutely funnier than hearing the voice of Invader Zim reading off the darkest, vilest, most hilarious phrases known to man. In fact, I was laughing so hard I thought I was going to faint with a smile stuck on my face!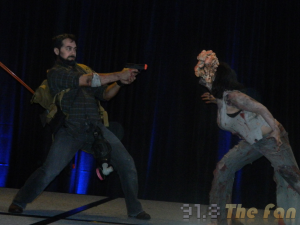 Thus, my Friday at Kollision Con ended; however, my Saturday would prove to be much more eventful than the last. The day started off late, as I had to travel back to the convention from my home 40 minutes away, but I still managed to catch Chuck Huber's Q&A for some more fun and laughter. Afterwards, I decided to catch the Masquerade and grab photos of the great cosplayers that chose to show their cosplay on stage. Kollision Con certainly attracted many talented cosplayers this year! As a special treat, Kollision Con teamed up with local Chicago salon Hairborn Fashions to showcase their amazing talents on two lucky cosplayers in a friendly competition within the salon.
After the Masquerade, I had a lot of downtime before the last panel I wanted to attend. I decided to head on over to the video gaming room and play the night away. The guys at I Play Games did a great job of bringing tons of games and enough screens to satisfy any major gamer at a convention. I decided to try dancing to "Gangnam Style" in Dance Central 3, despite not having any dancing ability. Surprisingly, I did a decent job… until I slipped on my jacket and sprained both my knee and ankle. The pain was pretty excruciating; thankfully my new friends at I Play Games made sure I was kept company while con ops took a look at me. I have to give major kudos to the staff at Kollision Con for being very prompt and very attentive while I was injured. I managed to stay positive and recuperate in the gaming room until I was well enough to make it to my last panel of the weekend.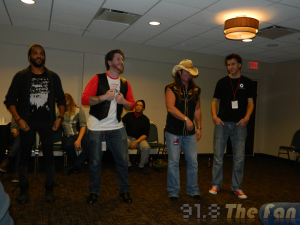 Despite my major injury, I was determined to have one last good time at a Kollision Con tradition: the Uncensored Guest Improv. Masquerade hosts Zack and Jim, along with a few members of the staff and the ever energetic Scott McNeil took to the stage to entertain us with a very funny "Whose Line Is It Anyway" style show. Lots of laughs were shared and a great time was had by all.
In the end, my injury cut short what was already shaping up to be one of the best convention experiences I've had in a long time. Kollision Con proved, once again, that smaller conventions can be some of the greatest weekends ever. The staff was accommodating and responsive, the hotel was fantastic, and the guests were all amazing and welcoming. I absolutely cannot wait for next year, and I'll be sure not to hurt myself again!