Posted on Dec 05 2013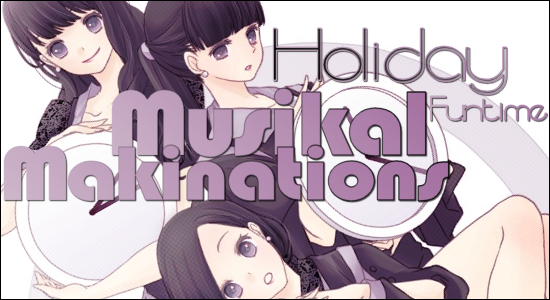 Happy holiday greetings denizens of The Fan! This month, I thought I would change things up a bit on Musikal Makinations as we all prepare for the holidays in our own ways.
Rather than a single artist/album review, why not do a bunch of things! 'Tis the season for giving, right?! Yes it is!
So, for this month only, in addition to my normal review, there will be a bonus!
I will be recommending some stocking stuffer ideas in the form of music. It could be something K-Pop, something Vocaloid, a live concert performance CD/DVD/BD, or an OST/Soundtrack from an anime series!
Is Maki desperate for views? Has he gone loopy? Isn't he more like a Grinch than Santa? What is the world coming to!?
"But Maki.", you might be thinking, "Where will I be able to buy these awesome bits of music?"
Never fear! This dedicated and slightly wacky music fiend shall offer thee links!
So lets get to the holiday reviews and recommendations, shall we?! You're nodding in affirmation, right? Right?
Let's start the holiday review with a group that should be no stranger to anyone who has been tuning into 91.8 The Fan over the years.
Pop trio Perfume has dazzled us with their upbeat, dance-hall style of music since the early 2000's. Though they have grown up and out of their idol days, their music is as strong as ever with songs like Spring of Life, Glitter and Spending all my Time. My favorite song of theirs is Hey.
I have to admit that I'm not a long time Perfume fan. I'd never heard of them before I joined the 91.8 The Fan family. In fact, I didn't even know that they have been together for over 13 years
until I started researching them for this month's article! That's pretty amazing, considering how short-lived many groups have been, regardless of their success.
It's all thanks to our lovable boss, Kanashimi (who would regularly play Perfume during her DJ shift, among many other high tempo/upbeat songs) that I discovered Perfume.
I won't go into too many details on Perfume's background and formation. Instead I'll touch on some interesting tidbits that I found about them:
The name Perfume was chosen because each of the original members; Ayaka Nishiwaki, Yuka Kashino and Yuka Kawashima had the Japanese character for "fragrance" in their names.
Yuka Kawashima left Perfume before they even debuted.
All of the members of Perfume go by their stage names: Ayaka Nishiwaki is Aa-chan, Yuka Kashino is Kashiyuka, Ayano Omoto is Nocchi and Yuka Kawashima was Kawayuka.
Perfume has been together for 13 years and counting! Amazing considering the competition that is out there and the short life most groups seems to have in Japan and Asia.
Marked their 10th anniversary by being only the second all girl group to ever perform at Tokyo Dome in 2010, performing in front of 50,000 fans!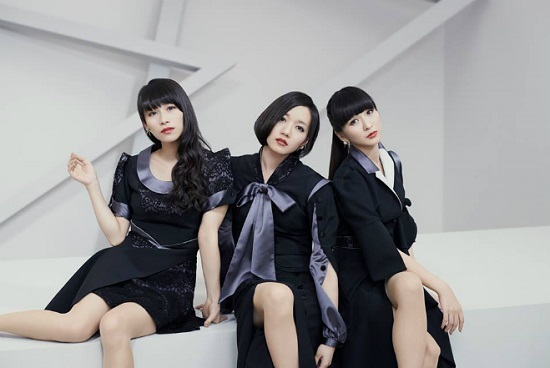 Left to right: Aa-chan, Kashiyuka and Nocchi
Their latest single, "Sweet Refrain," is being used as the ending theme song for the Japanese TV series Toshidensetsu no Onna. I heard they recently changed labels but kept Nakata Yasutaka as
producer, who is also known for working with Kyary Pamyu Pamyu (of Pon-Pon-Pon fame). I had no idea how much this would affect Perfume's more recent work until I listened to Sweet Refrain. My
feelings are mixed.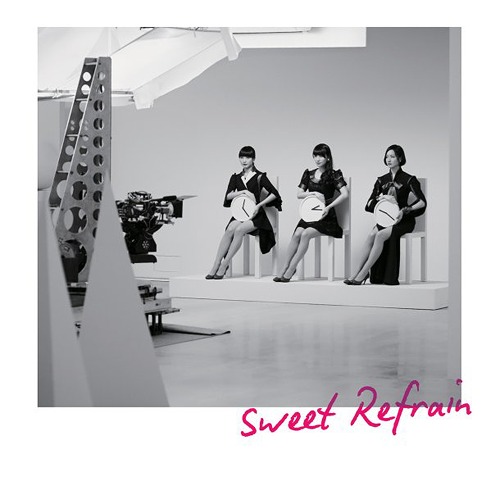 Sweet Refrain (Regular CD edition cover), released November 27, 2013
Tracklist:
1) Sweet Refrain
The title track starts out innocently enough with a simple piano solo; however, within seconds, some dubstep was mixed in. Why? I have no idea. It was brief, and I hoped it was an exception and not the norm for the song. For several seconds leading up to the opening vocals, the sound was good. Sort of like a lullaby with a dance-hall undertone. But then, just before Aa-chan's vocals, the dreaded dubstep rumble makes another appearance. Again, I have to ask, why? It doesn't fit the song at all and ruins the transition from the piano into Aa-chan's vocals. This trend doesn't stop with Kashiyuka's vocals, and continues into Nocchi's vocals as well. In fact, the mixing was terrible during their opening vocals. The dubstep mix overpowered the girls' wonderful voices. Now, don't get me wrong, I'm a fan of bass and low tones. It's a fundamental for most dance music, and especially Perfume's style, but dubstep? No. Just no. By the way, at this point, I'm not even 1 1/2 minutes into the song. The dubstep finally gives way a bit around then as the song breaks into chorus with all of the girls singing together. For the next 1 1/2 minutes, there is very little dubstep, but it is back in abundance in spots. The mixing does get better in some spots, where the bass is toned back, allowing us to hear the fine details of the girls voices, which sort of saves the song for me. But not enough to get past its deficiencies. (6/10)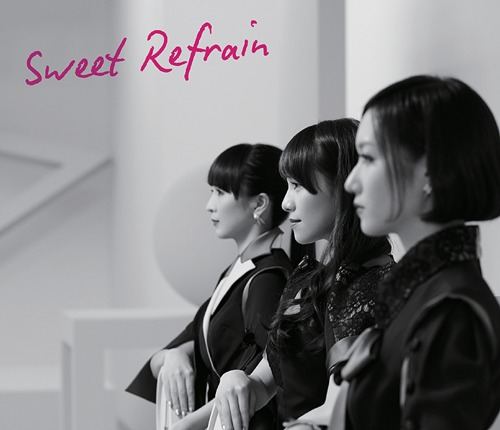 Sweet Refrain (Limited DVD Collection cover)
2) Koi Ha Zenkei Shisei
Oh my, this song is leaps and bounds better than Sweet Refrain. It captures the cute, the talent, the awesomeness that we've come to know and love about Perfume. I counted one moment of dubstep
mixed in. Otherwise, any hint of it is very well placed into the background and does not interfere with the enjoyment of the song. It starts out with an upbeat, simple sound using a mix of drums,
synth, and subtle bass. The opening vocals are mixed in very well. All of the girls can be clearly heard. It has a very catchy, pop feel to it. It's relaxing, yet upbeat at the same time. This is a song that could be played in a dance-hall or in your living room, yet be enjoyed equally. There is a nice mix of electronic instruments that stay well enough in the background, but also blends in well with the girls' vocals. This is Perfume at their best. Loved it! (10/10)
3) Sweet Refrain – Instrumental
4) Koi Ha Zenkei Shisei – Instrumental
Overall, I give Perfume's Sweet Refrain single a "Wow! A B-track just saved me" 7/10. In spite of the terrible use of mixing and dubstep in the title track, I cannot pan the entire single. Koi Ha Zenkei Shisei saves the album from becoming an optional, mediocre addition to a Perfume fan collection.
In fact, I think it's unfair to Koi Ha Zenkei Shisei that it has to sit behind Sweet Refrain. It should have been released as a separate single.
Kashiyuka, Aa-chan and Nocchi have come a long way from their school days. I still can't believe they are only in their mid 20's. I would love to hear more songs like Koi Ha Zenkei Shisei in the future. However, the dubstep needs to go. Seriously. It doesn't suit their music, and they are WAY too talented to rely on what most hacks use to make "music" for a club and rave audience. I can understand the desire to be different. I've heard and read this often about Perfume, but if the idea behind this effort was to try something that is more "global", I think they got it wrong. In fact, I'm sure they got it wrong, because if they can make song as great as Koi Ha Zenkei Shisei (which showcases their strengths as a group), they don't need to resort to trendy styles that undermine the very thing they do so well and have done over all of these years!
I feel like I'm playing catch up to the rest of the world in discovering and enjoying Perfume. I'm just happy that they have stood the test of time. Too many good groups fall by the wayside in a short time: some through no fault of their own, others through their own choice to break up. Whatever the recipe was for Perfume to keep things interesting enough to be around and relevant after all these years should be marketed to the up-and-coming groups!
Anyways, I step off my soap box!
To find out more about Perfume, follow them on social media and get their music and merchandise through the following sites:
You're still here? Now comes the bonus! My thoughts on some ideas for stocking stuffers for the music lover in you or your circle of people.
Anyone who has been around me, watching my profiles and posts in the net-verse, or my wishlists, knows that I have recently become a rabid fan of all things Vocaloid. Now, I've always been a fan of Luka Megurine, but it was mostly due to being a fan of her voice provider Yuu Asakawa. However, after buying Hatsune Miku: Project Diva F for the PS3, the world of Vocaloid opened up to me entirely. I have a new appreciation for the talent that goes into not only the creation of the voices and characters like Luka, Miku and the others, but also the incredible amount of talent that is out there creating their own music using the Crypton/Yamaha Vocaloid system software.
So for the Vocaloid music fans, here are a few recommendations for gifts.
For all of the popularity of Miku Hatsune (Hatsune Miku, if you prefer), I enjoy listening to the creations using the Luka Megurine voice synthesizer. Her voice is a perfect fit for house music
dance-hall style, but also works great for rock music. Two songs in particular exemplify the range of Luka Megurine, if placed in the the right hands.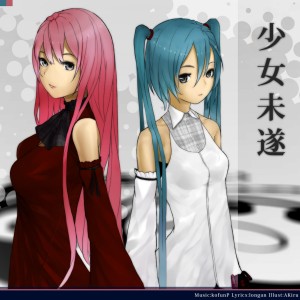 KofunP created a great dance-hall song called Shoujo Misui that features Luka and Miku. It blends Miku's high range and Luka's lower range perfectly into a classic dance track.
You can listen to a sample and/or buy it from the following locations:
I also highly recommend wowaka and AVTECHNO! for similar styles of music.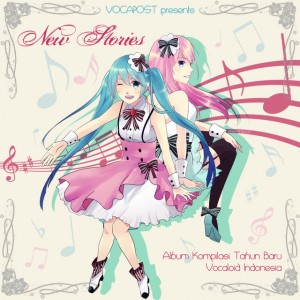 For the Vocaloid Rock music lover, I highly recommend checking out I Disappear featuring Luka Megurine by VOCALOID.ID. It is a gritty rock track with all of the elements you want in a hard grinding rock song. Heavy bass, awesome guitar riffs, and solid drum-play all sewn together by a hauntingly angelic version of vocals of Luka Megurine. The rest of the album isn't bad, but I Disappear and Under a Starry Sky are worth noting. I also highly recommend taking a listen to otetsu. Shinkirou, Shell and RED, in particular, are great rock songs that utilize Luka Megurine's voice very well.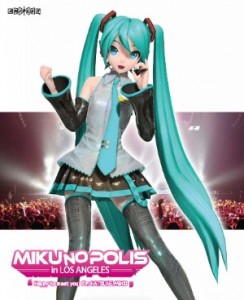 Finally, if you are looking for a live concert featuring all of your favorite Vocaloids, there is a series of appearances that you can find online. Almost all of them are overseas, but (unbeknownst to me), there was a concert in Los Angeles back in July 2011 called MIKUNOPOLIS in LOS ANGELES -Happy to meet you! I'm HATSUNE MIKU-. I've watched some of it and it's pretty amazing to see Miku, Luka and others come to "life" on stage. The music is just incredible. Though the Vocaloid performance is staged to some degree, the band is completely live and amazing. Of the many live appearances, this is probably not the best, but it's definitely not bad. You can find this concert at Rightstuf.
Okay, so you don't care about Vocaloids? What about you? Well, let's see what music stuff Maki Claus can find for you.
If you can get your hands on them, I highly, highly suggest investing in the soundtracks from Fooly Cooly. In particular, "Fooly Cooly, Vol.1: Addict" and "Fooly Cooly, Vol.2: King of Pirates." You will not be disappointed by The Pillows.
It's been a long time since they were released (I am happy to say that I bought mine way back when from, of all places, a Best Buy; man, they USED to carry cool stuff!) You can try your luck here:
FLCL OST Vol. 1: Addict (Amazon) (CDJapan)
FLCL OST Vol. 2: King of Pirates (Amazon) (CDJapan)
I'm actually shocked that CDJapan has new copies of the OST's.
And last but not least…
It's been almost a year since Stereopony performed their last concert. It was recorded live and was released on DVD back in February.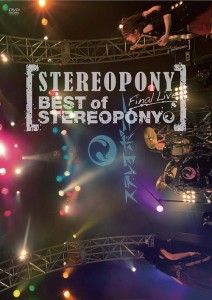 I have a copy and can say it was a decent performance with a guest appearance for one my favorite songs ever sung by them. I'll leave it at that. It is not subtitled, but music goes beyond the
boundaries of words. I do wish I could better understand some of the in-between interviews with Aimi, Nohana and Shiho; I'll have to get me a translator I guess! Anyways, it is still available at
CDJapan
I think that's enough, don't you? No? Well, too bad, I'm tired! The Grinch in me is screaming!
Stay tuned to 91.8 The Fan, where you get Everything You Want, and Nothing You Don't!
Happy Holidays!