Posted on Oct 24 2013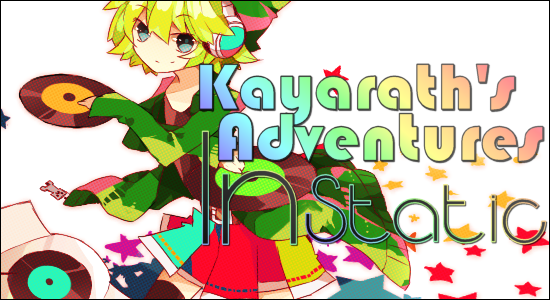 Have you ever seen a live chip tune show? You really should! The energy and intensity can match what you find in any rock concert. While not every area has access to live shows, Philadelphia has a thriving chip tune scene thanks to 8Static.
8Static is a monthly chip tune concert that features artist from the local area and beyond. Over the past year 8Static has grown enough to warrant a venue upgrade and a Kickstarter. While it may not have smashed dozens of stretch goals, simply reaching your goal is always worth respect and secures the funds needed to upgrade one's equipment. In light of these successes, 8Static hosted the 8Static festival, a 3 day jam fest filled to the brim with more chip tunes then you can fit on a SNES. Being a fan of chip tunes, I knew I had to attend.
Work obligations kept me from the first two nights, so I was only able to attend the finale. The event was located at the First Unitarian Church of Philadelphia, which is a short walk from 30th Street Station. If you live out-of-town, I seriously recommend just taking the train because parking in a large city can be a real pain. When I got there, some kind attendees directed me to the basement where the show was happening.
I missed the first performer but got there just in time to see Danimal Cannon's set. I would best describe him as a heavy metal rocker who uses chip tunes as a drum to accompany his guitar playing. He's a true showman with intense energy and a rocker's edge. He even jumped and rocked out in his own most pit! I really enjoyed his performance and decided to buy his CD. If that's not an endorsement, I don't know what is.
After that, a petite young lady stepped on stage and introduced herself as Bubbly Fish. She wore a hat that wouldn't look out-of-place in Team Fortress 2. She was more of a DJ, working the machine to produce a dance or rave environment. She ended her set with by collaborating with Phil Kiaser which was, dare I say, off the hook.
The fourth performers were a duo known as Void Vision. They were the most unusual band of the bunch. Void Vision consists of two females who use 80s style synthesizers. The most astounding things were their instruments; a keyboard and a violin! You don't see violins players too often; especially at chip tune concerts! The closest comparison I could make was that their style was like a more techno Eurythmics.
At that point I got hungry, so I went on a quick food break. There are a few restaurants less than a block away from the church, which is always a convenient for social venues. There were small breaks after every set, giving me time to observe the general environment. The event's MC noted how diverse the crowd was, and she was right. Besides the nerdcore crowds one would usually expect at an event like this, there were a few guys in suits, and even a girl in cosplay! Ladies in general were represented in the crowd, and there was even a guy in a wheelchair. Do not let lack of working legs be an excuse to miss this show because the staff of 8Static will carry you down the stairs if that's what it takes to get you in the door!
The staff of 8Static really do have their act together. Armed with only ample supplies of pizza and bottled water, they made the show ran smoothy. They paired each chip tune performer with a visualist who enhanced the show by adding screen saverish 8-bit artwork to the background, making sure the eyes were entertained as much as the ears. Much of the time, it was also projected to the ceiling, amplifying the mood. They even had a guy whose sole job was to monitor social media and the twitch live stream. Yes, they were streaming this the whole time! Even if you don't live near Philadelphia, you can still see the show.
When I wasn't silently judging them, I was checking out the hula hoopers in the hallway and the small group of vender selling stuff. You could get t-shirts, food, drinks, classic video games, CDs from the performers, and even souped up Gameboys. My favorite purchase would have to be the Hello Kitty Fizzy Pop. It's so tasty and it has Hello Kitty on it! How can I lose?!?
If you're expecting a wrap up at this point, prepared to be disappointed! We're only halfway through the show! The fifth artist was Trey Frey. This was the point where the crowd really filled the room. It was like people city. He played pure techno chip tunes, just the way I like it. Style wise, I think he and Chipocrite share a lot in common. The last song was supposed to be a duo, but the other Gameboy broke so the other guy just danced around for the whole thing; and it was still awesome!
After that, it was Golmag's turn. This was a special treat because he came out of retirement for one night only just for 8Static. He started in the chip tune scene all the way back in 2001! That's in the same time frame of the PlayStation 2's release! In terms of music careers, that's practically ancient! He came out and sang Japanese as scenes from Princess Mononoke played in the background. He actually sang lyrics with his voice, which is sot of weird by chip tune standards. None the less, the people loved him and were chanting his name by the time it was over.
Then Saskrotch hit the stage. Hailing from the far winds of Chicago, he was intimated by the size of the crowd. It was the biggest he seen in years. Considering the crowd size shrunk in the late night, 8Static must really know how to draw in people. What was lacked in size was made up in intensity. I think it was all mosh pit at one point! At that point it was all starting to blend but I do know that I enjoyed it.
At that point I knew I reached my limit. I think I can only handle about four hours of chip music before it all starts coming out as random beeps. The thing is I left before the show was over! I missed Knife City and Chibi-Tech's performances! And it was the last day out of three! My body can not handle that much chip music! It just can't!
If you have any interest in chip tunes, go to 8Static! The yearly festival is over 9000 in terms of chip tune awesomeness! If you can't handle that level of power, they have a monthly show that's probably less intense (but no promises). Once you're there and in the thick of it, you'll be mosh pitting, crowd surfing, and hula hooping with the rest of them. It's all that and a bag of chips.