Posted on Feb 09 2017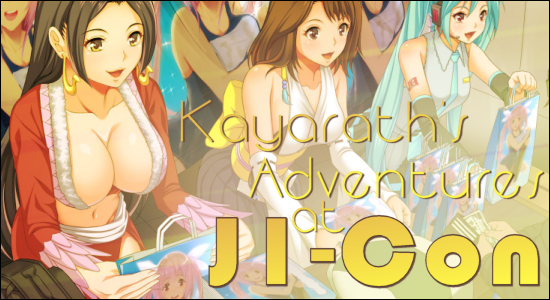 I made it my mission to cover every convention in my area. While I have a ways to go, I did mange to knock one more off the list. Today, I'll report on J1-Con. J1-Con is an anime focused convention that take place in Philadelphia. It is run by J1 Studios; an online geek entertainment hub. After holding one day events for a few years, they were finally able to expand to two days. That expansion was what prompted me to finally check it out. Well, what really prompted me to check them out was their Facebook ad. It's not the most sophisticated way to discover a convention but that proves advertisement does work.
I do have to object to some of the claims their advertisements have though. First, they claim to be Philadelphia's number one anime convention. While it is true, it's not as impressive at it sounds. By and large, anime conventions generally establish and respect each others' territories. Larger cities may host multiple conventions due to having enough of population to support them. It's like the local newspaper declaring a place has the best apple cider donuts in town. It's easy to be the best in town if you're the only one in the town! Secondly, J1 announced that they had the most fan panels ever that year. While they have surpassed a personal best, running only two panel rooms is unimpressive. While I do have objections when it comes to their marketing, we all know the real deal is the con itself.
J1-Con houses itself at 820 Spring Garden Street, which is also known as the Dome. The Dome is also home to such events as the Spring Garden Antique Vintage Flea Market and the Philadelphia Punk Rock Flea Market. It's just few blocks north of Chinatown and easy reachable with Septa. If you prefer to drive, there's on site parking for just ten dollars. I should note that the area around the Dome is rundown. While J1 does have security guarding the con, I wouldn't dawdle in the area after dark.
What really sets the Dome back as a convention spot is that it's basically a warehouse. For any convention, you want several separate rooms so that each event will have its own space. The Dome doesn't have that. It's one giant space not broken up at all. J1 can only have two panel room because that's all they have space for. The site is ill suited for an anime con. On the bright side, there are five nearby pokestops and you get Koffing and Tangula there. J1 has taken steps to alleviate the issue by also using District N9NE to host its varied video game tournaments.
I don't consider the Dome an ideal space for an anime con by most standards. I believe that J1's choice of location is due more to lack of good options then ability to pick a place. My impression is that Philadelphia isn't a good place for smaller cons. The Philadelphia Convention Center is great if you need a lot of space and have a lot of money but smaller conventions (and their smaller budgets) must find homes elsewhere. Zenkaikon said, "nope" and went west. Fillycon (short review of Fillycon: it's a small but fun My Little Pony con) tried to find a good place and they're gonna try again.
While J1-Con is iffy in a few departments they also do a lot right. I gotta talk about the food. Admittedly, food is a minor concern but I can't enjoy a con if I'm hungry/thirsty. Being right next to Chinatown, several good restaurants were but a short walk away. But why leave the con area if the restaurants will go to you? Every water ice selling biker came out to sell their stuff. Local Establishment Tea-Do also set up shop to sell bubble tea, ramen, and other various Japanese foodstuffs. There was even a food truck. It's wheely wheely good in fact! There were multiple places where you get onigiri at J1. Just try getting a rice ball at Otakon! What I really liked was that cans of soda and bottles of water were only one dollar each. It's quite refreshing to not get gouged for drinks at a con.
J1 also has good taste in selecting guests. The theme for 2016 was the 20th Anniversary of Pokemon so they got people from the show. There was Alyson Rosenfeld who plays both Bonnie and Nurse Joy and Eric Stuart who was Brock. He was also Seto Kaiba in Yu-Gi-Oh! These voice actors are solid picks for any con and shows that J1 know what they're doing when selecting headliners. This being a small convention, you could get close and personal with them too. You could walk right up to them and tell them how great you think they are.
All the other bases were covered more or less. There were panels and a maid cafe but like I said, the venue wasn't well suited for those activities so I ignored them. The video gaming section was good though. District N9NE hosted gaming tournaments before so it was smooth sailing. While I never got to try any myself, I did the feeling that everyone was generally having a good time. What really popped out at me was the cosplay. I wasn't expecting too much because it's a small con but the quality and quantity of the cosplayers was a lot higher then I expected. The cosplayers of J1-Con are just as good at as the people you see in the major cons.
Overall, J1-Con is a small but respectable convention. The amenities are not the most robust I ever seen but J1 does have the right idea and are leveling up as a reasonable rate. I wouldn't book a hotel room for it but a day trip certainly isn't out of the question. J1-Con is a contender and you should definably keep an eye on them. I plan on going again next year. I was only able to go on Sunday so I would like to further see what J1 has to offer. Follow them on their Facebook page because they post things of interest to the local otaku population as well as updates on their convention. They just recently posted that The Dome was sold and that J1-Con will have to find a new home as a result. I'm not sure where they'll end up but I'm willing to go along for the ride. Are you?