Posted on Mar 18 2012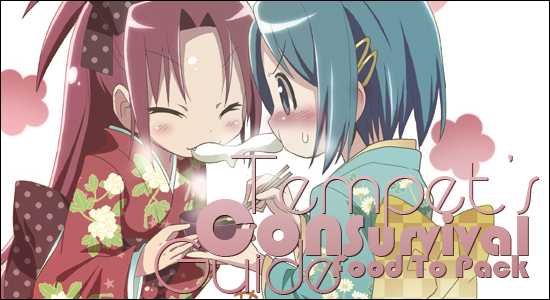 10 years of anime con-going experience has taught me a lot: how to survive on little sleep with noisy roommates, how to get from one panel on the bottom floor to the next on the fourth floor in under a minute, how important packing your own food is, etc.
This first guide will teach newbie and veteran con-goers how to pinch a few pennies and manage a balanced diet during a weekend of pure adrenaline.
First, be prepared for any situation.
Assume you will not have most basic necessities. Though many hotels provide modern conveniences in the rooms, you may wind up in the crappy hotel half a mile from the con center that barely has running water and electricity.
Assume your hotel does not have the following:
• A refrigerator
• A microwave
• A coffee machine
That means everything you bring to eat must be non-perishable, without requiring heat. That means no ramen, unless you know for a fact that the hotel room at least has a coffee maker.
But as you walk through the aisles of the grocery store, you'll be amazed at everything that requires either boiling water or a microwave to make. What's left to consume?
Snacks, my friend. Healthy snacks.
The best mindset to have is that you will be eating lots of little snacks throughout the day to keep your energy up. Don't imagine sitting down to a nice big meal – you're at a con. You can eat fancy when you're at home.
The basics to have in your lunchbox:
• Protein
o Beef/turkey jerky (one to two packages)
o Or dried edamame (one package should last more than the weekend)
• Fresh fruit (something durable – not bananas)
o Apples (typically 2)
o Oranges (typically 2)
• Breakfast bars
o Nutrigrain bars or their healthier counterparts (one box)
o Trail mix bars, if you don't have a nut allergy (one box)
• Something heartier
o V8 cans, reduced sodium (3 small cans)
o Whole grain crackers or pretzels or cracker crisps (one box)
• Fun things
o Pocky, Ramune soda, mochi – whatever strikes your fancy at a con.
What the hell is edamame?
Edamame the Japanese word for "soybean." It's tofu in its natural form and a vegetarian source of all 10 essential amino acids. Unlike tofu, it has a taste that is really lovely. When dried, it has a consistency like really pleasant peanuts and a taste a bit like popcorn meets peas. It's bizarre, but a salty, wonderful and healthy snack to have on you.
You can find dried edamame in most grocery stores. I've found it in unusual places like TJ Maxx.
Remember nut allergies.
This is VERY IMPORTANT: make sure no one in your hotel room has a strong nut allergy. If someone does, buy foods that don't contain nuts or else avoid consuming anything with nuts in it while in the room.
But I don't like V-8!
Oh god, stop complaining. Trust me – when you've eaten your sixth breakfast bar, you will be starving for something that ISN'T sweet. And as far as I've seen, V-8 is the only condensed vegetable-like-thing that doesn't require microwaving or boiling.
Eat crackers with it when you're starving for real food and it will suddenly become the nectar of the gods.
Food meets travel.
Now the amount of food I mentioned above would be killer to drag around on you at a con. I tend to stick two breakfast bars and a bag of edamame into my con bag as I work through the day. I take short breaks two or three times a day to run to my hotel room and replenish my supplies.
Make friends.
Also, it's always a good idea to bring extra food. Here's the scenario: you're a smart, wonderful, prepared person who thought ahead and brought food. Surrounding you are like-minded individuals who did not consider food ahead of time, who are starving for something other than a doughnut. You give them food and they look at you in awe. Insta-friends.
This is also a good thing to keep in mind in case someone has a food-related condition: low blood pressure, low blood sugar or anemia. If a stranger or a friend should collapse, which happens far too often in the rush of cons, you have your own food-based medical kit on hand to help. And then you're a hero, like Kamina!
Got any questions or concerns? A pat on the back for me? Also, should I include pictures next time? Comment below.