Posted on Jul 07 2012

Set an appointment to rendezvous with Natsuyuki Rendezvous this season on the leader for streaming Anime and Asian content
San Francisco, Calif. (June 29, 2012) – Crunchyroll, Inc., is proud to present Natsuyuki Rendezvous which is set to simulcast this season. Based off of Haruka Kawachi's hit manga, Natsuyuki Rendezvous is set to broadcast, straight from Fuji-TV's noitaminA block, onto Crunchyroll starting on Thursday July 5, at 12:45 pm PDT for its premium members. Free members are able to view one week after initial broadcast on Crunchyroll. More information can be found on www.crunchyroll.com/rendezvous.
Natsuyuki Rendezvous will be available to Crunchyroll's audience in the following territories: USA, Canada, UK, Ireland, Australia, New Zealand, South Africa, Norway, Finland, Sweden, Denmark, Netherlands, Central and South America.
"Ryosuke works part-time as a florist where he begins to fall for the owner, Rokka. Eight years ago, Rokka decided to give up on love but one day, due to circumstances, Ryosuke ends up in Rokka's apartment where he runs into a half-naked man. Having mixed emotions, he realizes that this man is her late husband's ghost. However, Rokka is unable to see him. Will Ryosuke be able to pursue his love despite the presence of her late husband?"
Episodes can be accessed from Crunchyroll.com, the free iPad and iPhone application, the Android application, Roku, Google TV, Boxee, Vizio VIA, WD TV Live and additional set-top channels, and affiliate partners.
Crunchyroll premium members will have access to the largest anime and drama selection, same-day access for simulcasted titles, no advertisements and can be viewed in up to 1080p quality on selected titles. More information about the Crunchyroll membership plan can be found at: http://www.crunchyroll.com/freetrial/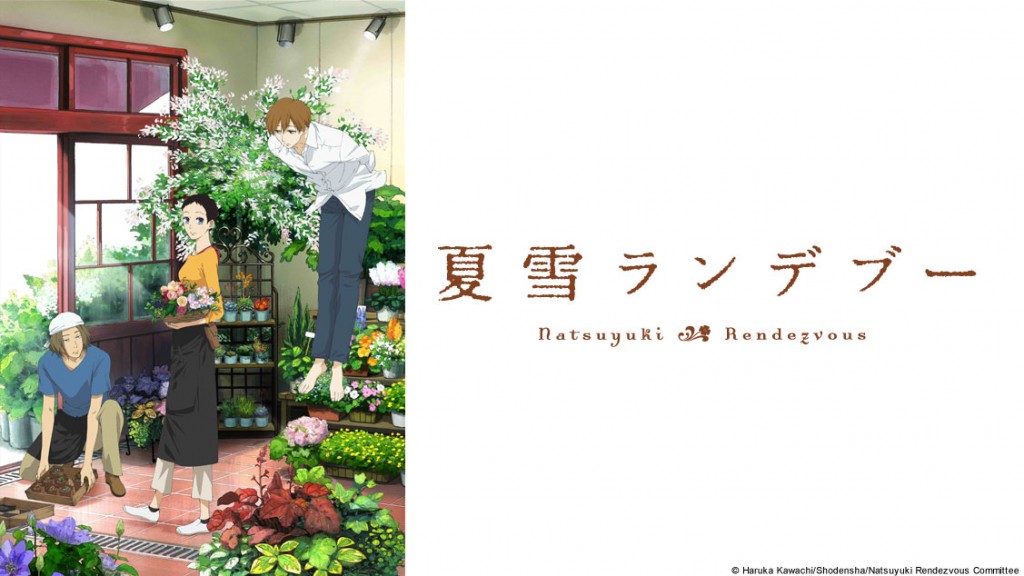 About Crunchyroll, Inc.
Crunchyroll is a leading global video network and developer of social media applications for Japanese anime and Asian media. Through applications like Crunchyroll for iPhone, iPad, Android, Windows Phone, TV set-top boxes, affiliate websites and its own streaming website, Crunchyroll delivers officially-licensed content from leading Asian media producers directly to consumers.
Crunchyroll has offices in San Francisco, Calif. and Tokyo, Japan, and is a member of the Association of Japanese Animations (AJA) and Licensing International Merchandisers' Association (LIMA). Founded in 2006, Crunchyroll is funded by leading venture capital firm, Venrock, Japanese entertainment giant TV TOKYO, digital publishing leader Bitway and a group of angel investors representing some of the brightest and most successful entrepreneurs in Silicon Valley. More information can be found at http://www.crunchyroll.com.
About noitaminA
With a top rated late-night anime time slot and major advertising sponsorship from Japan's largest corporations, Fuji Television's prestigious noitaminA block was designed to drive creativity and innovation in the art of anime. Assembling high profile teams of creators to produce eight new half hour series per annum, from both famous literary works and original concepts, noitaminA has consistently produced unique and innovative programming that pushes the boundaries of animation to its edge and beyond. http://noitamina.tv/index_en.html