Posted on Jan 21 2015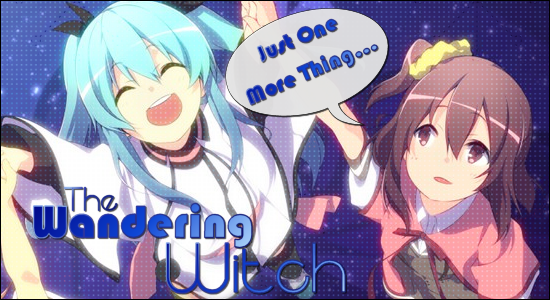 Welcome, all, again. I find myself writing this column just a couple of weeks into a new season of anime, so I must decline attempting a premature evaluation of new shows. Meanwhile, three series (in particular) are continuing this season from last, and all seem to be doing so strongly: Your Lie in April, Yona of the Dawn, and Shirobako.
And they anchor what looks to be an entertaining line-up for Spring 2015. (I am especially interested in Gourmet Girl Graffiti, Unlimited Fafnir, and KanColle.) But before you let the Winter 2014 season slip away, you might want to make sure that you caught everything you meant to watch. Please allow me to offer four quick suggestions: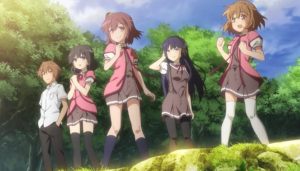 1) Celestial Method shows the return of Nonoka Komiya to Lake Kiriya City, her childhood home, which just happens to have a giant flying saucer hovering over it. This has made the town a tourist destination and changed the lives of its inhabitants; however, Nonoka is unaware of the saucer's impact since her move away coincided with the saucer's arrival seven years ago. She is about to learn. Nonoka is reunited with her childhood friends and sees firsthand the consequences of the saucer's presence, the divisions it has created. And what is she to make of Noel, the friendly child who claims to know Nonoka from before she moved? As she slowly remembers the past she shared with people newly returned into her life, how will Nonoka react to the revelation of her part in the saucer's appearance? Celestial Method does not cover any new ground, but the characters are convincing and the story is beautifully told. Rated: Tasty Anime Comfort Food!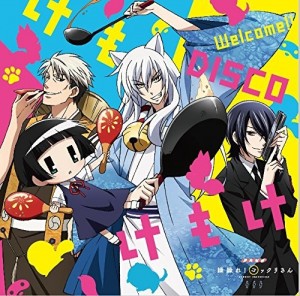 2) Gugure! Kokkuri-san is the story of a haunting–well, several hauntings, actually. Kohina Ichimatsu is an elementary school student mysteriously living alone in her family home. She has no friends, and calls herself a doll as a way of explaining her emotional detachment. One day, she plays a game to summon the fox spirit Kokkuri-san; since she summoned him while alone, he threatens to haunt her. Instead, he is haunted by her lonely situation and decides to stay and care for her. And since like attracts like, more animal spirits begin to arrive at Kohina's house. Chief amongst them are Inugami, who died as an abandoned puppy, and Shigaraki, a tanuki. Of course, mayhem ensues! Will these three skirmishing spirits be able to care for a young human girl while protecting her from further supernatural attention? Will Kohina herself be able to endure their attempts? And will she ever open her heart to anything besides cup noodles? This show was my favorite comedy of the season, despite some surprisingly delicate storylines. Rated: Laughed 'Til My Face Hurt!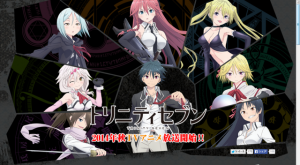 3) Trinity Seven follows Arata Kasuga as he is transformed from normal high school student to student mage to Demon Lord Candidate. His transformation begins when he loses Hijiri Kasuga, his cousin and childhood friend, to a supernatural event which destroys their town. As she is ripped away, however, Hijiri gives Arata what turns out to be a grimoire, a book of magic. Possessing this, Arata transfers to Royal Biblia Academy in order to become a mage and save his cousin. And that's when things become complicated. It just happens that Arata's innate abilities immediately propel him to the status of Demon Lord Candidate, a dangerous enough position even when it's not held by someone completely untrained! And this brings him under the immediate scrutiny of the Trinity Seven, masters of their respective magical fields at the school and, coincidentally, all girls. And, again, mayhem ensues. Trinity Seven has a well-developed premise and a well-developed student body (sorry–I just had to!), as well as lots of action and suggested nudity. Rated: Fan Service Supreme!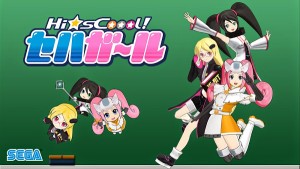 4) Hi-sCool! Seha Girls is the story of three students–Dreamcast, Sega Saturn, and Mega Drive–trying to graduate prestigious SeHaGaga Academy in Tokyo. Their course of study is immersing themselves into various Sega games and interacting with the characters while playing from within the games themselves. (Oh, and Saturn seems to have trouble in staying in uniform. As Mega Drive said: "Boob spillage? That's Saturn's job.") This is a cutely executed bit of nostalgia as the girls visit such games as Virtua Fighter, Sakura Wars, and even Sonic the Hedgehog. I'm not a gamer, but I appreciated the show's concept and loved the interaction sequences. My ignorance of the subject matter meant that I was completely unprepared for an ending that I'm sure most saw coming, but it was a fun and funny ride! Rated: Cuteness Triple Threat!
These four join Yona of the Dawn and Shirobako as my recommendations from last season, shows that I feel warrant further attention before they become lost in the new season's offerings. Believe me, it's easy to get backlogged! And these are only four of many worthy shows, and are all still available for viewing on Crunchyroll. Enjoy!