Posted on Jan 28 2012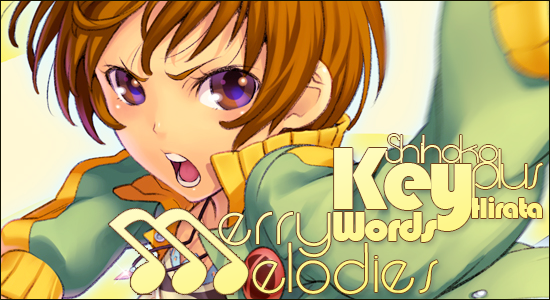 I was originally going to do a different song this week, but Persona 4 has just been so beary awesome that I had to get this done as soon as I could. Time to fight some Shadows!
———————————————————————————————–
For those of you unaware, Persona 4 is a series based off the PS2 game of the same name, which I've been told is pretty awesome, but I lack the PS2 to confirm for myself. I can tell you that the series is pretty awesome, though. It's probably because Atlus has a direct hand in it, and they've never let me down before. Unlike the other Persona anime out there, Persona Trinity Soul, P4 doesn't really require you to have played the game, from what I can tell.
I've said before that sometimes I like to pick out individual instruments and focus solely on them. Screw that for Key Plus Words. The guitar and bass just blend together so well, it's amazing. It's also amazing how they just repeat the same like 3 riffs the entire time, but if it works, go for it. Then you throw in some drums and it gets even better. Like when I first started watching P4, I enjoyed the other songs by Shihoko Hirata. She has a great sound. But if I hadn't been keeping up with the series, this is what would have prompted me to watch it. My only true complaint with the song is that a full version of it won't be out until May 25th.
There's not a whole lot to say about the animation for this OP. It's the main dudes all putting on their awesome glasses, which is apparently how they summon their Personas. Except Teddie. He doesn't need glasses to summon his Bearsona. If you played or watched P4, you'd know he makes bear puns. Anyway, P4 is one of the few things I've managed to keep up with lately, and I highly recommend it. I don't want to spoil too much, but I've enjoyed every moment of the series, especially episode twelve.
———————————————————————————————–
QUESTION TIME! Any of you checked out Persona 4? How about any of the other Persona games or Trinity Soul? Let me know in the comments or just talk about how awesome the music is!
–
Check out Persona 4 for yourself, right on the Anime Network, which is conveniently located here!