Posted on Dec 10 2012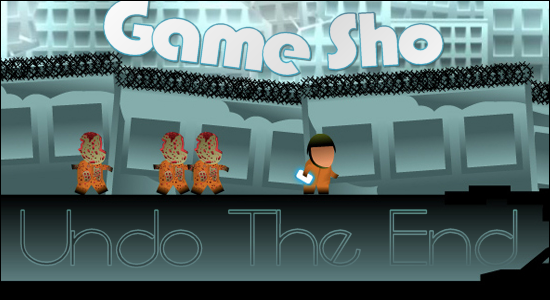 Let's see here, so Kana—the only one who voted mind you—picked out Undo The End for the free indie. Honestly, I don't really like it. It has a unique game mechanic that might be cool, but it doesn't really deliver.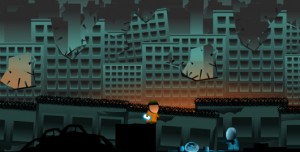 The game starts you off in an advanced apocalyptic future. The game quickly identifies itself as a platformer, a very flat one at that. The game also introduces a way to travel back into the past. By the press of a button, you travel back into a light blue past filled with similarly looking businessmen and sleek buildings. You can only seem to be in the past for a small amount of time, otherwise you go back into the future for your device to "recharge". This mechanic is used for getting past enemies shooting into walls, or going over collapsed bridges. One time, I switched over and brought a tank with me. This killed several people in the past. Other than this, the game requires little skill to play as you are only jumping over small gaps or platforms.
The thing about this game I find almost unbearable is the fact that it actually takes away the one thing that made it relatively fun. A building falls on you at one point in the game and you lose the device. Ignoring the fact that a building fell on you, you don't have your time traveling device and are left with sub par platforming. This is the kind of game that makes me think of mobile games. Many of the most popular mobile games only have one unique factor that makes their game fun. The difference is that they do that thing very well, and anything else it has either enhances it or at the very least does not distract from it.
Let's take a game like Temple Run. If you haven't heard of this game, it's an endless running game. It's like Canabalt, except on a camera behind your runner and some upgrades. You swipe left or right to turn on corners and you swipe up and down to jump or slide respectively. The thing that drives this game is the high scores and coin collecting. As an example of an extra feature, upgrades and power-ups are present. These serve to prolong the life of the game and introduce progression. They do not hamper the game at all. You can still play without them as well. What Undo The End seemed to do was remove your power of time travel to uncover its bare-bones platforming and faults in order to make you feel helpless without your power. While the concept was good, the game itself didn't deliver.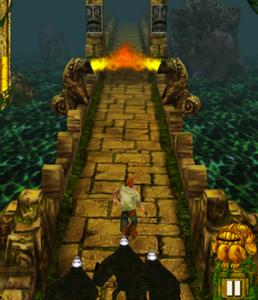 I really enjoy playing games on my phone, but sometimes I do wonder if it'll affect the overall market for video games. What is great about iOS and Android is that you can download apps just like that if you're connected to the Internet. Just find your utility or game you want to download, enter your account details, and you start downloading right away. It makes things simple, but the thing is with simplicity is that it catches on very quickly. Many publishers and game developers make games for iOS and the Play Store hoping to become the next Angry Birds or Temple Run. This would be all fine and dandy, but there is something that really makes this annoying. The whole deal with how almost all the games are 99 cents. This creates a stigma against console games, which are 40 to 60 dollars! I mean, that's expensive, but if people expect to pay 99 cents for a good console game, that's not doing it justice.
No extensive free indies today, but I'll recommend some iPhone games. Please don't mind if some of these are pretty popular. Oh, and you can still vote on them.
Zenonia 4
Cut The Rope
Jetpack Joyride
DoodleJump
Contract Killer
Pong World
Princess Pajama
The World Of Magic
Cartoon Wars
Advena