Posted on Dec 24 2011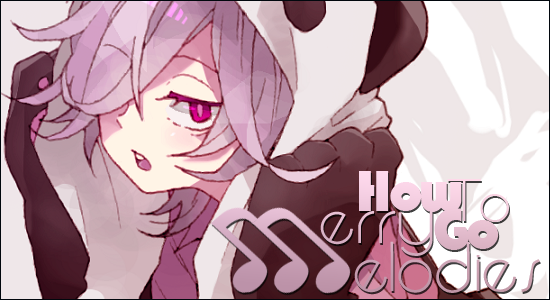 How do you get the best opening for the Fall 2011 anime season? You learn How To Go! It's time for the Christmas edition of Merry Melodies by not doing anything differently!
———————————————————————————————–
Choosing series to watch before a season is always tough. Some people throw metaphorical darts at those charts that has a brief description about each series. Some watch the trailers for them as they pop up on YouTube. Me? I listen to the music. It took me a bit to find a favorite, since this season had a lot of great music by artists like Minori Chihara and May'n, but then I heard this one. Since I watched Eden of the East a while ago, School Food Punishment has been my second favorite group of all time, after UVERworld. Sometimes I feel like UVERworld even takes a backseat to them, so I guess the two are tied for my favorite. Anyway, School Food Punishment means instant watch for me.
Other than me being a bit of a fanboy, School Food Punishment has a nice sound to them. It's a nice combination of classic instruments like drums and guitar, with plenty of awesome keyboard going on. Some of their songs blend them better than others, but How To Go is a great fast paced rocking song. This is also one of the few songs that I've had the chance to see the music video for, which consist of lots of cool flashing colors and laser pointers. I also really love the singers that School Food Punishment has. If my memory is still good enough, they switch them out for different songs, so each one doesn't sound the same. Like I mentioned before, Eden of the East got me into the group, and then I happened on them again when I watched [C] – Control and I can't help but recommend those series, if for no other reason than to hear this group's music some more.
I'll admit that I'm terrible about watching anime on time. As I write this, I'm only caught up on Hunter X Hunter this season, but Un-Go is a decent show. It's not as fantastic as the opening, but still a great detective series. Studio Bones has been working on those a lot lately. The animation for it is pretty fluid and shows off the characters rather well. One of my favorite things about opening animations is how they sync everything to the music. If you haven't watched the whole thing by the time you get to this part of my rambling, stop reading and watch the whole thing. Wasn't that I-beam flipping at the end super cool? I wish I could do stuff like that. Another big cool thing is the three characters they show halfway through, the girl in the dress, the female inspector and the guy who transfers computer files with his fingertips. Overall, The opening is pretty awesome, which is kinda obvious or I wouldn't be reviewing it here, so I recommend checking the series out for at least the first two or four episodes.
———————————————————————————————–
QUESTION TIME! What's your favorite song for the Fall 2011 season? Mist doesn't need to answer, because his is obviously Minorin, but what about you?
–
Un-Go is actually all done airing, so check it out on Crunchyroll, and Sentai Filmworks has picked it up for a dub at some point as well. Check it out!