Posted on Dec 02 2011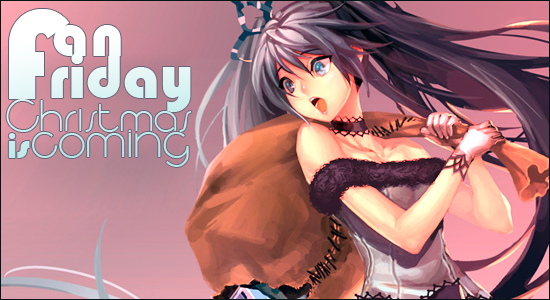 This week's featured article comes from…Shidohari again! Who has re-written the lyrics to some song or another.
—————————————————————————————–
CHRISMAS IS COMING – A 91.8 THE FAN HOLIDAY PARODY
BY
SHIDOHARI (I'M SO SORRY)


Christmas is Coming
The IRC is getting packed
Please schedule more interviews
S.T.A.T
If there are no interviews
Some music blocks will do
If there are no music blocks
You know we'll still love you.
When I'm getting sleepy
Or a little slow
That's when I tune in
To the Best station that I know
In the Nevada Sun
Or the Northeast Rain
You can hear everything you want
And also Every Fight which causes Pain
Christmas is Coming
As Kana starts to Sing
The praises of Girls Generation
And the Goodness that they bring
Christmas is Coming
And Elk's been in the Nog
But let us not forget
Darth Chico his cute Dog
Christmas is Coming
And what do I see
Oh God it's Cerulaine
Kissing a Zombie
Christmas is Coming
Oh God what am I going to do
I better end this song now
As I run from Kibs, Haku
And the rest of the Staff too.
If you have your own Fan Friday submission that you would like to see posted up on 91.8 The Fan, wrap it up all pretty in an e-mail and ship it off to Kibs(at)918thefan(dot)com titled "Fan Friday Submission".