Posted on Nov 25 2011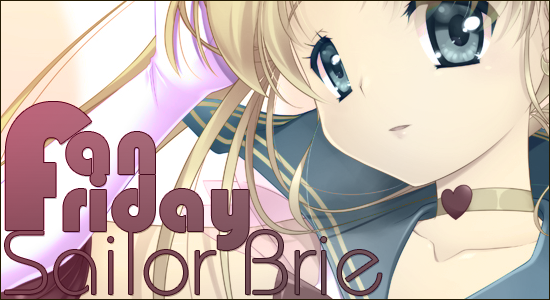 Today's submission is by our long-time friend Shidohari,who expertly re-wrote the lyrics to the American Sailor Moon opening theme. Likely to go along with Renku's awesome illustration found here.
SAILOR BRIE OPENING THEME
by
SHIDOHARI

:: DUN DUN…DUN DUN DUN DUN::
Fighting Piracy by Moonlight
Spinning tunes by Daylight
Never running from a Real Fight
She is the one called Sailor Brie

She is the one in who we can Confide
Epic interviews she will Provide
With the Power of Radio on her side
She is the one called Sailor Brie

Sailor Mist
Sailor Haku
Sailor Cam
Sailor Renku
Sailor Zero

Tuxedo Elk And Cat Advisor Musa too
The team will always defeat
Evil Zombie Queen Ceru

She is the one called Sailor Brie
She is the One
Sailor Brie
:: insert ending tone ::
If you have your own Fan Friday submission that you would like to see posted up on 91.8 The Fan, wrap it up all pretty in an e-mail and ship it off to Kibs(at)918thefan(dot)com titled "Fan Friday Submission".