Posted on Jul 22 2011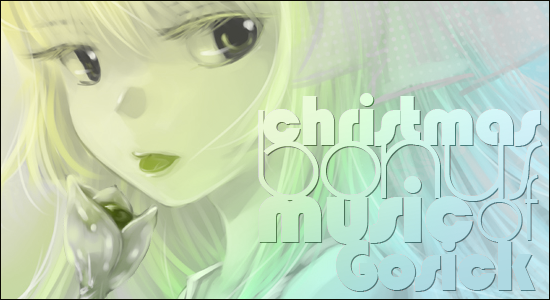 Just when you thought you couldn't get enough Gosick, Christmas is here to give you even more. For those of you like Kibs who have been holding off on reading the episode blogs for fear of spoilers, this is simply a review of the themes and will be kept spoiler free!
———————————————————————————————–
In my opinion, Destin Histoire is one of the best openings that I'd seen from the season that Gosick ran though. It has a nice start up to it, the piano gives it that touch that some Japanese songs tend to lack, and Lisa Yoshiki has a beautiful voice. In terms of animation, it has a simple sort of stylization to it, which doesn't detract too much from the music. The few main characters that Gosick has are shown rather well without spoiling too much about them, and there are even a few scenes during the animation sequence that show up later as their own story arcs Not only that, it has one of my favorite characteristics of an anime opening, which is how the animation often synchronizes with the music. Overall, I'd have to say Destin Histoire is my favorite of the three pieces of music that Gosick uses, but if you read the episodes blogs, you'd know that from how I mention it every single week.
Resuscitated Hope, Gosick's first ending takes a little bit of a different tone from Destin Histore. For one thing, the song title isn't French. In all seriousness, I wasn't really sure what to think of Gosick when I first heard this song. Unlike Destin Histoire's quick tempo and upbeat lyrics, Resuscitated Hope takes more of a somber tone. since most of the early arcs end in cliffhangers before they're resolved, the song adds almost a sense of hopelessness to them. The animation tends to flow individually from the song as well, tending to flow more apart from the lyrics than in time with them. I almost feel like I'm watching a scrapbook in animated form. Lisa Komine is another great singer, and she really adds the power to Resuscitated Hope, which I think benefits it greatly.
From episode thirteen onward, Unity replaces Resuscitated Hope as the ending theme. While it's still good, I feel that the song itself lacks the spark that the other ones have. By no means is it bad, it's just my least favorite out of the three. Instead of the slightly more depressing tone that Resuscitated Hope takes, Unity focuses on the fact that you know more about the deep inner workings of Gosick's plot and has a more hopeful sound to it. This shows a bit in the animation too, since it has more of Victorique and Kujo being together, rather how separate they were during the animation of Resuscitated Hope. This one's done by Lisa Komine as well, and I'm not sure if it's her natural ability to harmonize her voice, or a machine that does it synthetically, but it sounds brilliant all the same.
———————————————————————————————–
QUESTION TIME! Which is your favorite? As you can see, I took the liberty of providing them here so you don't have to go hunting them down. Give each a listen and tell me what you think
–
So, make sure to check out Gosick, and tons of other great shows over on Crunchyroll. While you're at it, check out Funimation's new beta site, where even Canada can watch all the hot titles they have over there!