Posted on Oct 08 2010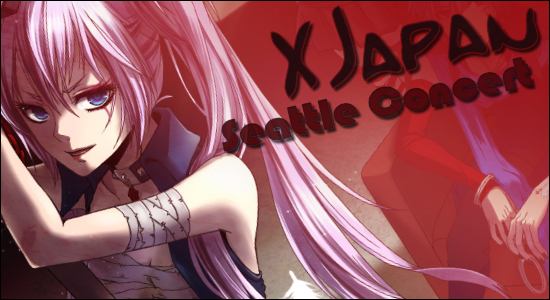 Our weekend DJ V-Tan was kind enough to scout out X Japan's Seattle concert on October 1st. It was their third stop in their US Tour, but how does it stack up? Japanese bands face a lot of hardship trying to crash into U.S. shores so let's see if this legendary group has what it takes. Sink or swim?!
Today I write to discuss my journey of the concert for X Japan*, a band with an amazing history and strong fan following. American fans have been waiting a long time for X Japan live in concert. Since their formation in 1982 they have been a major force in Japan and the rest of the world, and have had fans in North America for as long as they've been around. With I.V. being the theme for Saw IV, and with this tour, no fan of X Japan on this side of the world will be disappointed.
The stage goes dark, the glow sticks rise crossed into X's, and the chant begins.
X!
X!
X!
X!
The crowd was super pumped to get the band on the stage. They cheered as each member arrived at their place of glory. The drum kit, the bass amplifiers for guitar and bass, and finally the vocalist brought their stage presence to the room. The cheering and applause was near deafening.
The flashy group began their show with a fresh track entitled, Jade. This certain song had only just been revealed on September 16th and has been streaming on their official website since then. There was a great deal of clapping along with the beat as they moved quickly into Rusty Nail and Silent Jealousy all the while shouting, "We are X!" to entice the crowd. It was obvious that the band itself had a certain flare not seen elsewhere, at least not common-place in America, but it did make them very unique.
I actually recall at one point, about their third or fourth song in, beginning to play our national anthem The Star-Spangled Banner. I will admit that the placement seemed odd, but at the same time I understood that they were attempting to touch base with their new audience. If there was anything X Japan's fans reacted to it was their flamboyant nature and wacky mannerisms. Despite the honor of playing such a song, it came off as a easy way to get their American audience listening. Despite that, costume changes and smoke machines were not far behind and ultimately gave the band some style.
At one point, to make sure I could write my notes clearly, I stepped into the fairly busy lobby. People who had come to see the concert were in the lobby discussing the the show as a whole. The discussions of other bands ensued across the hallway. Most of the press was out in the hall comparing notes, but fans were also attracted to the merch booth as well.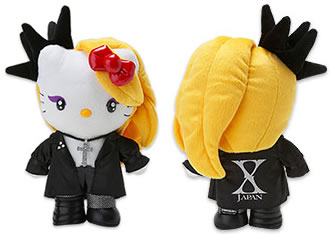 It should be noted that I had never seen merchandise as such. For example, there was a hundred dollar punk Hello Kitty dolls and it seemed an actual hit with fans. Here I thought the X Japan Hello Kitty credit card was humorous. Though it was obvious that fans of X wanted to show their pride and definitely share their band in style, so many customers seemed eager.
X Japan meets most of the criteria for popular music in 2010. Some reasons are forced, such as the wall of noise, or the pyrotechnics on stage (four huge flamethrower things) while others come from tragedy, such as the death of the original lead vocalist, Hide (also known as "hide").
If there is anything that X Japan might have trouble overcoming it would be the U.S. I can't say confidentially that they will take us by storm immediately, and I feel as though it might take more support from fans and metal-heads alike to justify X Japan's trek here. Despite being uncommon and ornate the only way to truly know for sure is with the release of their up-coming album due out in 2011. There are little details as of yet to what the album will consist of, but fans and new-comers alike will have to wait to snap up their latest release.
* This article has been edited to have a neutral point of view.