Posted on Sep 22 2010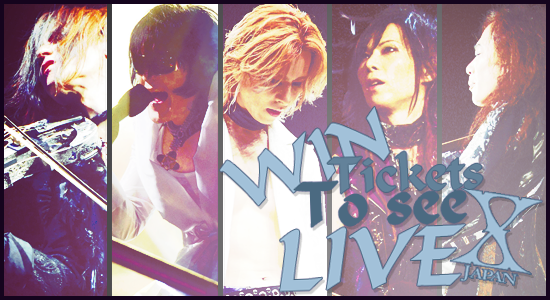 You read that right! 91.8 The Fan is giving you a chance to see X Japan live in concert. The rules are simple and you've got about two weeks to make it happen.
For those of you in the dark:

X Japan has been around in some form or another since 1976. Evolving from a group of kids known as Noise, the band became known as X in '83. After hitting it big in Japan, they set their sites internationally, and changed their name to X Japan in order to not conflict with bands from other countries. Through their changes, however, they have always had their own unique presence in the music world. From one end of the planet to the other they have millions of fans, including even the Japanese Prime Minister. And now, they are coming to North America.

X Japan is currently touring the US at the following locations:
Wiltern Theatre, Los Angeles, CA on September 25th
Fox Theatre, Oakland, CA on September 28th
Paramount Theatre, Seattle, WA on October 1st
Queen Elizabeth Theatre, Vancouver, BC Canada on October 3rd
Riviera, Chicago, IL on October 6th
Massey Hall, Toronto, ON Canada on October 7th
Roseland Ballroom, New York, NY on October 10th
We'll be giving away four pairs of tickets for three of these locations. So just in case we don't have you covered, you can purchase your tickets at TicketMaster (or E-Tix if you're gonna catch them in Chicago).
If you're located near Los Angeles, New York, or Seattle, or are willing to make the pilgrimage out there, we've got what you're looking for! We have two pair of tickets to give away to those fancy people in LA, and one pair for New York and another pair for Seattle. We do not have any tickets for any other location besides the three that were just listed!
The question now is – how do I win these awesome prizes?
First thing's first, just sign up to the site to comment on this post.
Make sure to tell us what pair of tickets you're looking for! If we don't know which pair of tickets you're scouting, we won't know what ones to give you if you win.
Give us a reason why you want to see X Japan. This can be long, short, funny, serious, or all of the above. Be creative and tell us what seeing them means to you!
That's all you have to do. Simple enough, right? You have until 12:00 PM PST on the 23rd to comment. We will announce the winners only three hours later, at 3:00 PM PST, on that same day. Winners will have their answers read on-air, and must contact us immediately for their prize!
Make sure to spread the contest to all your friends, family, and anyone else you want to take with you. The more people you know who enter, the better chance they'll invite you to come along. Also, make sure to visit X Japan's website and give a huge thank you to Chase Wang for helping to organize this event. Best of luck!
*Please note that if it is your first time posting on the site it will have to be approved as such please be patient.