Posted on Sep 05 2010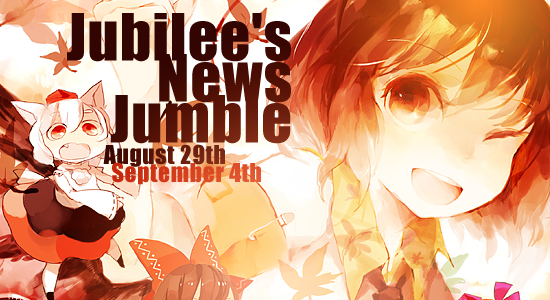 Guess who's back… back again… Jubi is back with another week of news action. All week Jubilee has been out on his stick with a bird head capturing all the best news stories for you awesome fanatics! From a long needed break from plundering for booty, to FREAKIN TRON, Jubilee has all you need to know…and is BBQing for the three-day weekend! WOOO!
———————————————————————————————–

Starting September 6th, manga creator Eiichiro Oda recently confirmed that he will be placing his insanely popular manga, One Piece, on a 4-week hiatus. Since the manga began in 1997, Oda has taken several one week breaks, but never one for this long. In total this year, One Piece has sold over 20 million copies, with the last three volumes, 57-59, each selling over 2 million apiece.

Gala TV, alongside a Taiwanese production company, recently announced that they will be creating a live-action television adaptation of the popular manga Hayate the Combat Butler. The manga, created by Kenjirou Hata, focuses on Hayate, a young man who is forced to serve as a butler/bodyguard to pay off his debt to a girl named Nagi. On the show, Nagi will be played by 20-year-old Korean actress Shin-Hye Park, while Hayate is played by George Hu.

Featured in iStalk 395, Atlus, the company who brought us series such as Persona and Megami Tensei, will be dissolving due to their ongoing financial issues. The company is a fully owned subsidiary of Index Holdings, so the assets of Atlus will be transferred over as soon as Atlus dissolves. Index has said that they will continue to use the "Atlus" brand name in future games when appropriate.

According to iStalk 396, the 19th issue of Shueisha's Buisness Jump magazine has revealed that Tatsuya Egawa will be reviving his comedy manga Golden Boy after 13 years. Golden Boy ran in Shueshia's Super Jump magazine from 1992-1997. The new chapter is set to release on September 15th in Business Jump, with a 32-page chapter.

Reported in iStalk 398, popular web manga and anime, Hetalia-Axis Powers, has its very own day coming up on October 24th. This is the second year of the unofficial fan day, where cosplay, photoshoots, and roleplaying take place, in 18 different countries. Over 70 separate meetups are planned, and will take place in countries from the United States to Finland.

Manga creator Junko Mizuno recently announced that she will be signing autographs on September 18th at the Giant Robot store in San Francisco, California. Mizuno has worked on both story and art for series such as Hansel and Gretel, as well as Prince Trance. Giant Robot is a magazine that focuses on Asian and Asian American culture and is based out of Los Angeles.

Featured at the Chara Hobby and Model Event in Tokyo, Japan, a fan made Gundam statue constructed of left over plastic bits from smaller models was proudly displayed. The statue reportedly took over 250 hours spread out over 95 days to fully construct. The statue is of the RX-78-2 Gundam, piloted by the main protagonist Amuro Ray in the original Mobile Suit Gundam series. If you want to see some of the shots of the statue may I point you here.

Long running manga pPoi! Recently ended its 19 year run last Saturday in the October edition of Hakusensha's Melody.The manga originally was printed in Hakusensha's LaLa in 1991, but later moved to Melody. In total, 9.6 million copies of the compiled 28 volume book have been published and sold in the long-running manga's career.

Japanese internet provider NEC BIGLOBE launched a free web manga magazine called Manga-Boshi, in both Japanese and English, last Thursday. The magazine features the creations of 10 young art university students and graduates and will be released monthly. The magazine is freely available online in both Japan and abroad, and while the first issue of the magazine is focusing on Japanese artists, NEC BIGLOBE is open to posting overseas work. NEC BIGLOBE is also planning to post the magazine in other languages such as French and Italian.

The Tamauyra video anime series official website began streaming a brand new, 15-second commercial this past Friday. Tamauyra is the third 'healing anime' directed Junichi Sato, also known for Kaleido Star and Princess Tutu, behind the other two Aria and Umi Monogatari ~Anata ga Ite Kureta Koto~. The story follows a freshman girl named Fu Sawatari, who enjoys photography and moves to a new town, where she must make new friends.

Fans of the Oddworld series, I bear good news! The last game in the series, Oddworld: Strangers Wrath, was not only one of the few games not backwards compatible with the 360, but it was not released on Playstation! Well, never fear, as the video game developing company Just Add Water is in the works for a re-release of the game, not only for the 360, but PSN as well. As of now, the game is set to be released around Easter of 2011.

Recently announced by Disney Interactive, a brand spanking new Tron game is set for release on December 7th. The game will be titled Tron: Evolution, and takes place in the Tron storyline before Tron: Legacy, the movie set to release later that same month. A boxset for the game has also been confirmed, and will contain the game, a lamp, a model light cycle, and an awesome container for the game. The only downside is that the box will be going for a bit pricey $129.99…But hey…it is FREAKIN TRON!
———————————————————————————————–
Although this week's edition of the news is slightly shorter, you can always get your daily fix of the news via 91.8's fabulous iStalk. As for now though, I must go enjoy labor day by not laboring…which leads one to think they should really rename that 'holiday'…slightly misleading, no? Wow, that's a full rainbow…omahgawd.