Posted on Jun 16 2010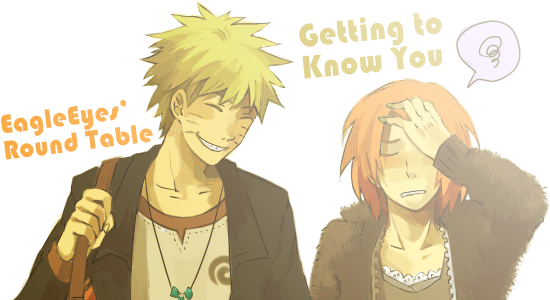 Once again, EagleEyes here, taking over 91.8 The Fan very special edition new edition of the Weekly Round Table. This week we get to know the 91.8 team, from DJs to Content Providers, everyone drops by to share some info on exactly what they do for the site! Also Kanashimi and Kibs drop by to share some memories, stories and ZOMG SITE SPOILERZ!!!!!!!
Getting to Know You – 91.8 Staff
Not really an award, per se, but a chance for members old and new to get to know our staff a little better. So let's meet the guys:
MollyBibbles –
Yo! I would be your friendly neighborhood ranter. Some would argue I'm not very ranty but I feel the meaning has been sort of misconstrued, so that would make me… your understated neighborhood ranter. Anyway, I've been with the site since January, believe it or not. I write the monthly Molly Rants-a-lot and tend to skulk around the forums when no one is watching. I've been your general fangirling nerd since childhood (mother showed me Totoro and the rest is history). I do dabble in illustration, writing and singing but I am a modern/ ballet dancer by trade. So, now that would make me your understated neighborhood ranter… that can't sit still.
AnarchoElk –
Yo AnarchoElk here aka Crazy Canuck aka D Grizzle aka Off-White Ranger aka Robotron V aka Bebop and I'm a DJ/Editor/Etc guy over here in 91.8 The Fan land. Obviously I'm an Anarchist, but specifically, an AnarchoCommunist. Why? Because communism is cool, but dictators get in the way of enjoying the free stuff. I've been with 91.8 since about I THINK April of last year? My broski Kibs was like "Hey, wanna be on a radio station?" and I was like "Sounds fun, how do we do this?" So I made a promo, got accepted and the rest is history? You can find my stuff week daily, I put together the iStalk series of videos as well as DJ 7-9 EST.
V-Tan –
Hey there, DJ V-tan with official "life of V-tan" explanation/ justification.

I discovered the site in February of 2010, and joined as a Marketing Coordinator. After a short while, I asked Kana about the potential of me being a DJ, shortly after, the "Black Knight Requiem" was born. My show runs from 4-8AM every weekend here on the station. I love music, so I try to get all the best music we have and bust it out over 4 hours of awesome.

Some of my favorite anime include Fushigi yuugi, Slayers, Major, Code Geass and Sailor Moon. Some of my favorite manga include Ranma 1/2, Tsubasa Chronicle, and pretty much anything by Rumiko Takahashi. My music tastes include Yui, Access, TM Revolution, and my long time crush on Ayumi Hamasaki. I also love Mountain Dew and staying indoors as much as possible.
Ceru –
Hello, I am Cerulaine and I became a staff member back in March and to be completely honest I'm horrible with dates, ages, or anything of the sort because it involves numbers which I dislike very much so feel lucky that I remember the month.

I was a regular member of the IRC for 2 days and then I became a staff member which was a rather quick process so most of it is a blur to me and that is how my journey into the world of 91.8 began.
I am a Radio DJ meaning I am one of the voices you hear in your head while you listen to our station.
My show is from 6pm – 10pm PST Saturday – Sunday….. Cannot…type anymore…playing…video games.
Llian –
My username is Llian, I'm eighteen years old (turning 19 Sept 2nd) and I love anime and manga! Specifically mangas, as I'm somewhat of a writer myself. I also love to draw and I love messing around in photoshop.

I've been on this site since…the beginning of this year I think.

I monitor the game and manga section and try to keep it a bit more lively by posting there myself. I dunno if I'm going an alright job but it's fun to communicate with other people :'D

You can find my content/articles at the top of the forums under Features and Articles — Meringued Manga.
Christmas –
DJ Christmas here, I've only been here since the first week of the radio or so, so I'm kind of a newbie. I found it on the first Thursday the radio was up, because Kyle Hebert posted a Facebook status about how he was being interviewed. About two weeks later, the sign-up part of the site was launched, and I jumped right on it. Been a DJ ever since. In the few months I've been here, I've learned how to edit and post up interviews, add music into the database, and shift a few minor things around. Other things I do are the complete list of the database of music, which is on;y viewable by Fanatics. It's in the forums, you'll find it. I'm also planning on copying Cerulaine by doing my own karaoke of anime songs. Those will be in the Fanatic section as well. My show can be heard every weekday from 8 – Noon PST. That's about it for me.
DS –
Another of EE's ill-begotten attempts at gathering useful information for my assassination? Sure, I'm game. Let's see… I've been with the site since summer/fall-ish of 2009, so I'm getting close to a one year anniversary, I suppose… Do I get cake for that? Because I'd prefer brownies. Just sayin'. As for what I do here, I think the best title for me is 'The Fill-In Guy'. I know how to do most of the work that goes down on the site, so I generally pick up things left unfinished due to conventions, sickness, or anything else that causes absence. However, my typical work is doing radio in the morning from 4am-8am PST, handling interview posts, tossing together the script for iStalk, and various other tidbits that I can't seem to remember right now. As for where you can generally find out more about me, well… Ask around the IRC, I guess. I have a wonderful reputation there. *sarcasm*
Yugi –
Hey there everyone it's Yugiboy360 or better known as Yugiboy. I'm the crazy and insane DJ of 91.8, I also work with guest relations and have been a part of the 91.8 staff for 4 months. You can catch my show at 10 P.M. PST to 2 A.M. PST (1-5 A.M. EST). I first found the site through LK and his ad for his interview and instantly fell in love. Many of the older people from the IRC remember me as one of the original Planeteer's and how we constantly stopped Sandy.
Kibs –
I've been with the site for about 2 years now, I was here just about from the start. The responsibilities of my job pit me against the will and determination of a handful of employees who share the common goal of blatantly disregarding any basic spelling and grammar rules. This, combined with the joy of running around making sure everyone does the simplest of tasks from "Twitter about your show" to "post up that interview", making several banners (like the one above) daily, merchandising, running a forum, writing the occasional review, co-hosting a show, producing interviews, designing merchandise, and covering conventions. You can't go very far on the site without seeing something I've had my hand in, go ahead, try. I like toast more than I like you.
—————————————————————————————
Now for the Round Table rules: As usual, each participant is given 6 questions covering various aspects in anime, manga, and Japanese culture. Each individual then has to provide their opinion on the said issue. Finally, I rush to combine these elements in an outstanding fashion and the Round Table is born .
Our Participants today are:
Kibs – The Witch!
Kanashimi – The Fuhrer!

Care to explain a little of your back story? What were you up to before you joined the 91.8 team and how was 91.8 formed?

Kibs –Well I had known Sandy through an old forum I used to go to, NarutoMania. We never talked all that much, but we'd seen eachother around and whatnot. After a while I was introduced to an online game known as "Pangya", a Korean MMO based around golf. Sandy and I played together for a while and he eventually introduced me to Kana, who, at the time, I really disliked because I thought she was just a self-centered bi…ironic isn't it?

Before 91.8 we set out to make a site dedicated to this game, and, although there were other sites that covered the game's updates, they were all only text-based blogs. We decided we were going to be the first podcast centered around the game. After a while Sandy sort of fell away fromt he site, after Anime Expo one year. Soon after Sandy had gone full force into a new project, I later hopped on the site to help out with the project, myself not being as into Anime as the others involved, and I sort of never left. The rest is pretty much history.

Kanashimi –Well, I think I've explained it quite a few times, but I suppose I can
go into some more back story. I used to be big into the site
MyAnimeList.net (though we know 91.8 The Fan is better), and I was both
an Anime Database Moderator and Forum Moderator. From my awareness,
Sandgolem was a Manga Moderator and we sort of talked. We weren't close
or anything at that point, but from a mutual friend I knew about him.

Due to my increasing interest in an online game called Pangya, which I
don't endorse anymore unless it is the PSP version, I was invited to
Sandy's Vent channel. Ventrilo is essentially Skype, but better since I
don't have to keep my microphone on twenty-four seven. We got along and
talked every other day or something along those lines. Sandy introduced
me to Kibs, but I thought he was an utter douchbag and hated his guts…
It's pretty ironic now, but not much you can do about it! Haha~

Either way, since we all played Pangya we decided to extend our coverage
on the game. I had a blog online entitled Tiki's Spell Book
(http://pangya.faithfuldreamer.net), and we sort of used that as
advertisement. We started a site called Into The Rough
(http://www.intotherough.com) which was a podcast focused on the game. I
think it was due to Sandy's excitement of being on-air and what not, but
he came back from AnimeExpo 2008 with this grand radio idea. I recall
jumping onto the idea way before Kibs, but I did a majority of what I
did there that I do now.

It started out slowly and we had a few bumps, but regardless there was
little we could do considering our experience. I'm pretty proud of where
we are now, but I will say we have a long way to go, too.

91.8 The Fan has Fanatic content available for those with Fanatic accounts, what do you see as the benefits of being a 91.8 fanatic? What sort of content is available? What can we expect in the future.

Kibs – Fanatics have access to a lot of the behind the scenes stuff that people tend to love, whether it be "making of", bloopers, or B-reel photos and videos from conventions. Forum wise, you also get a sparkly name, and a custom user-title that you can change. Expect a lot more convention content in the future, as well as special videos made just for Fanatics, not just behind the scenes and bloopers stuff, either. Oh, and you should be seeing that silly little thing known as THE BEST ONLINE STREAMING ANIME DIRECTORY EVER HNNNNNNGGGGGGGGGG.

You know, the original one, the one certain other people's directories are ripped off of.

Kanashimi – Well, as of right now we have all of our unedited interviews since we do
talk with them behind the scenes. We wish to include more things like
this in the future, but we require more hands as well. The more time we
have the more hands we can train, which translates to more content for
you guys.

As for the future there's a lot I have planned personally. Very soon
I'll be going back to my roots with video editing and be making
promotional material for 91.8 The Fan. As such, Fanatics will get to see
full versions of these in all of their HD glory. I've got some mad
skittles, if you want to witness them then I suggest becoming a Fanatic.

We also have the triumphant return of our long, lost Anime Directory!
This will be beta tested through our Fanatics first, so if you want to
get your legal streaming on then this is the way to do it. This is a
brand new system where users can submit their own input, change the
system itself, and morph it to their own ideals. This is something that
couldn't have been done with our earlier experience. So I cannot wait to
see this up and out there for everyone to play with. The more we can get
input, the better it will be!

What sets 91.8 apart from the competition. What do you see as the sites current strengths and is there anything that you look to improve upon??

Kibs – We're not a bunch of lying, thieving, degenera….The fact that we have a 24/7 live DJ radio station is plenty enough, but we also constantly strive to improve our quality, and have the primed and professional look and feel you don't get from other sites.

Kanashimi – Interactivity is definitely a strength we have over other sites such as
ours (though our competition is technically very lax). We're media
focused and video driven, all of our information is more or less
presented via sound or with moving images. Not many sites have made this
jump, but we didn't have to! We started out this way to present things
with as much impact as possible, and it seems to be a hit.

I mean considering the fact you can access 91.8 The Fan via your
cellphone, Zune, blackberry, iPad, iPhone, iWhatever and watch iStalk is
always a plus!

Have there been any stand out moments or events that you remember fondly? Why do those moments in particular stand out?

Kibs – I think the moment that stands out most for me has to be my first convention, and my first time going to AX, and Anime Vegas. For some undisclosed reasons I will always remember a few specific dates during those months ;D

Kanashimi – Hmm, this is a little bit difficult… there's been so many times I've
been saved by one of our staff or something drastic has happened. I
really just have to thank the 91.8 The Fan family that makes everything
happen everyday. You guys are incredibly awesome (even Hexx and Yugi),
and despite how much I grill you guys I still appreciate the work you do
do… even if it's wrong. XP (Kibs would like to point out he is disappoint by this answer =[)

Are you working on any upcoming projects that we can look forward to? Any previews of what to expect?

Kibs – Video game reviews are coming a-plenty. I've got a shipment of like 4 or 5 games on the way, and with my new HD recording set-up they'll look pretty darn awesome. Kana and I also have a few ideas for the future, and I know Sandy's got a show he's had in the works for a long time. Also, for the Fanatics, I'm going to be upgrading my PC rather soon, so I won't be running into the problems I've had for a while, so you'll see me coming back with banner videos in glorious HD.

I Know Sandy has a lot he's working on, and once he gets everything squared away and prepped up, he should be pushing out a few videos every so often. Also, I know how much you guys love the video content, so I've been working with a few of our content providers to get some nice stuff coming for you guys in glorious video-type formats!

Kanashimi – I'm working on a few things with some I can talk about and a few I
can't. By August I should be releasing at least four features per month.
I'll give at least a little hint to one of these features so I'm not a
complete tease~

It's tentatively called "A Woman's Figure" and will highlight new
figures being released. We'll go through an unboxing, examination, fact
sheets, basic cleaning, and various other aspects of being a figure
collector. I think a few users will learn a lot, and I sort of get to
show off. So I guess it's a win-win.

As for everything else, there is some coding work and various other
things I can't talk about; regardless, be on the look out for how 91.8
The Fan will grow and mature

Any closing comments?

Kibs – I would like to thank Sandy for making this possible, Kana, who's always there by my side to support me (even if it is negative reinforcement most of the time :P). I especially want to thank our staff, without whom we could never be able to handle all of the stuff you guys all do every day. Most of all I (predicatbly) want to thank the fans, everyone always says that, but you guys are why we do this, and you guys all coming to the site, viewing our content, and listening to the radio are what keep us going, we're fans just like you, and we want everyone to be able to enjoy what we do as much as we do. That is why we are 91.8 The Fan.

Kanashimi – I'd like to thank the fans for being so patient, and please continue to
do so. As we move from a volunteer status to a more organized business,
we'll have more and more work to do. As such, please make sure that you
keep in mind we're doing what we can! Thanks again guys and thanks for
all the continuous support~!

—————————————————————————————

And so ends our journey today. If you would like to ask a question for a future round table, or possibly answer some questions yourself, please leave a comment bellow, or send me a message on the forums, right here at 918TheFan.com

Ohhhhhh Yeah: PissedSilentBob wins the Pokéthon by 1 single vote. He is now the proud owner of a new Manaphy.