Posted on Jul 02 2010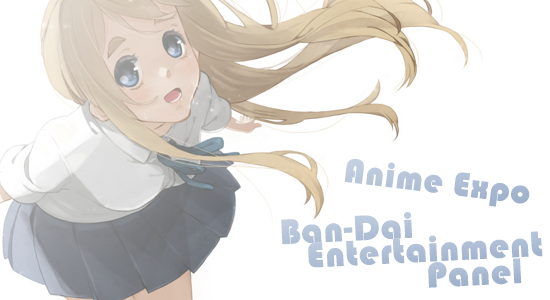 One of our staff, Elc, sat down during the Bandai Industry Panel over at AnimeExpo and decided to give us some notes about what was occurring. There's some interesting news and new licenses to sink your teeth into. Make sure to check out more after the jump!
Apparently, Bandai is attempting to strengthen sales of DVDs, which is a given considering the rampant piracy problems plaguing the anime industry. Their step to deal with this seems to be the introduction of a Bandai Entertainment store. The store itself will have a reward system in place that allows users to gain points depending on what products and how often they buy. Whether these points translated to being able to buy merchandise at a discount or whatever other rewards they were cooking up wasn't exactly specified in the notes I received.
For those attending AnimeExpo there's a treat for all of you. It seems that they are releasing the Gurren-Lagann Movie: Childhood's End movie series. The first of the series will be available now at AnimeExpo. The first one hundred people to purchase said movie will received an autograph on their copy by Katsuyuki Konishi (the voice of the character Kamina from the franchise as well as a current guest at this year's convention).
For those wondering about the second movie, it will be available on July 30th through the new Bandai store. While the completed series of Tengen Toppa Gurren-Lagann will be available exclusively at AnimeExpo or July 6th for those who are unable to attend. Also under these same release stipulations is the Mobile Suit Zeta Gundam movie and Hayate The Combat Butler Volume 11. Freedom the complete collection will also see a release date of July 6th.
For Geass fans, the second season of Code Geass: Lelouch Of The Rebellion R2 has been officially licensed and will see the light of day soon. Other series that were teased happened to be Kannagi and the Eureka Seven movie.
Next, it was Haruhi-mania with an announcement that the first season would see a complete collection edition soon. In relation, the second season of the Melancholy of Haruhi Suzumiya will become available in its entirety in August of 2010 (with the original English cast). The Haruhi-chan and Churuya-san episodes are currently going through the dubbing process while The Disappearance Of Haruhi Suzumiya is in the works for English adaptation.
The biggest announcement of the panel was their newest license: K-ON! At this time it includes only the first season, but they gave some rather perplexing announcements concerning the cast of their promotional K-ON! videos. We congratulate Cristina Vee as she embraces her new moe-blob role of Mio; however, the rest of the cast merely had first names which was bewildering. Karri Shirou will be playing Yui, Briana as Ritsu, and Kix as Tsumugi. We conclude that these sort of videos will be much akin to the ASOS Brigade, and as such can't really touch on this subject more as no more information was given.
The Gundam Unicorn OVA's Blu-Ray will only be available in the Bandai Store or Amazon for those of you looking to pick it up.
The very last thing Elc noted in his report was that Bandai Entertainment is apparently thinking of doing quick subtitled released, much like Funimation has done, sometime in the near future. There were no other details given, but it was still somewhat interesting to hear other companies were following suit with this sort of double release schedule. This concludes Bandai's Industry Panel, and we hope you continue watching for more reports like this.