Posted on Aug 01 2012

Man With A Mission is a 5-piece rock band consisted of "ultimate creatures" with wolf heads and human bodies. They have been extremely active in Japan participating in major music/rock festivals and going on a solo nationwide tour. As they continue to stay strong in the domestic rock scene, they decided that it was time to face the challenge in the overseas scene and participated in Japan Expo, the biggest festival in Europe for Japanese culture and entertainment.
This unique pack of wolves was featured by "NoLife TV," the biggest TV network specializing in Japanese pop culture, which provides service for 12 million households in France and by MTV for an exclusive interview. They were also interviewed by various local media including magazines and web media. Even though it was their very first time visiting France, they were warmly welcomed by the local media, audience and fans beyond anyone's expectations. The vocalist/guitarist Jean-Ken Johnny expressed his joy by stating, "Super glad for everyone's interest in our first live in France! Paris is beautiful. Merci, merci, super merci!"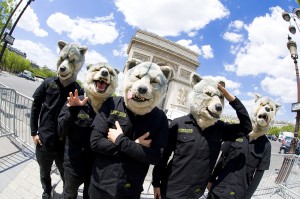 At the venue of Japan Expo 2012, Man With A Mission performed in front of an audience of 5000 with the full power and energy the same way they would back on a home stage in Japan. It was as if France had already become their second home.Starting off their stage with 'Don't Lose Yourself,' they continued on in full gear with their signature song 'Fly Again,' the collaboration song with Gerolsteiner'Get Off of My Way,' the cover of Nirvana's 'Smells Like Teen Spirit,'one of their new songs 'distance,' and more. Even after their full-on stage of 8 songs, the audience still wanted the stage to go on. In response to such an enthusiastic audience, Jean-Ken Johnny made his promise in fluent English and French, "We will definitely be back again!" There is no doubt that their powerful and passionate stagebe remembered as a significant chapter of Japan Expo's history.
With this successful stage in Paris, France, Man With A Mission's "Mash Up The World Tour" will continue on to the US and back to Japan for the homecoming stages with their brand new 2nd Full Album "Mash Up The World" released on 7/18/2012. This is only the beginning of their mission to "MASH UP" the world just the way these wolves want. So, keep a close eye on these eccentric wolves and don't miss out on their actions!
Release Information
The long-awaited 2nd album by the hottest talk-of-the-town band of wolves is finally out! Including 'Feel and Think' from the mini album "Trick or Treat e.p." released last October, 'distance' and 'Focus Light' from the recent single "distance" released in April and 'Lithium' from the Nirvana Tribute Album "Nevermind Tribute," Man With A Mission's 2nd album "Mash Up The World" contains 12 songs in total!
In the limited edition, a tour documentary photo book is included for the first time! The ever more powerful "wolf sound" will make your hot summer even hotter!!!
(All product details, including availability, images, language(s), special features, and bonus items, are subject to change without prior notice. Actual item weight may be different from the one indicated above.)
2nd Full Album "Mash Up The World" Released on 7/18/2012
[Limited Edition]
CRCP-40322 3,000 yen(tax in.)
*CD + Tour documentary photo book (48pages) with a sleeve case
[Regular Edition]
[CD Only]
CRCP-40323 2,500 yen(tax in.)
Track List:
Mash Up The DJ!
From Youth To Death
Distance
Neutral Corner
Get Off of My Way
Focus Light
Bubble of Life
Lithium (*Nirvana Cover)
Just Like Magic
Jidai
Feel And Think
Colours
*Single "Distance" ranked 6th on weekly Oricon Single Chart on the day of release!
Available for overseas!!!
[Limited Edition]
http://www.cdjapan.co.jp/detailview.html?KEY=CRCP-40322
[Regular Edition]
http://www.cdjapan.co.jp/detailview.html?KEY=CRCP-40323
Live Information
"Mash Up The World Tour"
[US Tour]?
9/29 – Ollie's Point / Amityville, NY
9/30 – Firehouse 13 / Providence, RI
10/1 – The Space / Hamden, CT
10/4 – The Stanhope / House Stanhope, NJ
[Japan Tour]
11/03(Sat/Holiday) Zepp Nagoya
11/04(Sun)? ZeppNamba
11/10(Sat)? Club Sonic Iwaki
11/11(Sun)? Sendai Rensa
11/17(Sat)? Zepp Fukuoka
11/18(Sun)? Hiroshima Club Quattro
11/24(Sat)? ZeppDiverCity Tokyo
12/01(Sat)? Matsuyama Salonkitty
12/02(Sun)? Takamatsu Olive Hall
12/07(Fri)? Sapporo Factory
12/09(Sun)? Niigata Lots
Official Website (English): http://mwamjapan.info/en
Official Website (Japanese): http://mwamjapan.info
Twitter (English): http://twitter.com/mwaminfo_en
Twitter (Japanese): http://twitter.com/mwamjapan
Facebook: http://www.facebook.com/MWAMjapan