Posted on Aug 03 2012

August 3, 2012 – Nagoya's new-wave J-Pop group Budo Grape announced their first-ever tour of the UK today in conjunction with It Came From Japan. The quirky, high-energy group will perform three dates in October in support of their first new album in three years, 2012's Kare no Namae Wo Omoidasenai.
Budo Grape's previous overseas appearances include A-Kon (Dallas, TX) and Knitting Factory (New York City).
UK Tour Dates
October 26 Brighton – The Prince Albert
October 27 London – Japan Underground Vs. Neo
October 28 Manchester – Doki Doki
It Came From Japan has hosted numerous independent Japanese artists in the UK, including Boom Boom Satellites, Natccu, Bo-Peep, Tokyo Pinsalocks, and Bespa Kumamero.
Ticket information and updates can be found at ICFJ's website.
Links
Budo Grape Official Website
Budo Grape Official Facebook
Budo Grape Twitter
Videos
Budo Grape – "Otome No Price"
Budo Grape – "Botan Wo Oshinaose"
Profile
Quminco÷Grape – Vocal
Nagai÷Grape – Vocal, Guitar
Matsui÷Grape – Vocal, Bass
Taichi÷Grape – Drums
74÷Grape (Naho÷Grape) – Keyboards
Budo÷Grape is a catchy, high energy avant-garde pop band from Nagoya, Japan. With a style often compared to the B-52's, the band is fronted by model and radio personality Quminco and Nagoya music legend Nagai of the "Shockers".
Formed in 2001, Budo÷Grape released their first full album Koibito Wa Koishite Tsukuru in 2005. The album was a hit in the Japanese underground scene and was followed up with the 2006 release Soko Kara Detekinasai and 2007's Otonatachi x Kodomotachi.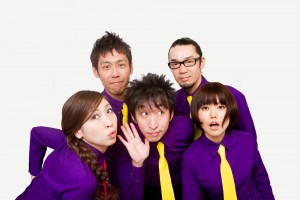 In 2008, Budo÷Grape released their fourth album Aimore and preformed their first American tour, with appearances in Dallas, TX (A-Kon), San Antonio, TX (Slim's Burger Joint), and New York (Knitting Factory). Inspired by their overseas fans, they returned to the studio that same year to release the EP Five Hits and Dust.
2009's Himitsu Gallery would be the band's final recording for three years as each member worked on various side projects, including a Shockers reunion. The band reunited for the 2012 album Kare No Namae Wo Omoidasenai, and announced their first UK Tour for October 2012.
The band, whose members all have "Grape" for a last name, claim to come from "Neo-Nagoya." They continue to tour Japan with their crazy live show and catchy songs.