Posted on Dec 17 2011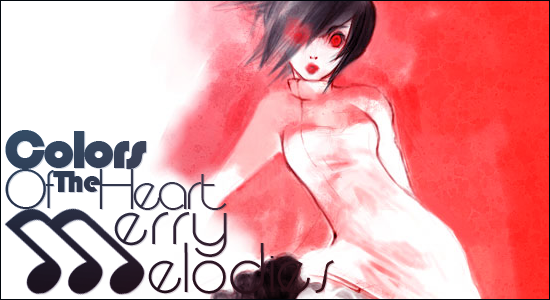 If you ask Christmas what his favorite song of all time is, he'll gladly tell you. For those of you who haven't figured it out yet, it's time for another installment of Merry Melodies!
———————————————————————————————–
When I first started watching anime, one of the things that immediately hooked me was the music. After the Naruto OPs, Colors of the Heart was really the first anime related song that I had the chance to listen to. The funny thing about it is that I didn't even watch Blood+ to hear it for the first time, it was in some Megaman Battle Network game play video. After asking the name of the song, I had to check it for myself, and I grew even more attached to it. It later was the pure reason behind my decision to even watch Blood+. I stayed for Crispin Freeman.
One of my favorite things about UVERworld, and it's especially noticeable in CoTH, is that the singer can harmonize his voice. For those of you who aren't sure what that means, basically he can run two separate pitches at the same time, which if done right sounds amazing. A good example is Terrance Stone's performance of Mayuri Kurotsuchi in Bleach. Since I'm not a musician of any sort, I can't really pick out one specific thing that is done amazingly well and point it out like a hipster. I do really like the start of the song though, where it does that whole wavy kind of sound. I guess you'd have to listen to know what I mean. Luckily, I have the song on autoplay right here.
Another thing that I like about this song is that it led me to look more into the band. I'm sure anyone who's at least tried to watch Bleach has seen the second opening, D-tecnoLife which is done by UVERworld as well. They've also done music for Gundam 00 and D. Gray Man, and I really like the music they do there. I'm pretty sure their most recent anime song, at the time I'm writing this anyway is Core Pride from Blue Exorcist. Anyway, just from chancing upon that one Megaman video, I was able to listen to not just a new style of music, but watch a bunch of different anime, or at the very least add to the never ending list I have going on.
The animation for this song is pretty neat in itself. Compared to Blood+'s other three openings, Colors of the Heart's has a different style. It's almost like a watercolor painting, where most others focus on the smoothest possible animation they can get for an eyecatch. It also is the opening for a pretty crucial part in the series, or as I like to call it, the part where Blood+ gets good. I like Blood+ and all, and I won't give any spoilers, but it seems like for a 51 episode series, it took 26 episodes to get really interesting. The main thing that kept me watching was the anticipation of this song, but the first two openings weren't terrible either so they helped. I do recommend looking into the series if you're a fan of vampires and/or Kari Wahlgren and Crispin Freeman
———————————————————————————————–
QUESTION TIME! Do you think it's a good song? Do you like other Blood+ songs better? Have you even seen Blood+? Let me know!
–
As far as I know, Blood+ has been taken off [adult swim] but you can always hunt it down on Amazon or something!