Posted on Jan 20 2016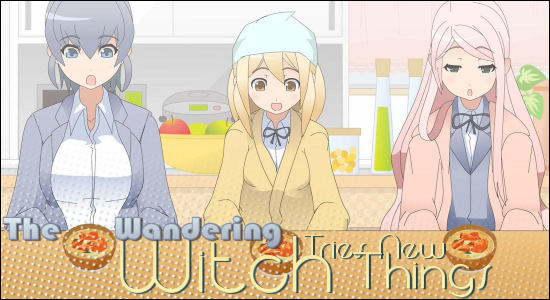 Welcome, all, again. This is my first column of the new year, so it seems like an appropriate time to try something a bit different. Instead of straddling the viewing season change with my normal backward glance, I want to discuss some shows that have already impressed me. And this looks to be a great season! We have returning favorites, genre-crossers, and a rather intimidating influx of magical girls. But my personal preference (weakness?) has always been slice-of-life, and I am well-satisfied with this season's offerings. Whether a dog's life or quiet contemplation, this season already has me spellbound!
Let's begin with some returning favorites of mine: Lovely Muuuuuuuco! and JK-MESHI! To be blunt, these are two shows that you'll probably either love or never watch, period. The first revolves around the antics and musings of a dog, while the second is almost completely given to dialogue. Both are also shorts, with Lovely Muuuuuuuco! running 12.5 minutes (but broken down into 2-3 related mini-stories) and JK-MESHI! running 3.5 minutes per episode. Muco will inspire joy and recognition in dog-lovers as she tries to understand the world around her and communicate her feelings and discoveries to her owner, Komatsu-san. They live in Komatsu's isolated glass-blowing studio, giving Muco ample time to explore and interpret her surroundings–with hilarious results! My favorite moments are Muco's forced interactions with Rena-chan, a little girl who loves doggies to pieces–literally(?). JK-MESHI! likewise concerns exploring and interpreting the world–from the comfort and safety of a dining table! High school students Reina, Ryoka, and Ruriko study together, often managing to talk themselves off-topic. But no need to worry, as their hunger will soon focus both their minds and wills. The last third of each episode is given to introducing a quick and easy dish, the preparation of which is then demonstrated. I've had fun trying some of the recipes, but am convinced that Ruriko is stringing the others along during study sessions. . .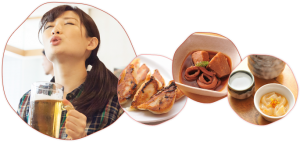 But speaking of food preparation, this season has already provided me with a revelation! For the very first time, I have happily followed a concept as it crossed genres from anime to drama–I am speaking, of course, of Wakakozake's second season. Regular readers might recall that I reviewed the animated first season back in August, 2015, and praised it then as "both well-made and observant," despite its brief 2-minute episode length. This second season has seen a shift to live-action and full-length episodes. Now, I have always resisted watching live-action versions of anime series which I have already viewed; not only do they tend to disappoint due to physical constraints against [the] fluidity (and exaggeration) of movement, but I also miss the deliberate nuances of coloring and other appreciable efforts of the artwork. But despite the shifts–maybe even to some degree because of them–Wakakozake now explodes off the screen! The premise remains the same as we follow office lady Murasaki Wakako (played by Rina Takeda) on her quest to find late-night food matching her mood, then pair it with appropriate libations. But we viewers are now taken to real eating establishments to view real meals take shape. This series has morphed into an actual food tour show, and it shines in this new role! (The fact that it revolves around a fictionalized storyline does nothing to detract from this.) As with any good show of this nature, it educates and inspires–I see; I learn; I want! And that's the whole point, right? Seriously, folks, I cannot recommend this show strongly enough!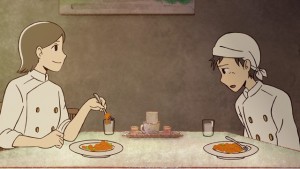 So, with what can I follow that glowing review? Tabi Machi Late Show, a quietly beautiful study of the role of relationships in our lives. This series focuses keenly upon characterization, moreso than any other I've seen in a long while. And these characters are very present in their lives (and each others') and very self-aware. The poet Delmore Schwartz closed "Father and Son" with the line: "Be guilty of yourself in the full looking-glass." These characters seem to have read that and paid heed! There is a certain introspective mood to this series, enhanced and magnified by the sepia tones of the artwork, which seems to heighten audience empathy. We seem to participate just by watching. Additionally, the stop-style animation used in this series makes us supremely aware of the characters physically, particularly emphasizing their smallest gestures. This is a show about nuances–nuances of meaning, of movement, of intent.
I am watching these and many other shows this season, which seems to offer an abundance of quality programs. Please Tell Me! Galko-chan is droll, tongue-in-cheek humor. Showa Genroku Rakugo Shinju is a beautifully executed tale of redemption. And GATE is back in full glory! So pull up a chair and get comfortable–it's gonna be a great few weeks!