Posted on Jul 16 2014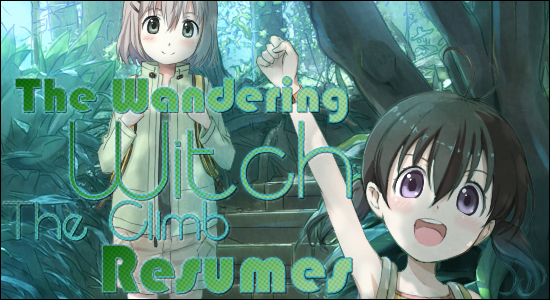 Hi, all, I'm Moonhawk81 (The Wandering Witch). I've been around The Fan for a long while now and am finally attempting to contribute directly to the site in my own little way. I've contributed reviews to other sites and have even proofed and ghost-written for printed publications, but confess that I have found myself petrified by the unexpected intimacy of preparing a column. So please excuse any rough edges while I try to adjust to this new situation.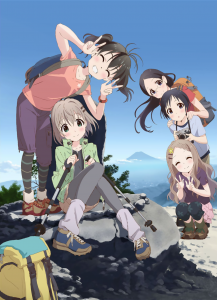 Luckily for me, the second season of Encouragement of Climb began airing on Thursday, 10 July, and I was immediately propelled beyond my aforementioned fear. I loved this show from its first episode back in January, 2013, and have been eagerly anticipating its continuation. The story centers around four friends and their shared love for mountaineering, particularly the relationship between childhood friends Yukimura Aoi and Kuraue Hinata. As children, Aoi and Hinata watched a sunrise together from atop a mountain, and promised to do so again when older. But the following years saw them losing touch with each other, as well as Aoi developing a fear of heights after breaking her leg in a playground accident. The two are suddenly reunited as they begin high school, and Hinata, who has pursued mountaineering as a hobby, immediately begins to pester Aoi to fulfill their promise. Aoi finds herself torn between fear, irritation, and lingering affection for her old friend–or, perhaps more accurately, loyalty to the memory of their friendship, as the years have made them virtual strangers with merely a shared past.
But that has always been the genius and message of Encouragement of Climb: the re-invention of self. We slowly learn that Hinata's impulsive and sometimes obsessive behavior has made her something of an outcast among her peers; the memory of her friendship with Aoi has become a treasure for her. Meanwhile, Aoi's quiet nature has not exactly made a social butterfly of her. Aoi's initial skepticism of and annoyance with Hinata's immediate friendly intimacy is gradually replaced with an appreciation of its sincerity. All that remains is for Hinata to convince Aoi to relinquish enough of her inside hobbies to come back outside–and, of course, to get her back up a mountain!
Two more girls round out the group: Saito Kaede, a schoolmate who also enjoys mountaineering, and Aoba Kokona, a middle school student whom Aoi and Hinata meet on Mount Takao during their first excursion. Kaede is the most experienced of the four as far as mountaineering goes. She enjoys backpacking, which she explains as hiking across and camping in the mountains, and is full of practical advice. (Also, in a character-driven show that normally avoids fan-service situations, Kaede's more mature curves and love of sports bras are offered as a sort of sly consolation prize to viewers with certain formulaic expectations.) Kokona is the youngest of the group and exudes propriety and femininity. One final character is part of the group without actually being in it–Hinata's father, who indulges his daughter's pursuit of mountaineering and encourages her blossoming friendships with the other girls.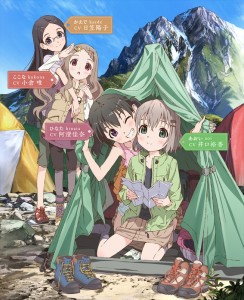 But why spend so much of my time discussing last season? Because this show is slice-of-life, and this season continues seamlessly from last season's end. The big change for this second season is that the length of individual episodes has roughly tripled(!), from 3.5 to 13.5 minutes. This is a change for which fans clamored during the first season's run from January until March of 2013, but I have already read reviews offering the opinion that the new length feels stretched or even a little empty. I am simply aghast at this notion! While the compactness and brevity of the first season's episodes shined the material to near brilliance, the true joy of slice-of-life as a genre is settling back and just watching things happen. I feel that the story benefits from the nuances only permitted by a more leisurely telling. And viewers have a whole season in which to decide which format they truly prefer.
Encouragement of Climb began as a manga by Shiro, serialized in Comic Earth Star magazine. That run began in August, 2011, and is ongoing. The studio 8-Bit has produced both seasons of the anime version. While season 1 consisted of 12 episodes, season 2 will contain 24 episodes and is being simulcast on Crunchyroll on Thursdays at noon Central Standard time, 1PM Eastern.