Posted on Jun 15 2014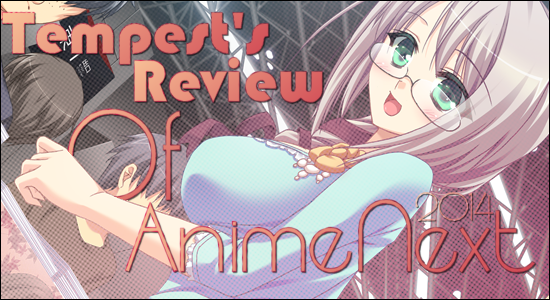 This was my first convention where I ever had down-time. Typically, the minute I receive the schedule, I cover it in highlighter marks for all the panels I intend to attend — often multiple during the same block of time. Then, it's a race to see how I can possibly be in three places at once, or a competition to see which panel is the most important for me to attend.
At AnimeNEXT this year, I didn't have that problem. In fact, it was an occasional struggle to find ways to fill in the gaps — though typical hotel move-in and move-out situations proved themselves important time-wasters that required my immediate attention.
Why was there a lack of activity? I'm a big fan of character-driven panels. I absolutely adore Q&A's: watching people in gorgeous cosplays answering questions as their characters is like watching fellow otaku put on an improvisational play. However, this year, AnimeNEXT eliminated all character-driven panels that were run by fans rather than staff.
Of course, that meant crowd-pleasing shows like the Anime Dating Game, Masquerade, and Burlesque remained on the schedule. But the long lines to the Homestuck Q&A and Hetalia World Summit were eliminated entirely.
I have to say, I'm rather disappointed with the panel selection. As fantastic as these staff-run programs are, as well as old favorites like Bad Anime Bad, there's nothing quite like having a dozen people on stage, answering awkward questions and improvising entire scenes together. It's incredible to watch theater unfold from one panel to the next, and it left a lackluster feeling for me during the weekend to know that the panels I was attending were less theatrical and more educational.
However, I do want to acknowledge that AnimeNEXT made a marked improvement regarding panels in different way: smaller panels were sent to another building entirely. That meant panels were not squeezed into tiny spaces together, leeching sound from one room the next. It opened the big hall on the bottom floor to have rooms that sat anywhere between 500 and 2000. For huge events like the 18+ dating game, we filled every crevice of space in the Arena, which I believe sat over 1500 people. There was no sound leaking, and everyone was able to enjoy the event, whether they sat in the front row or the back.
The problem with putting the panels in a separate location was that there really wasn't any warning. There were two "Panel 1" and "Panel 2" sections on the schedule, with "BW" and "DT" following, so that is raised all the questions in the world. I assume there was a section in the guidebook explaining the location adjustment, but I don't know a single person who has ever read the guidebook all the way through.
Also that "five-minute walk" from the Expo Center to Hotel Somerset was actually 15 minutes in the dark on a bridge with no streetlights that worked overhead. Hotel Somerset's entrance is conveniently located in the exact opposite direction of the Expo Center so you have to walk all the way around the building to get to the entrance, and I accidentally stumbled upon an 8th grade dance instead of the panel room. By the time I made it to the panel, it was halfway over.
However, all of this complaining does not work against the decision to expand AnimeNEXT, rather like a college campus, into FIVE BUILDINGS to accommodate its vast growth. This is a convention that sported 11,000 attendees this year — more than ever before — and addressing the cramped quarters by adding another location was a brilliant decision that has all of my support. Thank you, AnimeNEXT, for sending smaller panels to another location so that everyone can enjoy the panels, big or small.
As for the location, it's getting cramped in the Doubletree Hotel lobby. There isn't much that can be done, I understand. However, the fact that the public restrooms ran out of toilet paper nearly every hour is shameful. I've never seen Hotel Doubletree do that before, and they should have been more on top of this. With tens of thousands of people moving through the corridors, they should have realized that bathroom breaks were an important part of the con.
However, the staff at the front desk of the Doubletree Hotel, and the people from the cleaning service, were polite and kind. They seemed exhausted by the surge of questions, demands, requests, etc, and yet they remained bright and helpful. A highlight was when I approached the front desk on Saturday to find that the two women up there were sporting Superman t-shirts under their professional work blazers. It brought a sense of completion to the convention: everyone was being a dork this year.
Every year at AnimeNEXT, the fire marshal seems keen to rework every single entrance and exit so that they are moved to the most inconvenient locations fathomable. This year, midway through Saturday, they closed the hall by the Arena and Panel 1 to any entrance, except from the outside. We had to go out a hall and loop around the whole of the building to attend the panels we wanted to see. Frazzled staff members had to make a human chain to stop people from entering. It was probably due to a surge in attendance, because I've never seen that happen at AnimeNEXT before.
And as for AnimeNEXT's staff themselves, they were the warmest and friendliest I've seen in years. Far from relaxed with the constantly harrowing changes, they took the time to kindly answer questions, to politely guide people, and to calmly repeat themselves as many times as necessary. I'm especially impressed with the staff member who stood off to the side of the hall on Friday and announced, "I'm staff. Does anyone need help finding anything? I'm here to help."
I attended the Rookiez is Punk'd concert on Friday night, and interviewed them on Saturday, and I have to say that the sound techs are improving. I don't know if the room has terrible acoustics, but my experience with AnimeNEXT concerts has always appeared to be "LOUDER IS BETTER. MAKE THEM DEAF SO THEY CAN'T TELL IF IT'S MUSIC OR PAIN." Of course, any concert is typically too loud for me, and the bass was distorted on the recordings they played as they lead us into the Main Events hall. I figured that was how the concert would sound, but no. There was very little distortion at all, and most of the tones were audible.
The microphones were very well set up. I could hear every word the band members said to us. The light-show in the background proved entertaining, and the fog machines were well-timed and effective. The fact that I could actually figure out what songs were playing was a marked improvement from the concerts of previous years.
The band itself was stellar. While their English was at times difficult to understand, they stuck to speaking to the crowd in our native tongue and even sang some strictly American songs, like "I Got a Feeling" by the Black-Eyed Peas. Shinnosuke, the lead singer, got the crowd jumping, fist-pumping, and even singing along.
As the concert went on, the vibrant energy ran through the audience. We were screaming and shouting, up until they pulled out the song "Complication." Here, Shinnosuke dedicated it to everyone suffering a hardship and explained that he wrote this song when he was thinking of quitting the music industry. "So I will try to put all my emotion into it," he said. I literally cried through the whole song.
Near the end, U, the drummer, took the time to speak to us and even tugged off his Rookiez shirt to reveal an Asuka from Evangelion shirt underneath. Much to his shock and embarrassment, the crowd responded by chanting, "Take it off!" He replied by shaking his head and laughing.
Finally, at the end, they thanked us and made their way off stage. The audience started chanting, "Encore! Encore!" Five minutes passed and some people were already filing out. I was under the impression Japanese bands didn't do encores.
But then the four of them came back out on stage and gave us another energetic piece. The concert ended on a high note and a line of people snaked its way along the walls as they waited for autographs from Rookiez is Punk'd. It was an incredibly entertaining show all-around.
The Dealer's Room had a great set up, as well as the same excellent selection from last year. It sported some of my favorite shops for my various needs: cheap manga, high-quality wigs, and t-shirts galore. Also, alpacas in hats. HATS. ALPACAS IN HATS. I didn't know I needed them until I saw that and then proceeded to go, "Oh, nooooooooo it's cute."
The Artist's Alley is always impressive, but it seemed smaller this year than in previous years. Maybe there wasn't as much variety to the selection, or maybe nothing in particular stood out to me. Either way, I neglected to buy anything from the Artist's Alley this year, partially due to budget constraints, but mostly due to a lack of need.
Finally, I got to participate as a character in the 18+ Anime Dating Game. I've participated in a Karaoke competition, and been invited to sing at Michele Knotz' talent panel for two years straight. But actually acting in a panel was a new experience for me.
Not only is the event incredibly well-run, the Emcees got the audience going with teasing and insistence that hooting and hollering is the correct way to show approval. Though it was an improvisation game, I memorized a script for myself ahead of time, and my fellow contestants and I planned some of the antics we got up to, including switching seats and general cattiness. We had the full support of the audience, as well as enormous cheers at the end. I'm definitely volunteering again.
Altogether, I'd like to say that I can see why AnimeNEXT grows every year. I think they really step up to the challenge and accommodate a lot of people. It's a great space to work with in a convenient location for people from New Jersey, New York, and Pennsylvania. I met people who came all the way from Massachusetts and Washington State just for this convention.
It's a comfortable, smaller mid-sized convention that puts on great shows and keeps people busy. Despite hurdles and unexpected slowdowns, I had a fantastic time and I look forward to next year, as I always do.