Posted on Jul 08 2014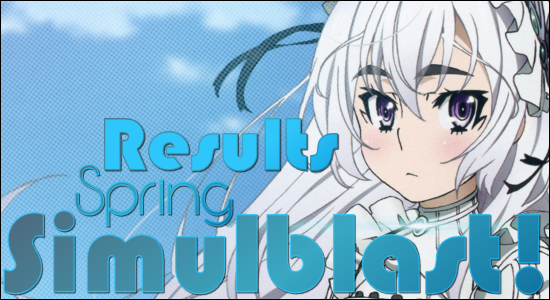 It's time to find out who you let win Simulblast! for the Spring season and what changes we're making to ensure the Summer season is even better!
The final results….
Kanashimi: 1175
Bobby Henshin: 1110
Elk: 1010
Kayarath: 880
Whiskahs: 870
Knightshade: 680
The Editor: 115
Midnight: 0
Kanashimi has taken the winner's circle with Chaika ~ The Coffin Princess! Midnight was booted from the competition early on, but it appears a new challenger has risen to taken her place…?! Who could it be? Find out when we start Simulblast Summer season on the 15th!
In this season of Simulblast, we'll be introducing… Tokens! Tokens are a special currency that can only be used for powers and that have no bearing on their actual score. Each token is equivalent to 50 points.
So, how will our contestants earn tokens? Well, the most simple way is by posting! If every player gets their summary in on time, every player earns a token (instead of the 20 points they would earn last season). On top of that, votes are now worth Tokens instead of points! You can give the writer your favorite a competitive edge. Each vote will give a player one Token that they can use to put the smackdown on their enemies!
Also, last season, you may have noticed a new "player" in the game. The Editor jumped into the fray, using his point deductions from other people to fire powers left and right. The higher-ups said that they can be an enigma no more, and they must be explained to our readers.
The Editor earns points by deducting points from other players when they have less than stellar writing. Also, if a player is kicked out of Simulblast for any reason, The Editor collects all of their points. "But 91.8 The Fan," you ask, "how can you trust someone to be impartial in deducting points if they get the points?" Simple, dear readers: The Editor cannot possibly win Simulblast, because they didn't put money into the pool. Don't be sad for The Editor! The Editor gets to use all of their hard-earned points to throw powers at the contestants! What fun!
And, due to poor decisions by our higher-ups, The Editor now has even more power. If any of the players fail to meet their deadlines, The Editor earns a free Token, which of course will be immediately probably be used to help or hinder the competitors