Posted on Jan 11 2014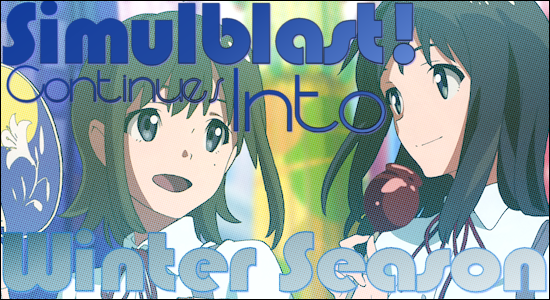 The fans asked for more Simulblast!, and we're giving you more. This time, however, the game has changed. Hit the jump for more information on rule changes and how this affects you! Oh, also who won the fall season.
Simulblast! was a fun experiment we held over the last twelve weeks. However, it was obvious that there needed to be changes to make everything run smoothly going forward. One of the biggest issues was how voting from the lovely fans would literally change everything in a single week. While we don't want to discourage fans to vote–because it's how you, the visitor, gets to change the game–we also don't want the game to turn simply into a popularity contest. So, henceforth, voting will be decreased from 30 to 20 points per vote.
In addition, a player completing his or her episode summary for that week will remain at 50 points. There is a possibility though that, based on the players grammatical capabilities, they might not get a full 50 points. Due to the amount of time spent on edits and the countless rewrites that needed to be done in the last season, we've decided to reward players who submit summaries that are publish ready. For most players this shouldn't be a problem, and as we test this it should be quite lax, but as we move forward mistakes that players were warned about will end up in less points awarded for their summary.
Lastly, the reward for completing challenges have been increased from 20 to 30 points. To encourage all players to get in their summary every week, there will be a bonus given to all players when all active players show up on a given week. If one player who is still active in Simulblast! misses their summary, then they also ruin the chance for everyone else to get their 20 point bonus.
The first Simulblast! of the winter season will go up on the 14th! We hope you join us, and thanks for letting us play this fun game.
The Top Three:
1st Place: Kanashimi at 1,767 who will be awarded $25
2nd Place: Midnight at 1,491 who will be awarded $15
3rd Place: Elk at 1,278 who will be awarded $10
The first challenge of the new season: Predict how your show will end based on the first episode!