Posted on Sep 08 2014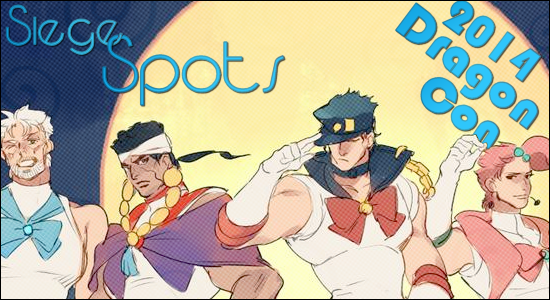 "Are you here for ComicCon?" the hotel clerk asked. I answered yes for the sake of smalltalk, but Dragon Con is so much more than that. Dragon Con is a massive event spanning many different aspects of nerd culture, but what did I think of it?
Before I go much further, I'd like to share an anecdote about my arrival at Dragon Con. It's worth saying that this isn't something I hold against the con itself, but it's more of a cautionary tale.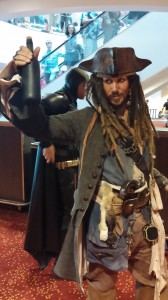 So, on Saturday, I rode public transit into the Peachtree Center, which connects to the many hotels that hold Dragon Con as a whole. I followed guides I had read online and went to the exit they told me. That was my one and only plan. Unfortunately, we were corralled away from that entrance for reasons I don't understand.
I was then pushed out into the streets, where I did what I always do when I can't find a con: I followed the costumed people. This was a mistake. A grave, grave mistake.
For those unaware, Dragon Con holds a parade of cosplayers every year. It's a massive event that draws huge crowds. And I was corralled to the crowd around this parade because that was where everyone else was going. This became a two hour trek where I ended up on the opposite side of the parade from the building I needed to be in. A probably well-meaning Dragon Con info desk worker told me to "just cross the street" and I'd be there. The street I was told to cross was the parade.
I say all that to say this: coming to a con like this, you have to be prepared.
By the time I got to the convention and got my badge, I was a little soured by the experience. I was feeling a little drained. I had no time to rest; my day was set to begin with a Q&A with Caitlin Glass.
On my way to the Caitlin Glass line, I actually got a chance to look around me. What I saw reminded me of the magic of cons as a whole. The whole building was bustling with cosplayers. Pictures were being taken all over, and younger folk were getting excited at seeing their favorite fictional characters brought to life. It's an enthusiasm not unlike what I've seen at other conventions, but I had never seen it in such pure concentration as I did at Dragon Con. It was refreshing, and renewed the love of conventions that I had at the first one I attended.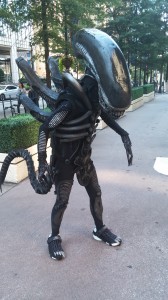 In working at cons for the past few years, a lot of the magic had been sucked away from me as they started to become just part of my job, but I entered that Caitlin Glass panel with renewed vigor. I was starting to enjoy myself again and enjoy the people around me. By the way, if you've never been to a Caitlin Glass panel, I recommend it; her energy is infectious.
As Dragon Con is a massive event, there's no way I could see all it had to offer. So, since this is an Asian-culture-themed website, I stuck mostly to the Anime track, straying away here and there for an event or two. Even if anime isn't for you (although you're reading this, so I can only assume that it is), there's a massive variation of tracks, from Alternate Histories (like Steampunk) to Puppetry, and from British culture to the abstract concept of "Filk" (a sort of improvisational folk music covering concepts from science fiction to cats). It's pretty hard to be left with absolutely no options for something to do.
As I moved from building to building, I marveled at how well-managed the convention was. Even as large as this event was, I never felt like I was lost among the thousands of other attendees. Staff was incredibly friendly, even when they had to be strict. It was extremely refreshing seeing the place running like a well-oiled machine, with lines forming where they needed to and walkways never seeming to be blocked.
I attended as many panels as I could. Worth noting are the panels run by Laugh Out Loud, a improv comedy troupe that runs out of the University of Georgia. They've been popping up at every con I've been to lately, and for good reason. I've yet to see a bad day from those guys. It's really impressive how much work these guys put into their craft.
Also, Mike McFarland's Q&A was incredibly informative; it seemed to stray a bit away from his VA work and more toward his directing work, which was really refreshing to hear about. And this was a constant throughout the panels I attended. I don't know if it's because of the larger audience or what, but the questions from the audience expanded beyond the typical "Who's your favorite character?" or "How did you get started in voice acting?" questions, which was a huge breath of fresh air.
With all that I did attend, there are many guests I wish I'd seen that I wasn't able to get to. The big-name guests like Patrick Stewart (Captain Picard in Star Trek, Professor Xavier in X-men) and James Gunn (Director of Guardians of the Galaxy) had lines wrapped around buildings; with such a variety of things to do and so little time for me to do them in, I had to make the unfortunate decision to avoid the places these guests were at all costs. Where the big name guests went, so followed a congestion that could stop lines of people to a complete stop for no explicable reason. The con itself was very meticulous in keeping people moving as much as possible, so although there were snags, they were resolved quickly. Once again, it was truly amazing to see.
The Sunday of my trip brought me to the Dealer's building, despite the protests of my wallet. Since I've been trying to keep my spending more in check, I resigned myself to simply taking in the sights. It's a good thing I made that decision, because there were so many amazing things on sale. Like many cons, T-shirts were a staple, but they were so varied in fandom and design that it's a wonder I didn't sink myself into deep debt before I ever got out. I did walk away with one purchase: a ring that spins around, simulating a 20-sided die. It was neat and unique enough that I was actually able to bring myself to pull out my wallet, and I plan to use it extensively in my future Dungeons and Dragons campaigns.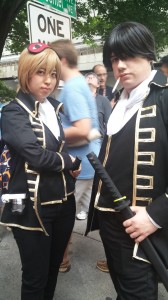 My final stop before leaving the convention was the Walk of Fame. While many more crowd-drawing guests were set aside to specific times and places for their autograph sessions, most guests were found in the Walk of Fame area, available to talk or sign autographs at pretty much any time. This was astonishing to me, as I'd only ever been to conventions with much smaller guest lists. Seeing this room filled with all of these unique guests was a complete culture shock to me.
I must admit that most of my time was spend people-watching. It's not something I'm ashamed of, since lots of people will go to these events simply to take in all the cosplay. And Dragon Con did not disappoint in that regard. Sadly, I wasn't able to snap any pictures of any costumes due to equipment issues, but if I had, my arms would be too sore to type this article. The cosplay was all absolutely wonderful. I don't think I saw a single disappointing costume the whole time. There were some predictable choices (I've certainly seen my fill of Deadpool for a while), no one's costume felt lacking. If you're looking for a place to just go and look at costumes all day, a Saturday pass to Dragon Con wouldn't be a bad choice.
In short, I more than enjoyed my time at Dragon Con. It filled me with a renewed vigor in conventions, which is incredibly exciting. Though the size of the event is intimidating, and navigating can be a bit of a hassle for the unprepared (me), it's a fun and well put-together time. If you're remotely close to the Atlanta area and a fan of anything remotely geeky, it's probably worth the trip.
Just be sure to be prepared.