Posted on Oct 16 2014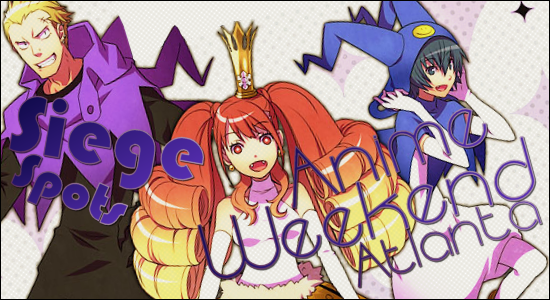 There was something about walking into the Renaissance Atlanta Waverly Hotel, AWA's host hotel, and seeing the hotel staff wearing anime wigs and huge smiles. They've been hosting this event for years, and it was clear that they were welcoming to the event itself. That's always a good sign when heading in to the con.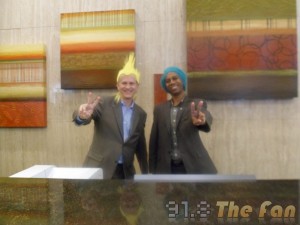 Much like at DragonCon, I had stayed off-site for this convention, but I avoided many of my previous missteps; I had chosen a hotel much closer, and I had gotten a hotel that offered shuttle service throughout the weekend. No risk of starting this con on a sour note, folks!
After a comfortable shuttle ride, walking in to Anime Weekend Atlanta was refreshing and invigorating. When compared to a 9-to-5 day job, walking in to a good anime convention just fills you with a whole new personality; I was totally in my element, and I was ready to take on the con. Due to some unnoteworthy registration troubles (throughout which staff was incredibly accomidating and kind), I started my AWA adventure on Saturday with a panel on Leatherworking run by God Save the Queen Fashions, a cosplay shop based out of Atlanta.
Personally, I found the new info on leatherworking enlightening and somewhat inspiring. I'm not exactly a costume designer, but the thought of molding and connecting leather into the complex pieces they showed was very interesting to me. A friend of mine said that the panel was merely a cursory glance into leatherworking, with very little new info for her. Personally, I think that's perfect; these little 101 panels litter conventions, and it's always meant to be just enough to get you diving in more.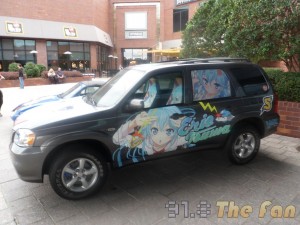 One of the issues I found with AWA itself was the relatively light panel offerings; not to say there wasn't always something going on, but oddly I didn't feel compelled to go to any of it. Compared to other cons I've been to, I found my schedule relatively light. It doesn't speak badly of the con itself, but I just didn't find much in the panel selection that caught my eye.
I try to come out of every con by distilling my thoughts about it into one statement, and the overwhelming thought in my mind about AWA was "Content is important." I mean, you saw the title of the article. You knew that was coming. But seriously, it's incredibly important to make sure that a con is suited to the type of content you're interested in. Even if you think that anime is your thing, not every anime con will have panels to your liking. That was AWA for me this year, and so I went to relatively few.
Of course, I couldn't miss the Funimation panel. There were a few trailers for anime I'd never heard of that I am now suddenly interested in, especially HAL, the story of an artificial intelligence trying desperately to fill the void in a young girl's life. It piqued my interest for sure, and I may have to pick it up personally. Also worth noting is, when people were cheering about the various Simulcast shows, I was the only one who even made a noise when Terror in Resonance was mentioned. I hadn't even watched the show; I had just really enjoyed Wiskahs' Simulblast summaries.
Funimation did have a few things to announce at the end of their panel, though. Firstly, the Cowboy Bebop re-release that I have been anxiously lusting after had some new special features announced, including audio commentaries, and a special dinner party with the voice actors, including some character script readings! I haven't been this excited for a release in a while.
On top of the Bebop love, Funimation revealed that they'd be releasing Soul Eater Not! on video in Summer 2015. And they threw in some Simulcast love, revealing that they'd be Simulcasting One Piece, Psycho-Pass 2, and Fairy Tail next season. They also revealed they'd be Simulcasting a show that I must say I'd never heard of: Selector Spread Wixoss. I know nothing about it, but simply being a new title among the familiars was enough to catch my eye.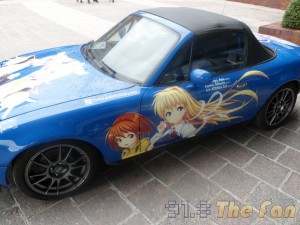 Having plenty of time to kill before the next event I wanted to attend (which was the Shonen Knife concert on Sunday), I took in some of the other sights AWA had to offer. Most importantly, the cosplay is top notch at AWA; you can check it out in the cosplay gallery. The costumes ranged from huge intricate costumes to humble renditions of recognizable characters. And, contrasting with a massive event like DragonCon, it was much easier to stop to take it in and get some pictures.
There were a few gaming rooms, so crowded that it was hard to even consider entering them. Beyond the typical PC-filled room, there was a room dedicated to performance games; it held Rock Band when I first arrived, and was transitioning over to Dance Central as I left. It was a relatively small crowd; a perfect place to relax.
Speaking of places to relax, there was a fairly extensive manga library. They take your badge and bags, and give you access to shelves of manga, all at your disposal. It was dizzying to pick from, so I ended up reading the the first volume of Haruhi Suzumiya for the umpteenth time, but it was a relaxing break from the bustle of the con.
After killing time, taking pictures, and generally enjoying the con, it was time for the last major event I wanted to attend: the Shonen Knife concert. I didn't know much about them going in; I knew they were an all-girl punk band, with three members, that was loved by Kurt Cobain. I was still drawn to it, and I'm glad I attended, because they are fantastic performers.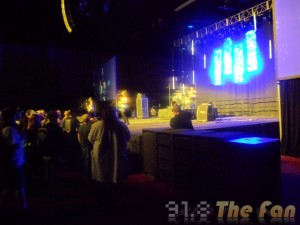 Shonen Knife has been around since the 80's, and they're still rocking hard to this day. I quickly found that Shonen Knife was right up my alley. They have a very Green Day sound on stage; I guess three-member pseudo-punk outfits are kind of my thing. They performed an hour long concert to a relatively quiet crowd of perhaps 100 people. I don't know what sort of crowds they're used to performing for, but they put as much energy into it as they would a stadium. It was nice to sit and listen to.
I've never seen a crowd so small get a band out for an encore, but when they did come out, they asked what song they should play. The crowd was mixed; I got the vibe that very few people had heard of them before this performance. I couldn't help, either. I owned all their CDs but knew none of the music, primarily since I had just gone and bought them all in the middle of the show. It was an awkward exchange, but the girls powered through it and put on a fantastic show.
All in all, AWA was a fun experience, and a weekend that will stick in my memory for a while. What they may lack in content variety, they make up for with the spirit and enthusiasm of their attendees. It's definitely a convention I'll have my eye on in the future.