Posted on Jan 23 2014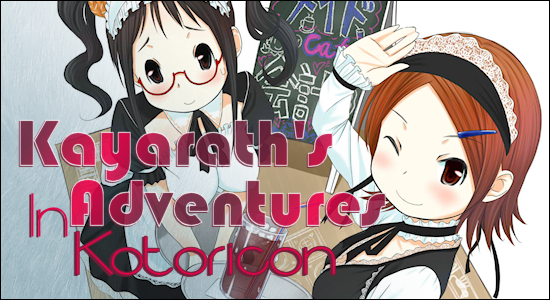 Truth be told, I've known about Kotoricon for years but never wanted to go. With things like Otakon and AnimeNEXT in the neighborhood, a dinky con held in a local college just didn't seem to be worth the time to go to. However, as a writer for 91.8 The Fan, I felt obligated to attend every convention possible. Every convention deserves a chance to prove itself and display its own unique style, including Kotoricon.
Kotoricon is a one (and a half) day con held at the Gloucester County College in New Jersey. I arrived there early morning in order to ensure I'd have enough time to fully investigate it. After a not-too-long wait, I received my badge in the form of a soldier dog tag. That is the most unique anime convention badge I ever seen and I'll be hard pressed to find another convention that does that. After that, I made a beeline to the press room. Rare is the convention that provides a press room, and I'm gonna go enjoy it, even if I really don't need it!
Even more surprising, when I entered the press room, I discovered a public relation specialist there! She was dispatched by the university in order keep an eye on things and ensure any press inquiries were answered. Gloucester County College must want to cover their bases as well support Kotoricon in the process. Good to see they're taking steps like that. I asked some basic questions like how the con was founded and why there was an attendance cap. As for Kotoricon's story, the anime guide of the college, along with their advising professor, wanted to have a convention and went about to make it happen. Four successful years later, here we are! As for the attendance cap, it wasn't due to a space issue like I originally thought. Kotoricon only took up about a third of the campus, so they have plenty of room to go. I guess it was more of a manpower/organization issue. While I think they could have let in at least a hundred more people, they most likely didn't want more people than they know they can handle. I've been to a few cons where the staff-attendee ratio was lower then it should be. Convinced the PR person was competent, I hit the con floor.
As early mornings are normally the slow time for a convention, I killed time by going to a panel. Hey, "Real Sword or Piece of Crap" with Samurai Dan and Jill! Their combination of slapstick comedy and practical knowledge of Japanese combat is always welcomed! I learned about swords and chuckled at their dumb jokes. I do enjoy their convention appearances and hope to be able to do so in the future. Sadly, they have been besieged by a financial crisis of the highest CR! Believing to have a book deal, they got a new car and a loan, waiting for the money the publisher promised them to materialize. Sadly, it turns out the publisher was rubbish, but the bills they have aren't. While they won't bring up the subject, I will. Go over to their indiegogo page and support them so can keep going to conventions! Dam and Jill are cool people and deserve your support!
Next up was the maid cafe. I always wanted to visit a maid cafe but never had a real chance until now. The outfit running this cafe was the Ichigo Latte Maid Cafe, a local group that calls Kotoricon home. While I recognize the onigiri from Maido! and really did enjoy the cheesecake, the real attraction, of course, is the maids themselves. The maids (and butlers) were cute and played their roles well enough. While conversing with one of the maids, I learned of a maid cafe operating from Philadelphia itself. Expect a future review of that for sure. They even did some live performances, singing a song and recreating one of Yuna's dances from Final Fantasy X. The time concluded with some games to play. I played a "guess which anime character I am" game while the other table played a too-intense game of Jenga. If you're planning to visiting Ichigo Latte, let me offer you some tips. First off, be sure to buy a ticket at the artist/dealer area beforehand because that's how you gain admittance. Second, don't play Jenga against an engineer because they can figure out load bearing better then you. Lastly, if you want girls to guess that you're pretending to be Orochimaru, don't say, "I want Sasuke for his body" because all the girls will then guess Naruto.
When I wasn't going to anything specific, I was just wondering about checking the general amenities. The tabletop gaming wasn't too impressive, housing mainly the standard card games. There was, however, a WeiB Schwartz presence there. It's an anime themed trading card game that I'm not too familiar with, but it is gaining some traction among players. There was also a My Little Pony: Friendship is Magic trading card game available. Now Bronies have their own card game to play! Huzzah? The video game section was a letdown honestly. It was just about four consoles stuck in the art room. If you wanted to play Smash Brothers you were covered, but it was overall lacking. I hope this is one of the things they work on in the future.
Kotoricon does go the extra mile in some respects though. They have sushi for sale and frankly I'm surprised more conventions don't think of it. Selling Japanese food to people who love Japanese culture makes sense. There are also changing rooms for people to get in and out of their cosplays. If you take the time to examine the included schedule, it'll note that it takes a lot of inspiration from the Otakon sheet of awesomeness. It's a great template for a convention schedule and I'm glad they're using it.
The next major event I went to was the charity auction hosted by Uncle Yo. Who's uncle is he anyway? The idea behind this is simple. Vendors, artists, guests and allies of Kotoricon provide various goods for people to bid on. Whoever bids highest gets the thing, and the money they bid goes to a charity of some type. I recommend going there because you can score some seriously nice under-priced goods there. There was even a five hour Dr. Who audio drama put up for auction! I won three because people weren't very aggressive in their bidding for the most part. I bid on two things just so Uncle Yo won't feel embarrassed because no one bid on something. Also, they were cool items being won on below market rates. No one's gonna even try to fight me for the Evangelion artbook? If you have any interest in buying stuff, go to this auction first before you hit the dealer's hall! The next time I go there I want to be outbid every time!
At this point, I would like to note that Kotorion is as much a charity event as it is an anime convention. All the proceeds go to various charities, and the university donates the police and ground time to the convention. Also, I think the guests waive their normal appearance fees so that the money goes to charity instead. While I do admire the generosity behind it, the cynic in me thinks going charity was merely the optimal move since it lowers operating costs a great deal.
After depositing my gotten gains into my car, it was time for more voice actor panels! Michelle Knotz hosted her "Knotz your Everyday" panel where the audience entertains HER for a change. Those who were brave enough to sing, tell jokes or line dance earned fabulous prizes like manga or posters. I did take a few pictures of Michelle Knotz line dancing with everyone else, and you can see in the upcoming Kotoricon cosplay gallery! Other websites may give you pictures of line dancing or of Michelle Knotz, but only 91.8 The Fan has pictures that contain both at the same time! All the other usual suspects were there including Bill Rogers, Sonny Strait, and even Tom Wayland! He was a last minute addition to the guest list, but if Tom Wayland wants to go to Kotoricon, then Tom Wayland goes to Kotoricon! He and all the other voice actors gathered to read a Flash Gordon radio episode, which is more entertaining than you think it would be.
There were also several concerts throughout the convention. Uzuhi, The Audio Pool, Hsunami, and Mega Ran were among the performers hitting the stage that weekend. I only managed to get to The Asterplace concert. Besides rock music, they also hosted a short eating competition. I went to the concert because it was the last event before closing ceremonies. The concert went on well past its ending time so I was concerned that it would crowd out closing ceremonies. Luckily that wasn't an issue. The convention chairwoman appeared and proudly announced that the fifth year was successful and that was a major milestone since five years is how long it takes to determine if a convention has the infrastructure to last long term. She then asked if people wanted more Kotoricon. After a resounding yes, she announced that space would be next year's theme and called it a con. I do appreciate the brevity.
I was pleasantly surprised by Kotoricon. It's a convention that has the basics right, and a working convention is harder to achieve then some people may think. It's less about being a big spectacular event and more about ensuring everyone is safe and sound. The cosplay safety rules are more strict then your average convention, so don't bring your real swords there. If you're looking for a convention that's less hectic and more secure, give Kotoricon a chance. You won't be disappointed.